This will be our last season on Fox Island. It's hard to imagine CBF without it—Fox was our first residential education center. It had an outsized role in shaping the immersive, experiential learning that is the hallmark of our environmental education programs.
From its unique perch in the middle of the Chesapeake, we've provided lifechanging learning experiences for tens of thousands of the watershed's teachers and students for more than 40 years. Many of them went on to pursue careers in science, public service, education, and environmental advocacy. It's a testament not only to the magic of the island, but also to the exceptional cast of CBF educators and staffers who stewarded its shores for so long.
Letting it go is hard, for all of us.
But if you've visited the island recently, you've seen there isn't much of Fox Island left. Due to sea level rise and erosion, there has been a dramatic loss of the protective salt marshes surrounding the center. The marshes and shallow-water grass beds were one of the main reasons Fox was such a powerful space to connect students and teachers to the Bay, and they helped reduce the impact of wind and waves on the center. Over the past 50 years, more than 70 percent of the island's land area washed away.
As a result, we believe it will inevitably become unsafe to continue operating the Fox Island center for students in the future. The Fox Island Education Program will conclude its final season this fall.
The center's closure illustrates the real and immediate threat climate change poses to the Chesapeake, especially to the island and coastal communities on the frontlines. Sea levels in the Bay are rising at some of the fastest rates in the nation. Wildlife habitat and human infrastructure are in the path, but so too are the unique voices and experiences that exist only in these places.
That's why we aren't backing away. We are committed to the island communities and to educating the next generation of environmental stewards about their way of life, which depends on the health of the Bay. While we are forced to close Fox, we plan to reconfigure other island facilities to continue connecting students and teachers to these critical issues firsthand.
Just as they did on Fox, students and teachers will have the opportunity to explore salt marshes, crab with local watermen, and experience the magic of island living. We know they will continue to build invaluable and lasting connections to the Bay.
CBF will be publishing a series of blogs this month to highlight the legacy of the Fox Island Education Program and the important issues its closure raises about climate change in the Bay watershed. Please join us in remembering—and looking to the future.
Share your Fox Island stories with us Instagram, Twitter, or Facebook—don't forget to tag us!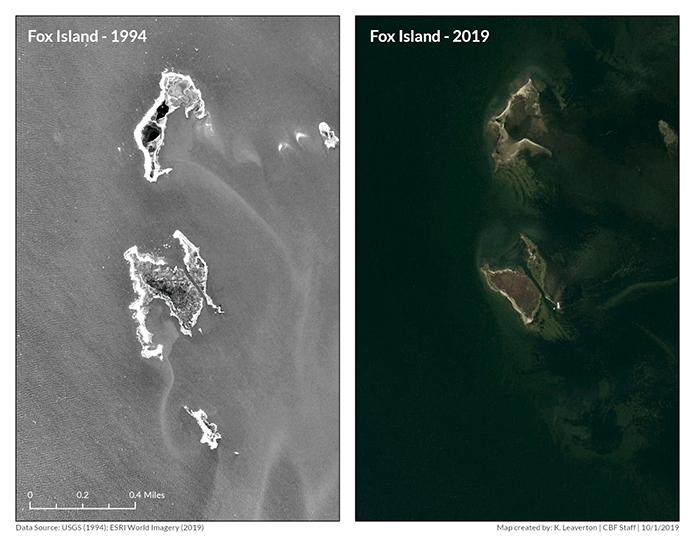 Tom Ackerman, CBF's Vice President of Education