"Here are two definitions of magic: a) having seemingly supernatural qualities or powers; and b) giving a feeling of enchantment.
Fox Island is magical. I have taught five-day teacher classes when everyone cried on the last morning during final reflections of the week. Evaluations spanning decades always state the experience at Fox Island was 'Life Changing.' Who could forget catching rockfish from a bedroom window at night while flashing, ethereal comb jellies illuminate the water? Incredulous teachers will not forget pulling seahorses, burr fish, and diamond-backed terrapins from underwater grass meadows. Or seeing flocks of pelicans flying eye-level close at sunrise and sunset. Watching a distant thunderstorm build over the Bay and then experience its fury as the storm rolls over us, we who are safe in the lodge. Impromptu pajama parties by teachers seeking a cool breeze on the Fox porch during sultry summer nights, individuals who were strangers to each other just days before. Close quarters and a true, if quirky, home atmosphere builds meaningful friendships. It seems odd that a building can feel like an old friend who has both nurtured and nourished me, but it does and it has.
Fox Island has survived numerous major hurricanes and frozen winters in its 90-year history. But it cannot survive sea level rise and climate change. Goodbye, Fox Island."
—Bill Portlock, Senior Educator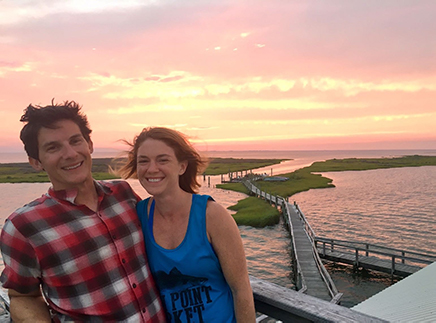 "To live on Great Fox Island is to live in a place with the absolute thinnest skin of civilization between you and the world. For myself, and I think for all the students who visited, it's where you sink wholeheartedly (and often literally) into the land and water. It really brings perspective to our typical lives spent in created habitat and the resources needed to keep us comfortable.

Though I left the tidewater, I still try to keep the mud between my toes up in the mountains of Utah. I now work with the Summit Land Conservancy to protect agricultural open spaces for the benefit of wildlife and water quality."
—Adam Wickline, former Fox Island Manager, spring 2008-fall 2010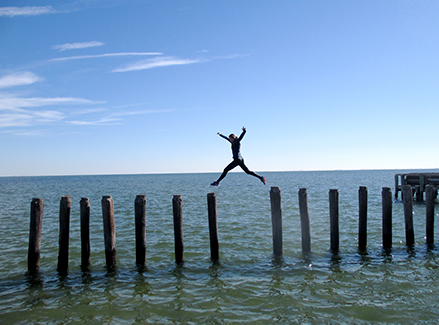 "I sat on the front screened-in porch of Fox Island, curled up with a Fisherman's Corner mug filled with tea and a blanket tucked around me, watching the golden marsh wave goodnight to the November sun. Inside the woodstove emitted coziness and warmth as the choppy bay beneath slapped a hollow, comfortable rhythm against the worn, wooden floorboards. I had detritus in my hair and the distinct smell of Fox Island on my clothes—peace, contentment, and fullness settled around me in the way that only Fox Island magic can. Goodnight Foxes."
—Brooke Reynolds, former Fox Island Manager, fall 2016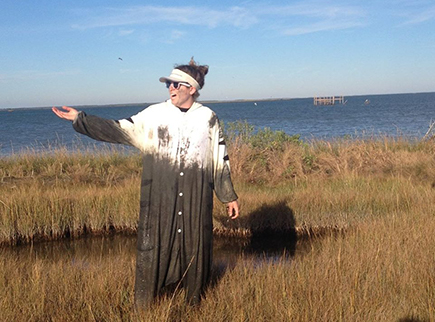 "Fox Island Magic is walking out of your bedroom door to water clouded with stingrays. It's huddling around the wood stove with a hot cup of coffee before sunrise on a crisp fall morning. It's falling asleep at night to the sound of water gently lapping beneath the floorboards. Fox Island Magic is a feeling that lives in the memories of every student, teacher, and CBF staff member that has ever spent time in this wonderful place. FOX ISLAND FOREVER!"
—Molly Graham, Former Fox Island Manager, fall 2015- fall 2016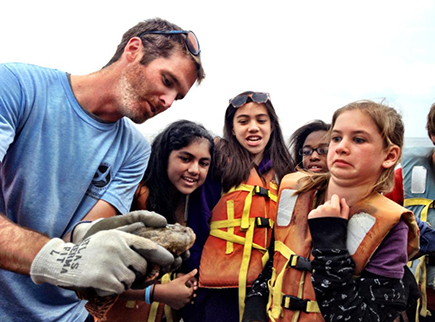 "Fox's magic is the physical interaction with the Bay—you taste it, smell it, and bump up against it like a freed skiff hitting the dock in the middle of the night. Everyone knew the experience was special because it wouldn't last forever, but the memories made will endure, reminding us that treasures like Fox are what's at stake in our fragile and changing environment."
—Pete Butz, former Fox Island Manager, spring 2012-fall 2013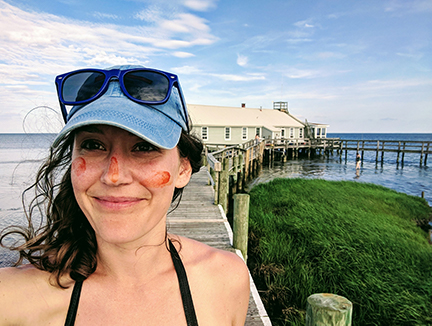 "On Tangier and Smith Islands they have a saying, 'You've got the mud between your toes.' It means you've fallen in love with these unique marshy islands. As the Climate Crisis washes away our Fox Island Magic, it will never wash away the mud between my toes. I love these island communities and will continue to share these special places with as many Bay stewards as possible in the years to come."
—Megan Fink, Fox Island Educator (fall 2011), Island Senior Manager (2014-2015), Maryland Student Leadership Coordinator (2016-present)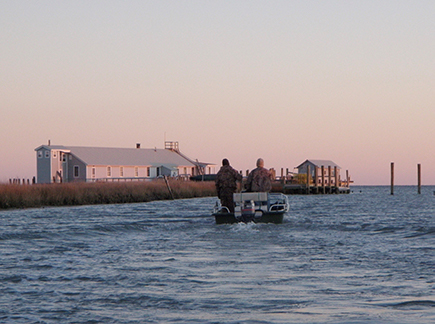 "Truly the best Chesapeake experience. Fox Island has everything good the Bay can offer."
—Foster Nost, Former CBF Educator, summer 2010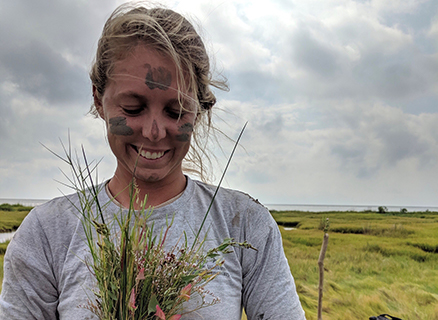 "Every day at Fox brought something new and exciting with each sunrise. Finding an arrowhead in the mud, seeing a night sky full of stars, catching seahorses with every trip, or picking a marsh bouquet full of color were just a few of the things that made Fox truly magical."
—Morgan Jones, Fox Island Educator, fall 2018-spring 2019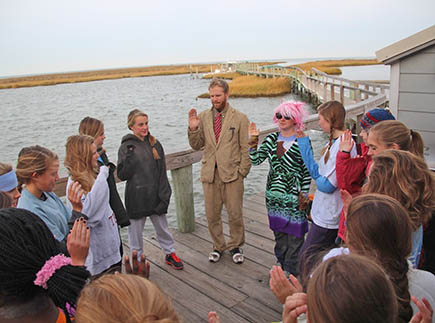 "It's the pure joy of mud between your toes, and in this case, swearing to have a good time getting it there. This picture also makes me think about some of the most important people in my life, many of which I met and worked with out on the islands."
—Ian Robbins, Former Fox Island Educator, spring-fall 2014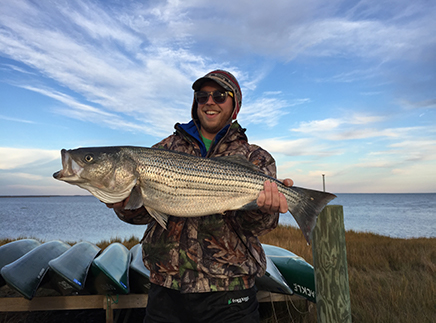 "Fox Island magic lives in the edges . . . the edge between the Jenny S and the Bay's waves, the edge between the muddy marsh and a falling tide, the edge between the slick cam horizon and the melting sun, the edge between our human world and wild nature. Fox Island is true wilderness, a world completely out of our control, where the natural world flourishes unbridled beyond our imagination.
When I left Fox, I always wondered what lasting impact the island truly had on everyone who visited, since most students only came for one weekend. Shortly after my tenure as manager, I was lucky enough to see a former student return to Fox as a staff member (Adam Dunn), which gave me hope that even though I/we knew the edges of Fox Island were quickly washing away, its magic will live on and continue to impact all who have graced its waters."
—Matt Babbitt, Fox Island Manager, fall 2010-winter 2012. Currently Matt serves as Abbott's Mill Nature Center Site Manager for the Delaware Nature Society in Milford.