Anne Arundel County owns an unfortunate distinction: for nearly a decade, more forest has been cleared here than anywhere else in Maryland. The county lost more than 300 acres of forest per year between 2010 and 2017, a rate equal to losing more than half a football field of forest each day.
This wasn't always the case. Anne Arundel County was once a leader in protecting forests. The county's 1990 tree preservation ordinance provided a model for Maryland's landmark 1991 Forest Conservation Law, the first of its kind in the nation. But the county's current laws have not kept pace. Lax forest protection policies have enabled developers to cut thousands of acres of Anne Arundel's forests—even as other growing counties with stronger forest protections, such as Carroll County, saw net increases in forest acreage since 2010, according to the Chesapeake Bay Program.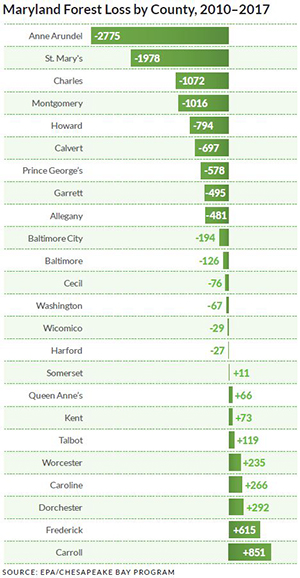 As forests succumb to sprawling strip malls and office parks, Anne Arundel voters are once again demanding leadership on this issue. Before the County Council is County Bill 68-19, which is designed to protect forested land during development by incentivizing conservation and encouraging growth in built, transit-oriented areas.
To inform the Council on the tremendous need for strong forest conservation legislation, we produced a brief report outlining the impact Bill 68-19 would have on the county's forests and emphasizing how economic growth and forest conservation are not mutually exclusive.
As deliberations on Bill 68-19 continue, we have heard rumors of an amendment that would gut the current bill, ultimately doing nothing to protect Anne Arundel County's forests. We can't allow the influential developer lobby to pressure the council to pass a weakened version of this bill.

Issues in this Post
Forest Loss Advocate Air Pollution Climate Change Conservation Habitat Loss Land Use Runoff Pollution Smart Growth Trees Water Quality What We Have to Lose CBF in Maryland Maryland Office, Annapolis