"Our constitution gives Pennsylvanians the right to clean air, to pure water, and to the preservation of the natural, scenic, historic and esthetic values of the environment. We have a constitutional obligation to leave Penn's Woods better than we found them — and today we act decisively to fulfill it."
—Pennsylvania Governor Tom Ridge at the signing of the original Growing Greener legislation on December 15, 1999
Twenty years after Pennsylvania Governor Tom Ridge signed a bill establishing Growing Greener at $650 million over five years, the Commonwealth struggles today to make the adequate investments necessary to clean and protect its waters. As 2020 begins, roughly 40 percent of Pennsylvania's rivers and streams are being harmed by pollution and the Commonwealth's plan to clean it up by 2025 will cost an additional $320 million annually to implement.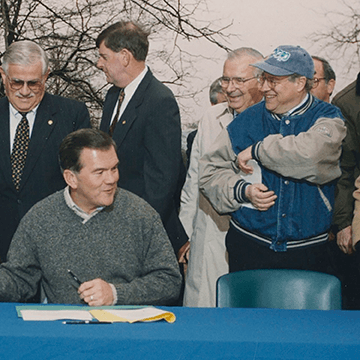 During its first three years under the Pennsylvania Department of Environmental Protection (DEP), the Growing Greener Program funded 1,100 watershed restoration projects totaling over $333 million ($127 million in public funds, plus $206 million in matching funds).
In 2019, the Growing Greener Coalition reported that funding for Growing Greener's Environmental Stewardship Fund had decreased by 75 percent, from an average of $200 million per year since the mid-2000's, to about $60 million in 2016.
In the early days of Growing Greener, Jim Seif (1995-2001) served as Secretary of DEP under Governor Ridge, and David Hess (2001-2003) served as Secretary of the DEP under Governors Ridge and Mark Schweiker. The former secretaries reflected on Growing Greener, then and now.
Why was Growing Greener established?
Seif: "Growing Greener was designed to harness the growing realization that the Commonwealth needed new tools for new environmental programs and that the citizens of the Commonwealth, the real people, not just the bureaucrats and advocates, had a stake in improving watersheds, parks, farmland, water infrastructure, and could be recruited to do it and do it well."
Was 1999 the right time for Growing Greener?
Seif: "You had the democratization of environmental management. You had the Internet coming and you had people beginning to think, 'Wait a minute, I may live in East Succotash Township, but my watershed is more relevant than even the township boundary. I want to do something. I don't like the yellow trout stream caused by iron filings in the acid mine water.'"
Why empower "real people?"
Seif: "You had a lot of very strong, well-run professional environmental advocacy organizations and they were a critical part of progress. But what was missing was what Dave Hess calls 'real people' involved in real local environmental problems. Let's empower them by listening to them, making tools for the Internet available by teaching and training and by giving them grants to start organizations and conduct projects. That would give Pennsylvania an opportunity to grow greener."
Was it time for a new approach?
Hess: "A lot of environmental groups and conservation districts realized that the nature of the environmental threat, particularly to water quality, was different than it was in the past. In the past, everyone focused on what was coming out of the sewer plant or the industrial waste plant and what standards should that discharge meet. But scientific information showed that the real issues were nonpoint sources, runoff from abandoned mines, agricultural runoff, stormwater runoff. If you look at why stream water quality was impaired it is because 96 percent of those streams are impaired by non-source pollution sources."
What else changed?
Hess: "There was the confluence of a lot of different trends here. The realization that what was coming out of a pipe was no longer what was messing up the streams. It was the non-point source problems that had to be addressed in a fundamentally different way. In particular, dealing with issues of farms and the agriculture community."
All parties pulled together?
Seif: "There were heroes on both sides that understood what we were trying to do."
Hess: "The economy was very robust. Sources of funding, the recycling fund and hazardous sites cleanup fund, were flush with cash. We were fortunate to be able to use and invest some of those monies into a program like Growing Greener and ultimately the funding included a lot of General Fund monies and less transfers from other funds that had been running substantial surpluses. Today we're frequently on the defensive in terms of even existing funding levels and keeping those funds."
Seif: "People might dismiss it and say, 'Oh, well of course they could do stuff like that, they had the money.' Well the money could have been turned into tax cuts, but wouldn't have produced the results. It took an environmental vision on the part of Governor Ridge to recognize to grab this opportunity and not to do the easy thing, which is nothing."
Can you describe Governor Ridge's influence?
Seif: "Here was a Governor whose only training in environmental stuff was picking up trash as a public employee on Presque Isle in Erie, but who really did get it about community sustainability and the role the environment plays in making communities better. It's how political achievements get made, by someone recognizing the confluence of opportunity and tying it all together and seizing the moment."
Has Growing Greener lost focus?
Hess: "The entire program got diluted and lost focus on its original mission. Imagine where we would be today if we were still investing in a pay-as-you-go way, $135-140 million a year in addressing our water quality problem, supporting farmers, cleaning up abandoned mines, developing and rehabbing recreation facilities, saving farmland and open space?"
Can legislators do more?
Hess: "I've worked closely with the General Assembly for a long time. I've seen legislators do anything, even in lean budget years, that they want to do. They give money to movie stars to the tune of $60 million a year in tax credits to come into Pennsylvania. They give large amount of money to other kinds of economic development projects. I'm not saying it's right or wrong. I'm saying, if you don't have the political will to address some of these issues they aren't going to be addressed."
Is Growing Greener still relevant?
Seif: "It's still relevant in every stream you see that isn't impaired. Every farm that's been preserved. It's relevant in all the individual achievements that could be tallied up and also in the infrastructure of people it has built, people who understand what we're talking about. It isn't just the pipe, stupid. It's the runoff."
Hess: "The core of Growing Greener is still there, but reduced. That's today's seed corn that we use in many places across the state to support watershed groups, mine reclamation projects that are done at the community level by people in their own communities."
What's behind the funding dilemma?
Hess: "Since 1999, Growing Greener has seen chunks of funding lopped off and go to different kinds of unrelated things including the parking garage in Scranton and energy projects. The General Assembly and various Governors, Republican and Democrat, since 1999 have been playing a shell game with these different funds. They aren't adding new money to the pot. None of these things are permanent solutions. They are smoke and mirrors."
Are you optimistic 20 years later?
Hess: "The thing that inspires me today is the fact that the people on the ground, watershed groups, conservation districts, land trusts are still out there and working diligently, forming local partnerships to get done what they want to get done. My hat's off to those folks."
Seif: "This inoculation of expertise, opportunity and money gave Pennsylvania quite a boost 20 years ago. We shouldn't say 'Oh well we can't do it again.' Let's look for ways to do it again."