The Virginia Marine Resources Commission's (VMRC) first-ever opportunity to manage Atlantic menhaden, often referred to as the "most important fish in the sea," finally arrived on April 28.
Wasting no time, VMRC adopted regulations that set a critical update to the cap on menhaden harvests in the Chesapeake Bay. The action brings the Commonwealth into compliance with the Atlantic States Marine Fisheries Commission (ASMFC) menhaden management plan, which was adopted in 2017 and is widely supported by anglers, conservationists, and CBF.
The cap update also averted a complete shutdown of the fishery. After Reedville-based Omega Protein caught millions more menhaden in 2019 than allowed under the ASMFC's Bay cap, the U.S. Commerce Department in December warned it would impose a menhaden moratorium this June unless Virginia brought the fishery into compliance.
The VMRC meets regularly to set seasons and size and catch limits for the Commonwealth's fisheries. But until earlier this year, the Commission's fisheries experts had no control over menhaden. Instead, the small, oily linchpin in the Bay's food chain was managed by the Virginia General Assembly.
That changed when the General Assembly, with bipartisan support, transferred management of the fishery to the VMRC during the 2020 legislative session.
The transfer of menhaden management to the VMRC is a monumental, hard-fought victory for a fish that is integral to a healthy Bay and economy and an overdue win for the Bay that highlights CBF's undaunted determination. Many thought it would never happen.
Bills supported by CBF, proposed as long ago as 2005 and almost annually since then, to transfer management of menhaden from the General Assembly to fisheries experts usually died before ever reaching a floor vote. Similar legislation was killed as recently as last year.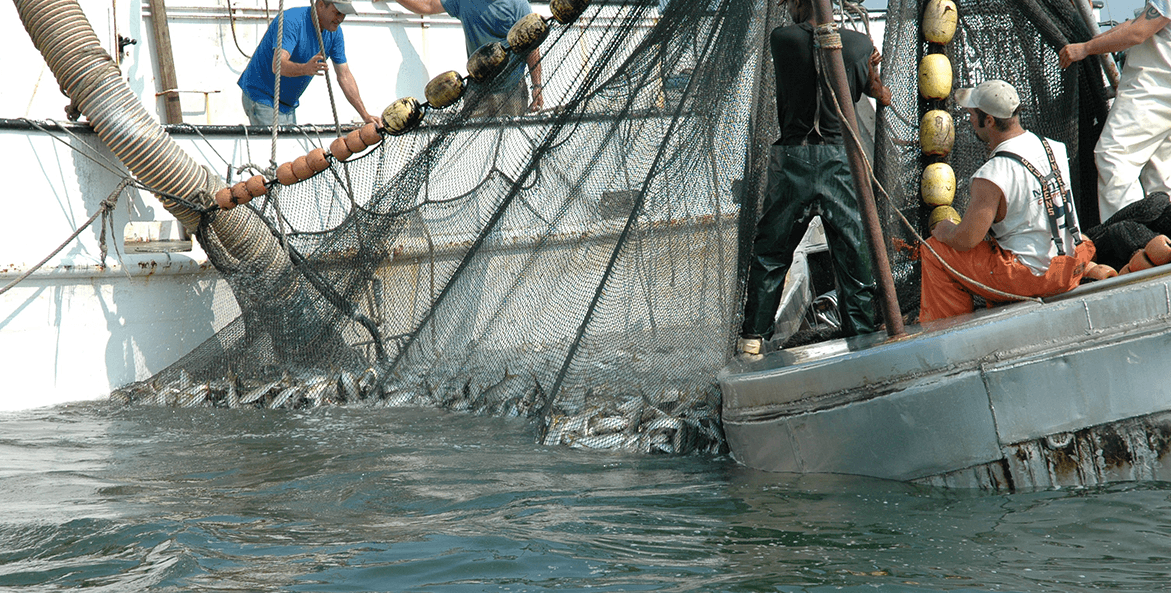 "It's been a long road, but CBF has been there in many different ways every step of the way. Something definitely to celebrate," said Chris Moore, CBF's Senior Regional Ecosystem Scientist in Virginia. He has been working on menhaden issues since 2000 and with CBF since 2005.
Moore noted that in 2004, he and CBF supported legislation for Virginia just to write a management plan for menhaden. "We weren't managing this largest fishery in the Commonwealth and one of the largest on the East Coast at the time," he said.
Moore described progress on menhaden management as moving at a glacial pace and CBF's presence as unwavering.
"Despite the years of challenges, we maintained the fight and in the end what at one time seemed unimaginable has now happened," Moore added. "It's a good day for the Chesapeake Bay."
It was truly a team effort, where conservation groups, anglers, and elected officials worked toward a common goal. Key to this effort was the leadership of Gov. Ralph Northam and the work of Secretary of Natural Resources Matt Strickler and VMRC Commissioner Steve Bowman.
Retired Senior Fishery Scientist Bill Goldsborough called it "a historic moment." Goldsborough is another CBF menhaden stalwart. He was working on menhaden as early as the 1990s and helped get the Bay cap set by ASMFC in 2007.
VMRC's updated harvest cap reduces the amount of menhaden that can be taken in the Bay to 51,000 metric tons per year. This year's maximum was lowered to 36,192 metric tons to make up for Omega's overharvest in 2019.
About 80 percent of the harvest of migratory menhaden, from North Carolina to Canada, is landed in Virginia. Omega usually accounts for about 90 percent of the haul in the Commonwealth. Omega operates the sole remaining menhaden reduction facility on the U.S. East Coast in Reedville, Virginia. The plant reduces (cooks and grinds up) the fish for a variety of uses, such as nutritional supplements, food additives, and feed for livestock and fish farms.
"This was one company (Omega) that decided they were going to harvest more fish than they were allowed," Moore said. "That ended up putting thousands of jobs in economic peril, because if menhaden fishing had been shut down in Virginia, not only would they have shut down the reduction fishery, but all of the bait fisheries as well."
Commercial and recreational crabbing, recreational fishing, and other industries rely on a big bait fishery for menhaden.
"Having that access to bait shut down would have been a hardship for a lot of businesses in the Commonwealth," Moore said.
The next menhaden milestone could come when ASMFC considers managing the harvest on a coastwide basis through the use of Ecological Reference Points (ERPs). ERPs better account for menhaden's vital role in the food web and how changes in the fish's population affect the populations of predators like striped bass, bluefish, and others for which they are an important food source.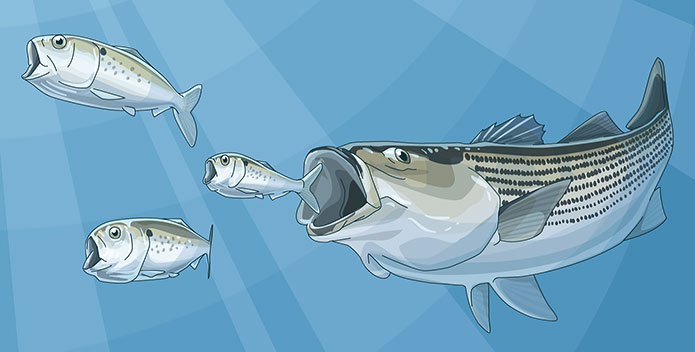 Other top predators in the Chesapeake Bay ecosystem like eagles, ospreys, and whales also have a fondness for menhaden.
Allison Colden, CBF's Maryland Fisheries Scientist, serves on ASMFC's Menhaden Management Board and introduced a motion in February to set ERPs for menhaden that would help sustain the striped bass population. The motion has been delayed as ASMFC changes its schedule to deal with the impacts of the coronavirus.
Implementation of ERPs will help ensure that harvests of menhaden do not negatively impact the food chain.
Moving forward, Chris Moore believes that having VMRC making decisions will allow greater opportunities for stakeholder input and create a better path for managing menhaden.
"The VMRC and the newly appointed Menhaden Management Advisory Committee are so much better equipped to hear from various stakeholders and take time to use that input to develop decisions over a period of time," Moore said. "It is going to lead us to better management decisions for the resource and also for the citizens in the Commonwealth."
Issues in this Post