Note: A version of this post first appeared on the Find Your Chesapeake blog.
Paddling a canoe can be an amazing time for a family with young kids. Canoes are roomy, comfortable, and relatively stable—yet still quiet and agile enough to get close to nature. When done right, it's a great family bonding experience.
But going about it the wrong way can lead to cranky kids, frustrated parents, or even swamped boats.
Paddling as a family requires planning, patience, and the right time and place. Start out slow and simple and keep your expectations in check. Your first trips are all about getting used to being out on the water.
Start as early (just make sure you have a lifejacket that fits your child). When our son was 10 months old, my wife and I took him out for his first paddle. Those early excursions were slow, short, and not always easy. But now that he's turning three, our paddling trips have turned into a fun time of discovery.
The calm waters of Swift Creek Lake in Pocahontas State Park, just south of Richmond, are one of our favorite spots. We'll paddle along the shoreline, sneaking up on red-eared slider turtles sunning on logs that plop into the water when we got close. Water lilies floating on the lake bloom blazing white in the summer. Sunfish swim alongside the canoe. When the weather is warm, we'll hear green frogs calling, sounding just like plucking a rubber band.
Our son takes it all in, full of curiosity. Eager to do his part, he'll move his paddle around in the water. While it doesn't do much to propel us forward yet, it makes him part of the team. Most importantly, we're setting the stage for a lifelong love of outdoor recreation.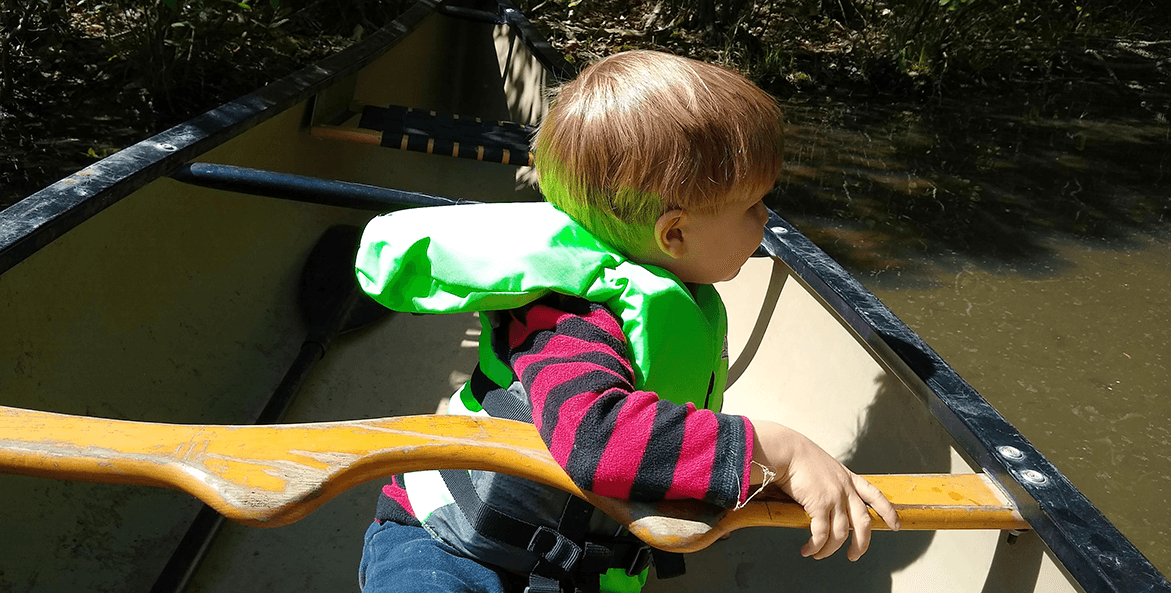 So how do you have a good time on the water while keeping kids safe and happy? Keep a few of these tips in mind.
Are You Ready?
Make sure you and your partner are confident in your paddling skills before taking kids. A canoe is trickier to handle with an unpredictable child on board. And, of course, consider swim lessons before heading out--a good idea for any kid who spends time near the water.
About Life Jackets
At first many kids hate wearing life jackets, but it's a must. Find a life jacket that not only fits your child well, but is also comfortable and not too bulky or hot. Set a good example by wearing yours at all times. Often kids warm up to wearing a life jacket once they realize it means fun on the water.
Small Lakes and Slow Rivers
For your first trip, pick a calm body of water with little current where you can stay close to shore. A small lake or very slow-moving river is ideal. The first time out should be short, a maximum of 20 minutes, with a main goal of getting used to the experience. As you graduate to longer paddles, plan routes with plenty of options to stop for a picnic, swimming, or other fun time.
When to Go
Check the weather and choose a day with mild temperatures, low wind, and no rain or storms in the forecast. In the summer, start early to avoid the afternoon heat.
What to Bring
In addition to the life jackets, pack sunscreen and a hat for shade—the sun is always more intense on the water. Plenty of tasty snacks and cold water to drink will keep everyone hydrated and happy. And you might want to keep a favorite (non-electronic) toy on hand as a distraction in case your kid gets antsy.
Out on the Water
Out on the water children should always be within arm's reach of an adult. Kids seem to love to lean over the boat to touch the water. Giving them a kid-size paddle will give them an alternative mission (and hopefully keep them from going overboard).
Kids will be most stable if they sit on a seat or cushion on the floor in the middle of the canoe. Smaller kids may also fit will in the bow in front of whoever is paddling up front.
Go slowly and share in the experience together. Talk about what you're seeing. Look for animals, fish, birds, flowers, and bees. And if that fails, pass out the snacks or toys.
Have Fun
If things don't work out perfectly, just remember why you're doing this. It's all about making memories and having a good time together. Your first trips might not go smoothly. That's fine.
You've always got to go with the flow when you're out on the water. If it's just not working out, cut the paddle short and move on. You can always try another day. Remember that amazing moments will come down the road. Right now you're laying the groundwork for fun times as a family in the future.
Where to Go
Here are a couple spots around the Bay watershed with quiet waters for kids and canoe rentals available (call first for availability).
Remember to follow all current directives from your governor and local health officials regarding staying at home. Please help stop the spread of COVID-19.
Issues in this Post