For weeks, CBF staff has been walking, hiking, and paddling across the watershed alongside CBF supporters to save the Bay and to look after our own mental and physical health.
With the onset of the coronavirus pandemic in March and the stay-at-home restrictions that came with it, exercise like socially distanced walking has been among the few permitted outdoor activities.
So early May was the perfect time for CBF to launch its free and first-ever virtual fundraising and restoration event, Walk the Watershed. Through June 30, individuals and teams are committing to walk a combined 200 miles, the approximate length of the Bay.
By mid-May, 550 participants on 140 teams across 21 states (including Hawaii!) had already walked, rode, and paddled 8,000 miles and raised $135,000, including sponsorships.
CBF staffers, who have been taking it to the streets, hills, and trails in their local communities, slowed down long enough to share some of their favorite hiking experiences and tips for others out there putting their best feet forward to save the Bay.
As a trail runner, Katie Morgan does speed hiking. She especially likes the Western Ridge Trail and Valley Trail loop in Washington, D.C. Sam, her German shepherd, joins her sometimes. Katie is CBF's Federal Outreach and Advocacy Manager in the nation's capital.
"We are incredibly lucky to have so much nature in our city, including the unparalleled Rock Creek Park—part of the National Park system," Katie says. "This loop is beautiful, giving you a mix of dense forest, chirping birds, and the flowing Rock Creek. In the early spring, you can see the community garden, nestled along the Western Ridge Trail, come to life as gardeners get to work."
What Katie finds amazing about hiking Rock Creek Park is: "You immediately go from city streets to the quiet solitude of a forest."
Katie is part of the "Run the Watershed" team for Walk the Watershed. "I'm trying to run all 200 miles myself," she says, "and at least one of my other teammates is attempting that distance as well."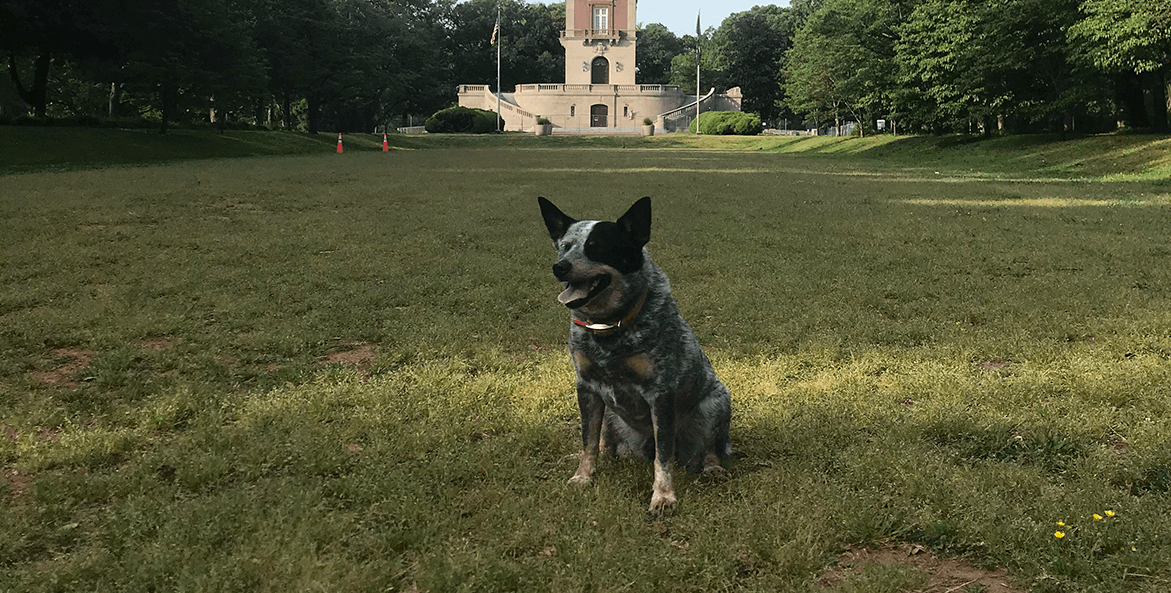 For Rick Mittler, walking in Richmond's William Byrd Park with his 8-year-old buddy Atticus, an Australian Cattle Dog, is a welcome transition from city to a lush forest and trickling creek. Rick is CBF's Student Leadership Coordinator in Virginia and on a Walk the Watershed team that hopes to include students.
Rick says the Dogwood Dell Trail passes by the beautiful Pumphouse Park. "You can feel the history," he says. "The hike returns you back out to the Virginia World War Memorial Carillon and the amazing 'grass reflecting pond' that is a perfect spot for a quick game of fetch before Atticus and I head home."
Planning and precautions can make for safer experiences stretching your legs in the watershed. Rick Mittler and Atticus prefer to go out during off hours. "Since the pandemic, I have been pleasantly surprised to see so many people using the trail," Rick says. "Most folks are respecting distancing. I feel like it has forced people to recognize other trail users because we are all doing our best to get to the side of the trail or stop in certain places to let others pass."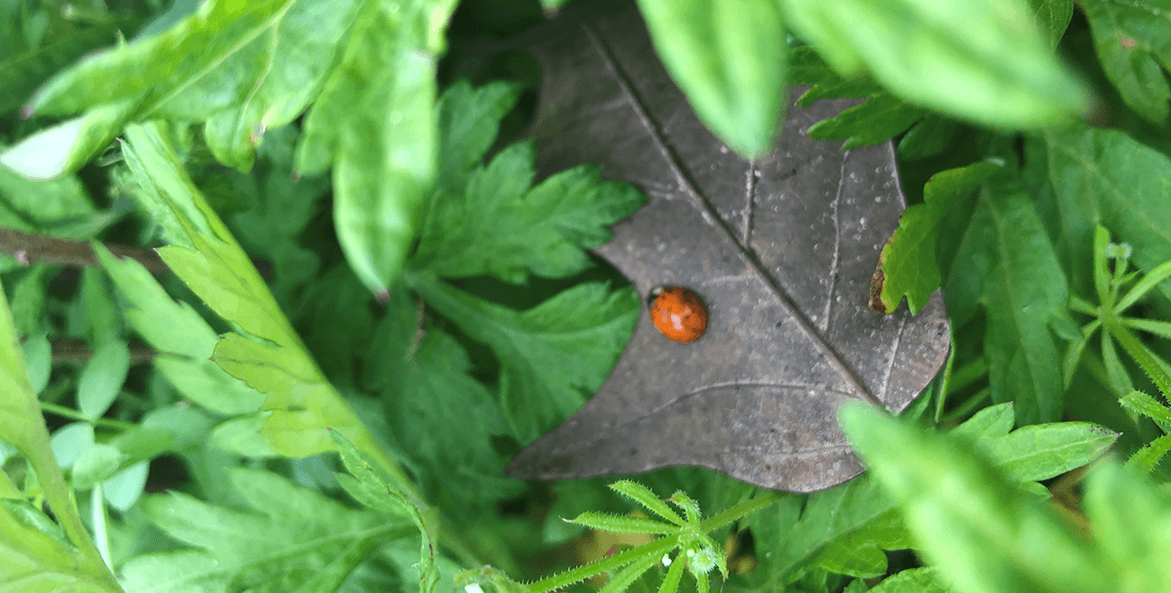 In Mayo, Maryland, a favorite place for Danielle Hodgkin to explore is Beverly Triton Nature Park. "The park has over five miles of trails that weave in and out of wetlands and wooded areas nestled along the coast of the Chesapeake Bay," Danielle says. She is CBF's Senior Operations Manager.
"Morning hikes always seem to provide the most opportunity for animal sightings, which is always a favorite for my 7- and 2-year-old kids," Danielle Hodgkin says. "The park is filled with friendly deer, silly squirrels, and is home to several bald eagles."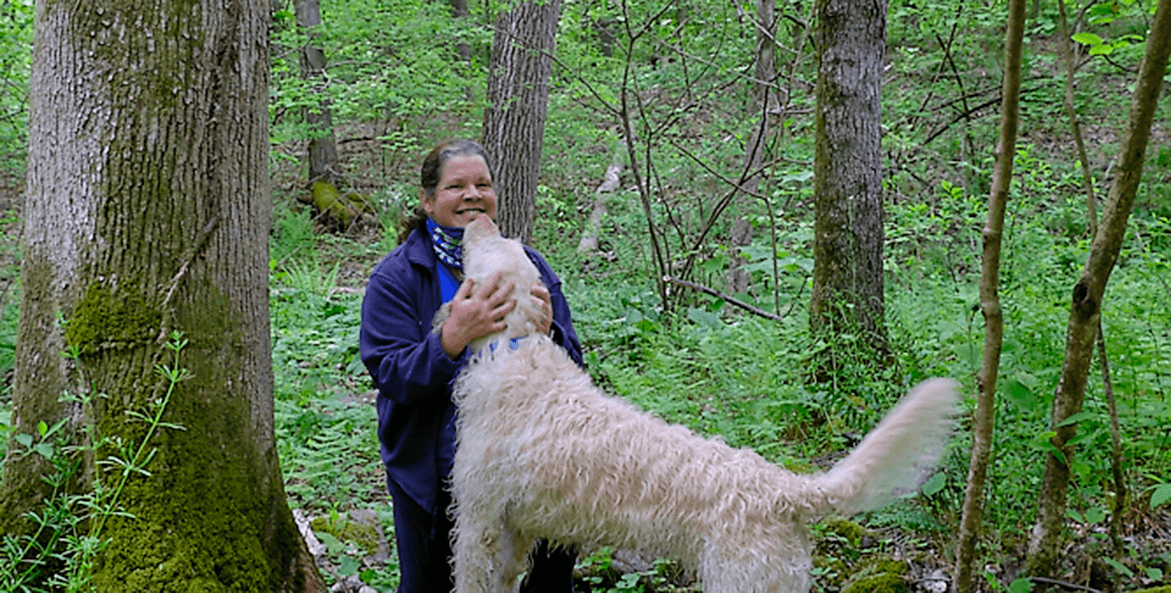 Farther north, Kelly O'Neill enjoys high level views of the Susquehanna River from a 4.3-mile loop that goes up Peter's Mountain not far from Harrisburg and then follows the rocky spine of the ridge. Kelly is CBF's Agricultural Policy Analyst in Pennsylvania.
"I've seen turkeys, deer, many songbirds, and a variety of flowers, including dogwood, redbud, columbine, mayapple, wild geraniums, dutchman's breeches, and sessile bellwort," Kelly says. Molly, Kelly's Labradoodle, is often by her side.
"The trail has some switchbacks and steep rocky sections, and the ridge has some areas that require rock scrambling," Kelly adds. "The Appalachian Trail intersects with the blue-blazed Susquehanna Trail that goes back down Peter's Mountain. It takes about three hours to hike the loop, or longer if you stop to enjoy views and take photos."
Kelly O'Neill likes to social distance on hikes in off-weather. "I'm probably one of the few people who gets excited about rainy weather now," she says. "As soon as I hear voices or see someone, I get myself and dogs well off the trail. I miss some of the friendly chatter where hikers exchange information, such as about what they've seen or other trails they like."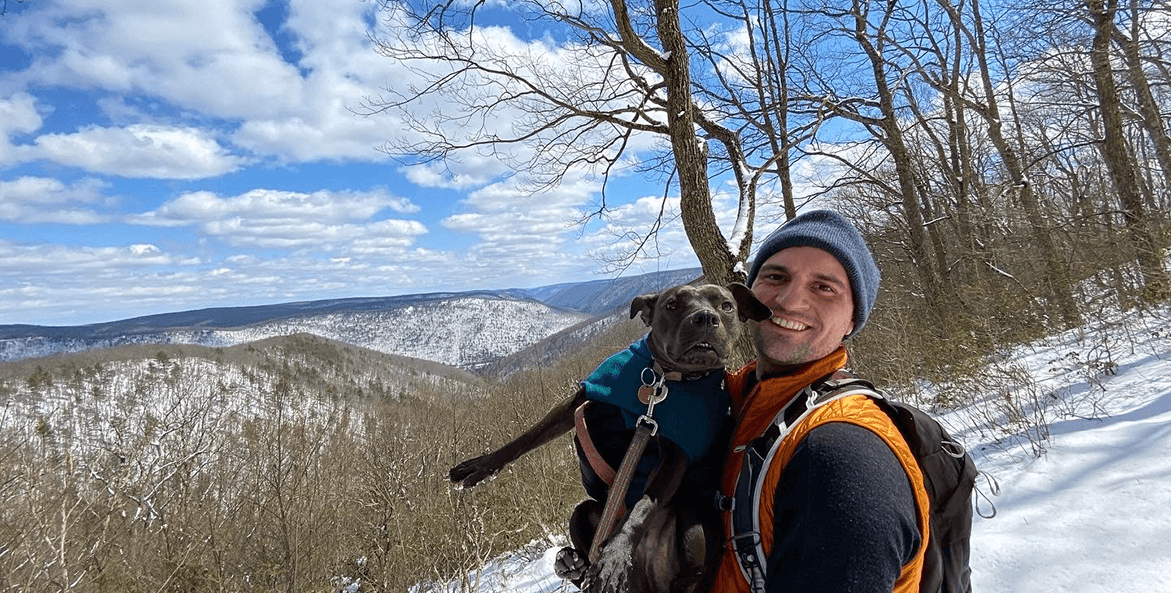 Even farther north, Caitlin Glagola remembers a hike after an April snow in what is known at the Grand Canyon of Pennsylvania. "We did a piece of the Black Forest Trail in Tiadaghton State Forest and had amazing views of PA Half Dome and the Pine Creek Gorge," Caitlin says. She is CBF's Watershed Coordinator for Central Pennsylvania.
"This hike has some of the best views of the gorge that I've seen on a hike," Caitlin says. "The loop that we took was 9 or 10 miles, but the main views could be seen on a much shorter in-and-out or shorter loop route."
Caitlin and Kelly are on the Eastern Hellyea Benders, with a Walk the Watershed team goal of walking 444 miles – the approximate length of the Susquehanna River.
Walking in the watershed was an important remedy for COVID-19 cabin fever before there was an official campaign and a cool logo for doing it. Whether it be by a shoreline or tree line, just being out in nature during the pandemic has been a benefit to mental and physical health.
"It has been especially important for us to get out during these times to get some exercise and enjoy the outdoors," Caitlin Glagola adds. "For me, it helps me to get away from what is now both my home and office."
Kelly O'Neill sees outings as benefits to herself and best furry friends. "Hikes that get my muscles working while enjoying nature have always been crucial for my mental health, and that's true more now than ever," she says. "With two dogs, it would be impossible to work from home if they didn't get frequent trail adventures too."
For Katie Morgan, sitting stationary at home is not conducive to whole body health. Getting into nature helps restore mental health as well. "A quiet, solitary run or hike in nature has a rejuvenating power that helps me realign," Katie says, "and to step away from the pressures and stresses that surround me."
"Nature allows us to relax, reset, refocus," Danielle Hodgkin adds. "Nature provides us with a space to move our bodies and burn up the restless energy that gathers during long days spent at home."
Hikes provide structure and a positive outlook for Rick Mittler. "Nature is continuing to thrive and exist without the presence of humans," he says. "I hope that folks will recognize that and think about positive changes we can all make moving forward to do our part to protect our natural world."
He says he hopes people continue to use and enjoy the natural spaces around them. "The more that people know about these amazing spots," Rick says, "the more they will care about them and do whatever they can to protect them."
Issues in this Post