Late summer doesn't just mean beachgoing and blue crabs in Chesapeake country. Hot, sunny days coupled with thundershowers bring an unwelcome squatter to the Chesapeake Bay watershed—harmful algal blooms have been reported in recent weeks from Virginia Beach to the North Fork of the Shenandoah River. Unfortunately, they occur most years in our region, exacerbating many of the Bay's woes.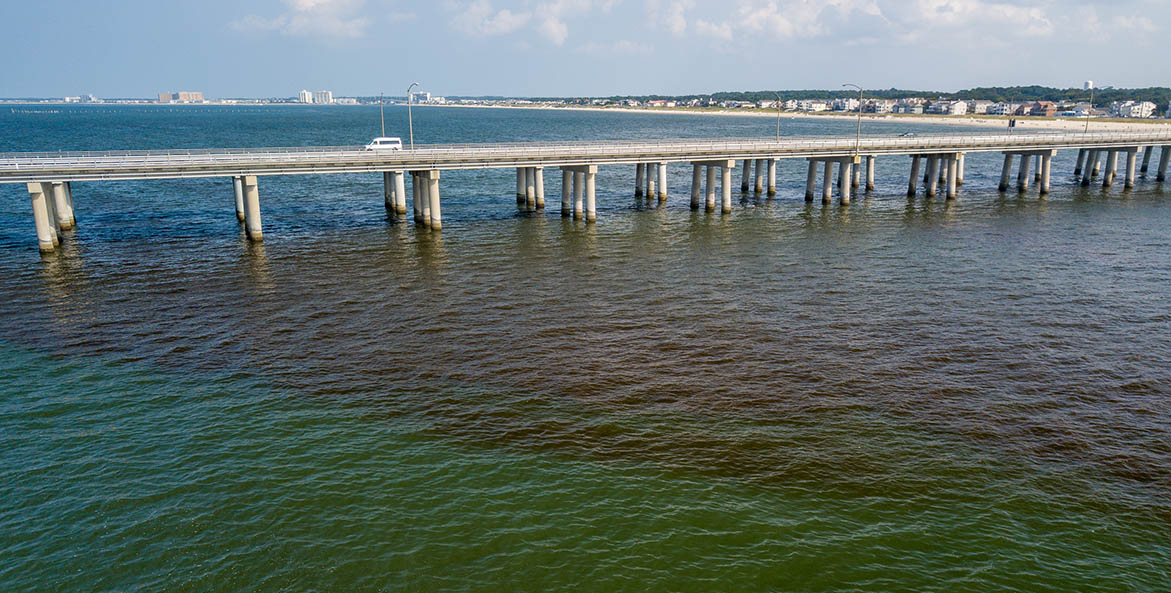 Recently CBF Senior Scientist Chris Moore surveyed the blooms by boat around Hampton Roads with drone operator Wyatt Young of American Multimedia Solutions. They found large patches of reddish-brown water bordering clearer blue-green water, indicating a harmful algal bloom often called a red or mahogany tide. The blooms swirled in the water column as currents pushed them around the Chesapeake Bay Bridge Tunnel.
The phenomenon is fueled by nitrogen and phosphorus pollution that heavy rains wash into rivers and the Bay. This mixture acts as fertilizer, causing the algae to grow explosively in warm, still water bathed in sunlight. When algae die, the decomposition process takes nearly all the oxygen out of the water, creating dead zones where fish, crabs, and oysters can't survive. Some types of algae also produce toxins that can harm people, pets, and underwater life.
Climate change is creating better conditions for algal blooms by increasing both temperatures and rainfall. To address the problem, we must meet pollution reductions under the Chesapeake Clean Water Blueprint.
For their own health, people should stay away if they notice discolored or murky water that may have an unusual smell, according to the Virginia Department of Health. Jim Deppe of Virginia Beach ran into the algal blooms while swimming in Hampton Roads this August and quickly left the water. "As an open water swimmer, swimming through algae blooms reduces visibility to near zero and is no fun," Deppe said.
Algae is also a problem in fresh water. Harmful algal blooms this summer have led to a Virginia Department of Health advisory for parts of Lake Anna due to cyanotoxins created by algal blooms, which can lead to everything from nausea and vomiting to blisters and pneumonia. A separate advisory that shut down a 50-mile stretch of the Shenandoah River's North Fork to recreation due to "toxic algal mats" that were also found to contain cyanotoxins.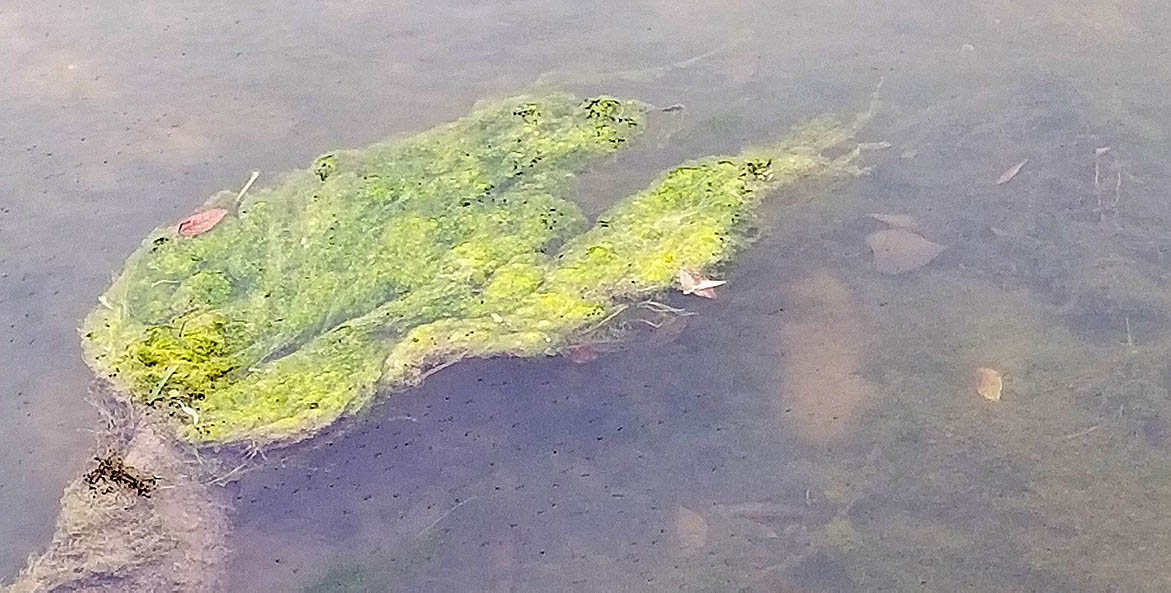 On the North Fork, mats of filamentous algae have increasingly clogged the river in recent years, ruining summer plans for fishing, tubing, and swimming on the river. CBF's Matt Kowalski snapped this photo of algae on the North Fork this August. "It's a sad state for sure," Kowalski said.
While the North Fork of the Shenandoah River attracts tourists every summer, surveys show that blooms like those in the Shenandoah make waterbodies undesirable to two-thirds of people, hurting local businesses such as outfitters and fishing guides.
Fortunately, Virginia has started to develop standards and pollution limits to protect people and river life from algal blooms. Virginia recently adopted criteria for algae in the James River and is looking to adopt criteria in the Shenandoah to protect against filamentous algae. These measures are a strong start, but all our waterways need protection from harmful algal blooms. CBF urges Virginia to both approve the Shenandoah limits and set water quality standards linked to reducing harmful algal blooms statewide.
In Maryland, the state's Department of Natural Resources has reported algal blooms this year in the Susquehanna Flats, Lake Linganore in Frederick County, Higgins Millpond on the Eastern Shore, and several locations in the Upper Potomac River. A department scientist noted DNR is currently short-staffed and has not been able to conduct its routine monitoring operations for algal blooms. The Department is instead depending on citizen and riverkeeper reports, remote sensing, and special studies.
One obvious step needs to be taken on algal blooms. We must stop feeding the beast in the form of nitrogen and phosphorus pollution from runoff. The best way to do this is by increasing state and federal investment in programs that reduce pollution from agriculture, stormwater, and wastewater.
Issues in this Post