I met Michael Heller more than 10 years ago on a particularly humid summer morning. We rode out to meet the cows in his '96 Ford Ranger, windows down, Beethoven's Coriolan Overture on the radio drifting across the farm fields on warm June air. (Sadly, he was not armed with his bagpipes that day, which I'm told he occasionally plays for his herd of Red Angus and Red Devon cattle to make the Scottish breeds feel more at home.)
Inspirational. Transformative. Curious. Humble. Whimsical. Big-hearted. These are just some of the words people use to describe Heller, the iconic manager of CBF's Clagett Farm who, after 40 years doing his part to help build soil health and save the Bay, is retiring this March.

As Jared Planz, Clagett's vegetable manager says, "Michael was into soil health before soil health was cool." When Heller started at CBF's newly acquired Clagett Farm in 1982, the 285-acre farm located in Upper Marlboro, Maryland, was in desperate need of some care. The farm had been used purely as a corn and tobacco farm for many years, and all its valuable topsoil was gone. Quickly, Heller got to work rebuilding the soil. Heller, a plant ecology major in school, cultivated fields of orchard grass, timothy, clover, hairy vetch, and other diverse plant species that never have to be tilled, therefore they protect the ground, soak up nutrients, build the soil, and improve water quality. And he got cows.
"The cows were the first thing I got because that's the best way to build soil," Heller says. "To have permanent grass and have cows grazing and replenishing with their manure. I got the cows to build soil. I love the cows."
Now on the eve of his retirement, Heller is no less passionate about building soil and what it can do for mitigating climate change and saving the bay. On another recent visit to the farm, Heller holds out his hand with an unusual glowing enthusiasm for a bone-chilling morning in February. He cups an imaginary pile of dirt, "When you pick up a handful of soil, you are holding literally more than a billion living organisms. It's hard to believe. There's more genetic diversity in the soil than all the plants and animals on the surface [of the Earth]."
It was only natural that Heller wound up at Clagett. The Pennsylvania native grew up working on the farm next door, bird watching with his mother, and tending his garden: "My friends used to joke that I was the only high school quarterback with a wildflower garden."

After stints at Hawk Mountain Sanctuary, the National Park Service at Cape Hatteras National Seashore, and the University of Maryland, Heller found his way to what he calls "a wonderfully impossible job," at Clagett. "Every season is a little different here. That's part of the beauty of it . . . Here I am 40 years later, and the learning curve is still going straight up. With farming, you can't just rely on what you did last year. You have to be adapting and learning all the time. So, I'm still learning. It's amazing."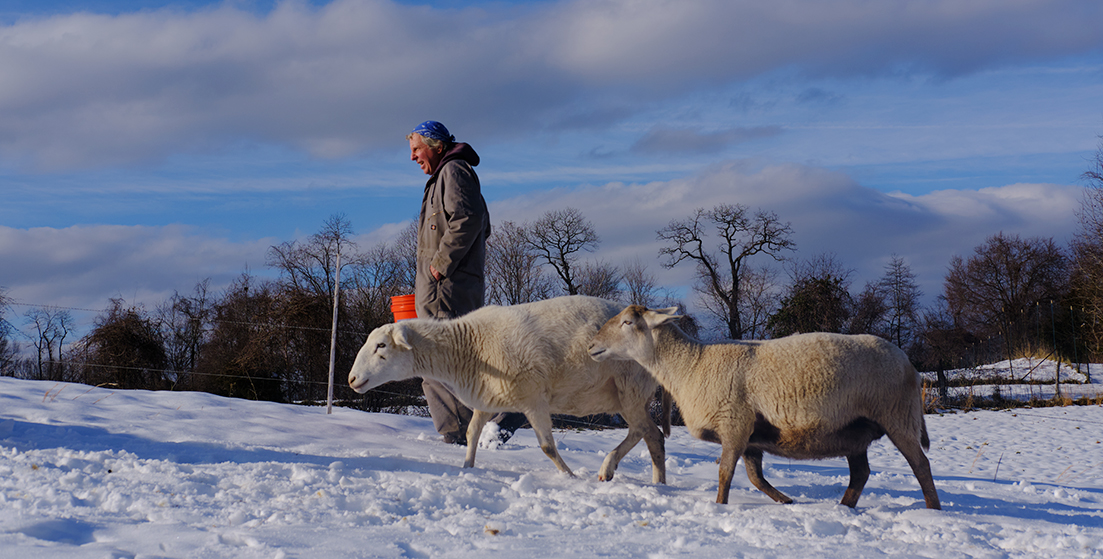 Over the years, Heller's contributions to the farming community and the regenerative agriculture movement have been substantial. He was instrumental in starting both Future Harvest, a regional sustainable agriculture organization, and Maryland Grazer's Network, a mentorship program where farmers learn from other farmers about successful and sustainable farming practices. In fact, in January of this year, Heller was honored with a Lifetime Achievement Award from Future Harvest. As CBF colleague Beth McGee says: "Michael is a quiet leader, never seeking attention, yet his footprint is broad and deep." And his connection with other farmers is real and profound.
"The beauty of working on the farm here is it directly affects water quality and the Bay," says Heller, "but also it allows me and CBF to get a real perspective of what farmers need to be successful. Because we want to help farmers be successful and protect the Bay."
In his downtime, Heller co-authored a cookbook about grass-fed beef, started Clagett's CSA (in which roughly 35 percent of each year's harvest is donated to the Capital Area Food Bank), became a Johns Hopkins visiting scholar, raised three bright children, and spent as much time as possible either on a tractor or in a canoe. "I love to hang out in a canoe. I'm never happier than when I'm in a canoe, in a marsh, listening to marsh wrens and bitterns and rails calling."
While Heller may be "retiring" come March 4, he's thankfully not going anywhere. His ties to Clagett, and the community he's built there, are too strong. He and his wife, his honey bees, and some sheep are moving up the road, roughly 15 miles away. He plans to continue to come and go and help out at the farm frequently.
Thinking back on that summer day when I first met Heller, after we had completed the farm chores, we retired to his back porch, sipped lemonade and talked birds, Hemingway, and morning yoga rituals. And we talked about the value of farms: "I just know that my kids are different for having grown up on a farm. I wish every kid could grow up on a farm. When [people] come out here, they always work a little bit . . . I think they see that there's a tangible result to work. And they get a real sense of a connection between the land and what's happening in the water."