Across the Chesapeake Bay, the oyster industry is comprised of people from many different walks of life, with different backgrounds, skill sets, and passions. With careers ranging from aquaculture, restoration, fishery management, academia, and many more, the movement to restore the oyster population in Maryland and Virginia continues growing. Oysters are critical to filtering and cleaning our water and creating valuable habitat for fish, blue crabs, and other iconic Bay species. But after years of overharvesting and pollution, the Bay's oyster population is at a fraction of what it once was. In an effort to recognize the incredible work being done to bring the Chesapeake oyster back throughout the Bay, CBF founded the Chesapeake Oyster Alliance (COA) in 2018, a coalition of more than 80 partner organizations, businesses, and academic institutions committed to adding 10 billion new oysters to Maryland and Virginia waters by 2025.
To get an inside look at their work, we spoke with four different COA partners and faces of the oyster industry: Imani Black, founder of Minorities in Aquaculture, a nonprofit focused on educating minority women about the environmental benefits provided by local and global aquaculture to promote a more diverse, inclusive aquaculture industry; Jennifer Sagan, Tidal Restoration Technician at Friends of the Rappahannock, a nonprofit that protects the health and scenic value of the Rappahannock River through advocacy, restoration, and education; Scott Budden, founder of Orchard Point Oyster Company, a premier oyster farm with locations in Kent County and the Upper Bay; and Gardner Douglas, also known as The Oyster Ninja, a nationally-ranked oyster shucker and creator of the Oyster Ninja Podcast.
To further their outreach efforts and help spread the word to the public about the importance of oysters, Imani, Jen, Scott, and Gardner all will be joining the COA at the 2022 Earth Optimism Smithsonian Folklife Festival, taking place at the National Mall in Washington, D.C. from June 23-July 4. Check out the Q&A below, and if you are interested in learning more about oysters, the Chesapeake Bay, and meeting the COA team and partners face to face, the Folklife Festival is the perfect opportunity to do so!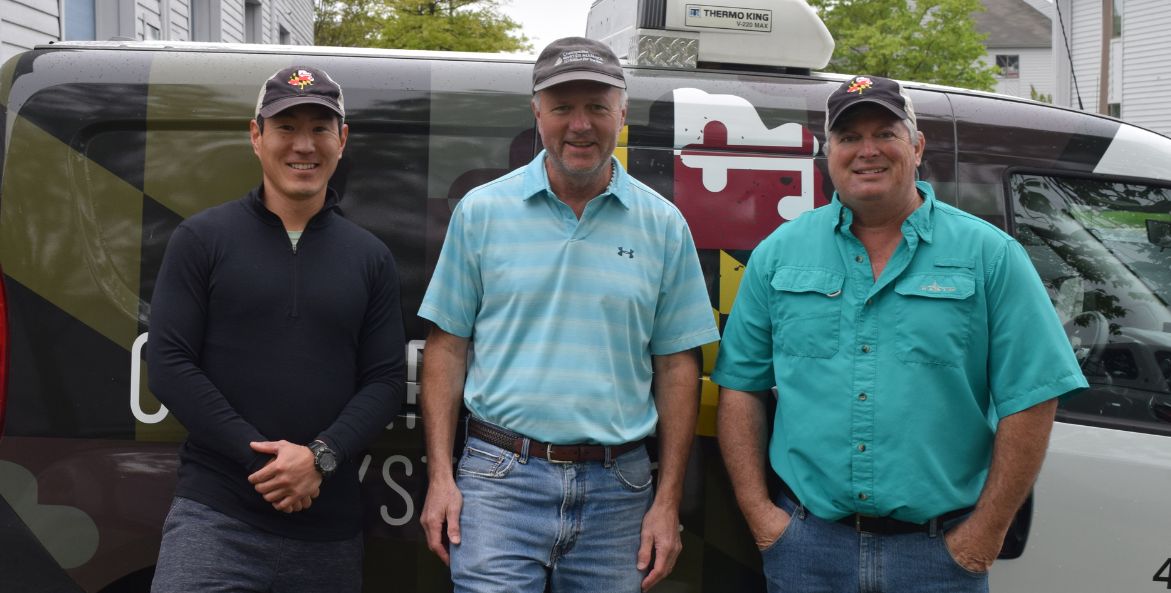 How did you end up in the oyster world?
Imani: I've been in the oyster aquaculture industry for 6 years. I started at Virginia Institute of Marine Science and after graduating, moved from different oyster farms and hatcheries across Maryland. In 2020, I unexpectedly lost my job, but I pivoted and decided to start Minorities in Aquaculture (MIA) and a Master's program at UMCES.
Jennifer: I went to school for marine biology—that's my passion. I moved to Virginia a year ago and stumbled across Friends of the Rappahannock. We have three pillars of our organization—advocacy, restoration and education—so my main focus is on the restoration work, specifically oyster restoration work, which ranges from living shoreline work to oyster reef restoration.
Scott: I didn't come up in a waterman family, and went to college but didn't study biology or environmental science. I worked for 10 years in corporate America in D.C., and towards the tail end of my career, I started reading about oyster aquaculture and developing an interest in food and the environment. Having grown up on the Shore and seen the water quality really change since the 80's, seeing the benefits that [oyster] farming could have spoke to me. Then, I started seeing local brand names at restaurants that I'd never seen before, and it was kind of a renaissance moment where suddenly, you had a choice of oyster.
I did a little hobby farming and kept the day job, but then quit the day job and committed full time. I teamed up with the other partners of the company who had similar career shifts in 2018, and here we are.
Gardner: I was about 22 and started shucking oysters. My dad taught me how because he was an oyster shucker. It really started as a way to make some extra money. But I've always loved talking to people and learning new things, which I got to do at parties and events as a shucker. When I got to D.C. and started my social media pages, business really picked up—because everyone needs an oyster shucker.
What does a typical day look like for you?
Imani: MIA is all about giving women a community of empowerment together and giving them resources and access to career development opportunities, including full-funded internships, conferences, certifications, or any other skills that the aquaculture industry needs right now. My day-to-day all depends on the day, since I'm wearing so many different hats. I'm either running from class, meeting with partners and MIA members, writing grants, or trying to plan events. I've been trying to plan as many different events as possible, not only with women of color, but with fisheries and other marine science organizations.
Jennifer: An interesting thing about working for an environmental nonprofit is that there isn't a standard routine. There's always something new and exciting going on. In the slower, winter months, we might focus more on grant writing and forming more partnerships with the community, but in these warmer seasons, I'll be out checking potential sites for projects and working with homeowners on restoration projects. It's not a glamorous job, but we don't shy away from being out in the mud and dune grasses dumping loads of oyster shells.
Scott: My role has shifted recently. I used to be out on the farm every day harvesting oysters. Right now, because we've had great help from people who are able to work on the production and harvest side, I've been able to focus more on the business side of things.
People management is a big part of the job, too—training people to help out on the farm, so you can focus on other things to help the business grow.
Gardner: Aside from shucking, a lot of the job is talking to and connecting with people. I get to teach people how to eat oysters properly, talk about the oyster process from start to finish, and hope that everyone has a good time.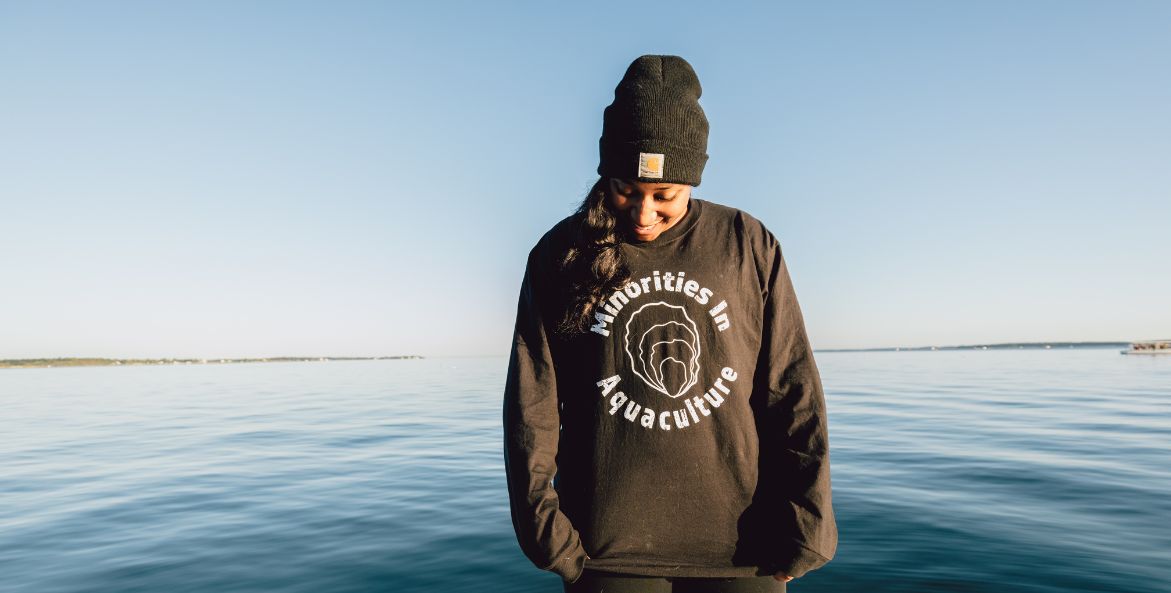 What are some key highlights, accomplishments, and growth you've experienced in your career?
Imani: Our outreach and awareness of minority history on the water has really grown, along with our stakeholder engagement, presence in the media, and our engagement with other women of color. We have over 80 members right now. Most of our engagement is with U.S. members, but we have members in Italy, Norway, and Sri Lanka.
And personally, I've grown as I've found a link between all the things I love to do.
Jennifer: This past year we converted 10 acres of bottom to create more productive oyster reefs, which was really exciting and a good segue into our plans for doing larger oyster restoration projects. Our expansion is a big focus and success for us so we can keep hitting efficient goals. We just applied for a grant to hopefully plant 25 acres of bottom to productive reef areas, which would be huge.
Scott: A major highlight for us was being a part of the first nutrient credit trade in history for oysters. It was really cool to see the hard work and our participation with academic research literally paying off for the first time.
And to put how much we've grown in perspective: In July of 2021, we sold our millionth oyster, so it took five years for us to hit that point. Now we're close to selling a million oysters just this year. Diversification is going to be important for us as we grow. There are some new ideas we've been throwing around about how Orchard Point can become more vertically integrated and more efficient on the production side, to make the job more fun and easier.
Gardner: Oysters have opened so many doors for me. In a way, they've given me freedom.
One moment that really stands out is shucking for First Lady Michelle Obama at her birthday dinner.
But beyond that, oysters have been bonding agents for me. My dad and I bonded over oysters. He taught me something that he grew up doing, and while we shucked we talked about our lives. It was kind of full circle because his dad worked on the water, he worked on the water, and then here I am shucking oysters. The biggest lessons I've learned from oysters are not about oysters, but about life.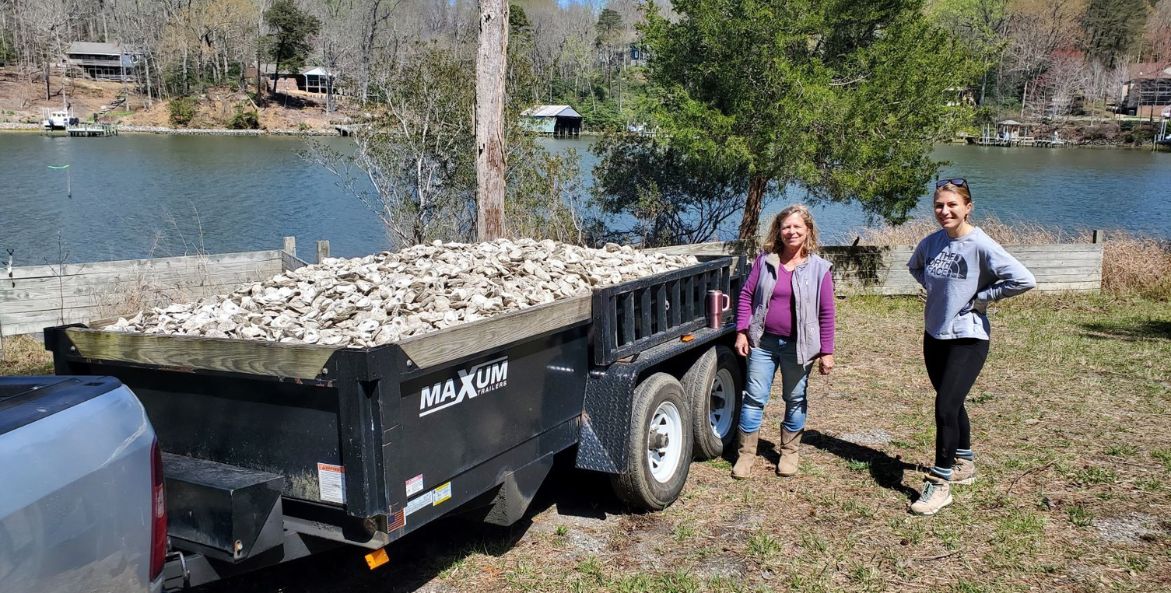 What role would you say partnerships play in your sector of the industry?
Imani: I truly think it takes a village to get something impactful done, so I try to be intentional about our partnerships and make sure they range across all the different sectors of the aquaculture industry. Our partners have been genuinely interested in giving our members and women of color the opportunities that we'd want to provide.
I'm also ready to reshape what the definition of minority is. I want to honor all women; and yes the definition of minority is people who have been marginalized, but for women in the aquaculture industry, that's all women. We need to all collaborate and stick together.
Jennifer: We work with some really important partners, like restaurants who do a shell recycling program, watermen and the seafood industry, and oyster aquaculture groups who acquire oyster shell and help to spread it. We've been able to partner with the Tides Inn near us, who had a huge living shoreline project that we assisted with that's been a great success.
Scott: It's really important to have your story told, and I think that's where partnerships come in. They help with brand awareness. And then on the academic side, there's great partnerships as far as research is concerned. We're signing off on letters of support for grant funding for nonprofits, or happy to be guinea pigs and test sites for new science techniques.
There are also people from outside the industry who are extremely supportive because they want to see the industry succeed.
Gardner: At the end of the day, it's all about connections. Through oysters, I've been able to make relationships and have the opportunity to share people's stories. It's like therapy for me, and I hope it's like therapy for the people on the podcast. I've never had a sponsor or gotten paid for the podcast, so it's really a love behind it. I might love podcasting more than shucking; deep diving with people and letting them share their stories. It doesn't matter what color or gender anyone is, we all have commonalties.
Learn more about the Chesapeake Oyster Alliance and how you can help add 10 billion oysters to the Bay. Follow us on Instagram and Facebook.