Between securing permits from the county, calling hundreds of local businesses to pitch sponsorships and secure donations, and tracking down dozens of bands in their search for musical talent, it's been a busy year for Henry Kline and Matt Spencer—not to mention balancing the rest of their normal student workload as juniors at Towson High School.
"I never would have thought in my life I'd be filling out professional grants to giant corporations or going out to the county to secure a plot of land for a festival," says Spencer, who, along with Kline, took on the role of co-president of the Tributary Festival this year. "These are things not a lot of high schoolers are doing."
It's all in the name of rock n' roll—and saving the Chesapeake Bay.
This fall the student-led music festival will hold its third annual event on September 9, 2023. From humble beginnings in 2020—the original in-person event was canceled due to the COVID-19 pandemic—it has since grown to more than 750 attendees in 2022 and has raised more than $19,000 for Bay restoration using CBF's BayRaiser platform. The funds go to support critical restoration work across the watershed, from planting trees and restoring oyster reefs to securing policies that protect critical habitats and providing outdoor environmental education to students.
Reed Spaulding, the festival's creator and a senior at Towson High this year, says it started as a simple idea to combine his love of music and the Chesapeake Bay.
"When I first pictured it, I thought it would be a fun little concert—like maybe my family would show up. But as the ball got rolling and we started working on it, I realized this could be bigger than me, bigger than my friends, and that we could really make a change," Spaulding says. "That switched gears in my mind. The gap year when the festival got canceled allowed me to develop it more, not just as an event, but as a brand, and make it into what it is today."
Last year's Tributary Festival included more than 15 bands playing across two stages at the Baltimore Museum of Industry on the Inner Harbor. They ranged from high school bands to local artists and professional touring acts. The Tributary Club at Towson, which plans and organizes the festival, is now the biggest club on campus with nearly 100 student members.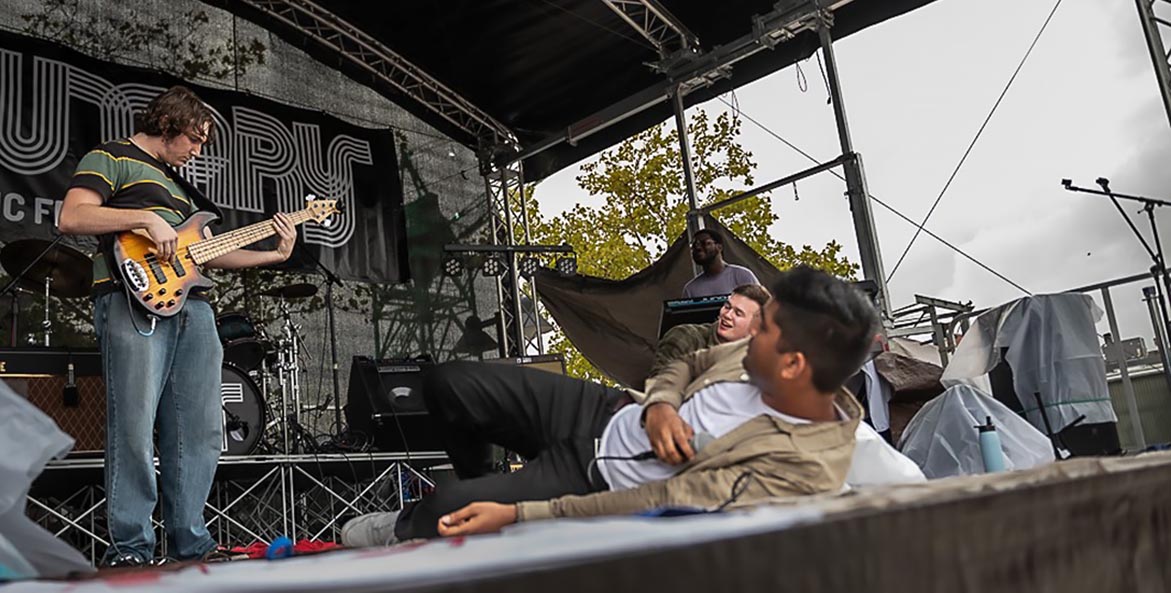 The club meets regularly to parse out the work. Some, like Spaulding, focus more on the creative side of the event, such as booking bands and designing logos and merchandise. Others focus on the business side of things, handling logistics and sponsorships and donations.
"All the students that support our cause are put headfirst into leadership positions," Spaulding says. "They're working on a real event with all that goes with it—calling places, making money, booking bands, looking for sponsors. It's a real festival, and we have the students do all of that."
Spaulding, Kline, and Spencer say they've each had a strong connection to the Chesapeake Bay growing up that helped drive their involvement in the festival. But they also know many people may not give the Bay a second thought.
Music, for them, is a way to meld their two passions and help bridge the gap for those who might not otherwise engage on clean water issues.
"A lot of times people aren't interested in just the Bay," Spencer says. "I think using music to make people interested in something they wouldn't otherwise be interested about is a really cool thing, and we can create a really entertaining event by combining the two."
They're hoping even more people turn out for this year's event, which will be moving from its previous Inner Harbor location to Patriot Plaza in the middle of Towson. The move will bring the festival closer to the school and surrounding communities, and they plan to host upwards of 20 bands.
"We put in a lot of work to get the community involved," Kline says. "To see them reciprocate that energy is a really good feeling."
He also hopes it inspires people to feel like they can make a difference, which was one of the festival's big draws for him personally. Now as co-president, he says it's served as a catalyst for him to get further involved in the community.
"When people say, 'Do you want to help the Chesapeake Bay?' it seems like such a daunting task," Kline says. "But when it's broken down into fun and original ways, like this festival, it makes it more enjoyable and possible for people to do."
Kline, Spencer, and Spaulding all say the experience of organizing the festival has opened new doors and skillsets for them personally. Their advice for others who are itching to take action in their own communities? Take the leap, and don't be afraid to do it in your own way.
"You never know what you can do until you start doing it," says Spencer. "I never thought I'd be raising $10,000-plus a year—you just don't know how big of a difference you can make until you start putting in the work to make a difference. Just take that first step, and try your best at it."
Learn more about CBF's BayRaiser program and how you can start your own fundraiser to support the Chesapeake Bay. Whether you host a bake sale, throw a Bay-themed trivia night, run a 5K, or create a music festival, BayRaiser gives you the tools you need to fundraise on behalf of the Bay.
Issues in this Post