A version of this article originally appeared in the Spring 2023 issue of Save the Bay magazine .
A workboat was an unusual place for a curriculum meeting, but Dr. Venicia Ferrell had good reason. As the Science Coordinator for Hampton City Schools, she was partnering with CBF to create a school-system-wide environmental education program that would integrate outdoor learning at every level. She was determined to get administrators on board, literally.
From one end of the boat to the other, she hung posters outlining the science education standards for each grade. It showed the elementary, middle, and high school principals how their standards aligned, building from one year to the next. Miss one step, and students wouldn't have the background to succeed at the next level.
"Once they could see that, they were very clear in understanding that this had to be a shift that happens," remembers Ferrell, who is now a research assistant professor at The Center for Educational Partnerships at Old Dominion University. The center is missioned to develop collaborative educational initiatives across the Commonwealth of Virginia.
Fundamentally Good Education
Environmental literacy is a key goal of the Chesapeake Bay Watershed Agreement, which outlines restoration commitments adopted by the District of Columbia and the six states that share the watershed. State education standards in Maryland, Pennsylvania, Virginia, and D.C. now include learning about the Bay and the local environment. In 2011, Maryland became the first state in the nation to make environmental literacy a graduation requirement.
Getting to this point took years of advocacy. In the early 2000s, new high-stakes testing stemming from the federal No Child Left Behind policy made it difficult for teachers to take students outside, says Sarah Bodor. A curriculum writer for CBF at the time, Bodor was tasked with leading the organization's efforts to form a nationwide "No Child Left Inside" grassroots campaign. It brought together more than 2,000 like-minded organizations calling for federal policies and funding to support outdoor education.
The No Child Left Inside Act, introduced in 2015 by Congressman John Sarbanes of Maryland, ultimately failed to pass, but states across the country developed environmental literacy plans as a result. [See sidebar]
"Environmental education is fundamentally good education," says Bodor, now at the North American Association for Environmental Education. "It's project-based, it's interdisciplinary. It includes all the things that we know work best."
Ferrell says the initiative in Hampton succeeded beyond what they'd hoped. Teachers and administrators began seeing outdoor learning not as an "extra," but as an effective way to meet their standards. She's now expanding similar programs across multiple districts in Southeastern Virginia.
"Environmental literacy is more than having knowledge and skills," she says. "It's also about building the character and interest and excitement to solve problems, whether it's individually or collectively as a group, and to be able to use that knowledge to solve issues in your local area."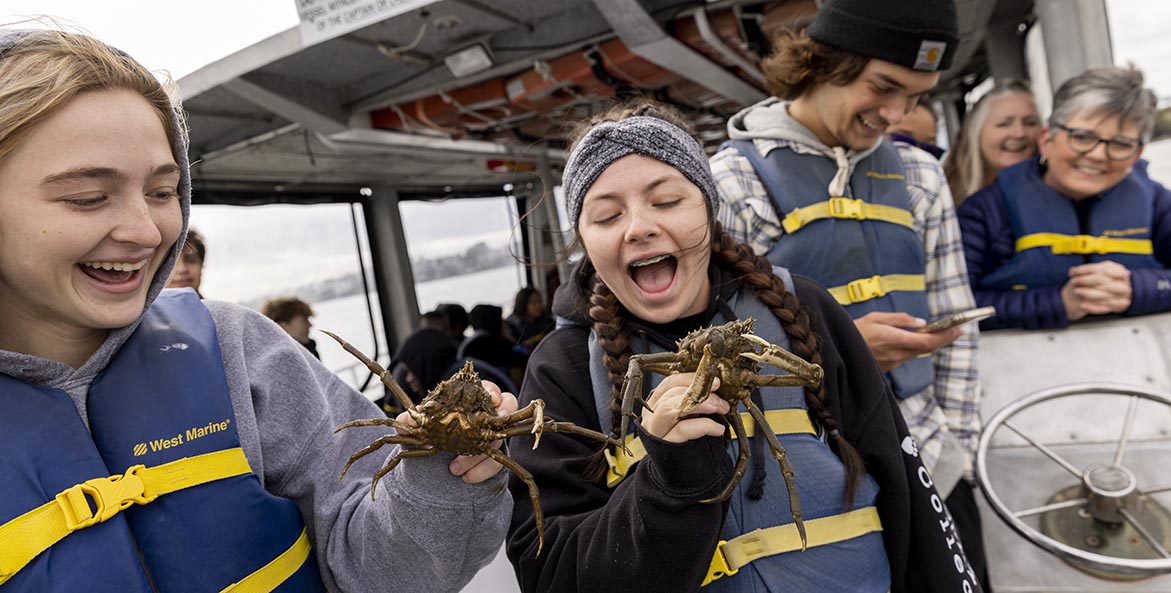 The Art of Teaching Outside
It's one thing to know the value of outdoor education. It's another to actually do it. Teachers like Wendy Rouget, a sixth-grade teacher at Kenmore Middle School in Prince George's County, Maryland, are crucial to the long-term success of environmental education and literacy goals.
"It's all based on where I am," Rouget says of her efforts to incorporate outdoor learning throughout the school year. "I always look at my current location for inspiration for things to do with kids."
At her former school, Lewisdale Elementary, she took students on regular investigations of the stream up the street and discussed how pollution affected the water where many of their families visited. At Kenmore, she's considering ways to utilize the school's new green building, currently under construction, as a future learning tool.
"I have seen kids who were not shining in the classroom, but when we got outside, something magical happened with them," she says. "I was not the teacher anymore. They were the ones teaching the others, showing them how to be comfortable and care for the living things we encountered. It takes on a whole new level of appreciation for the talents of everyone in our group."
Not all educators, let alone students, are as comfortable being outdoors.
"When you're studying to be a teacher in a typical education program, there really is no component about how to bring your students outside to learn," says Jen Peglow, who after 23 years of classroom teaching is now CBF's Professional Learning Coordinator in Pennsylvania. "I think a huge barrier for teachers is just, 'What do I do when I'm out there? How do I get students to not just want to play, but view it in a meaningful way?"
In the late 1970s, CBF started offering teacher workshops to help educators overcome that uncertainty. The current Chesapeake Classrooms program, of which Rouget, Peglow, and Mathew are alumni, takes teachers on immersive explorations of the watershed while showing them how to create similar investigations for their students. It also helps teachers spark their own love of learning, Peglow says. That's more critical than ever as large numbers of teachers nationwide consider leaving the profession.
"We need teachers to be excited," she says.
Beyond the field experiences, teachers who have participated in past CBF programs serve as mentors, creating a supportive network of colleagues across the watershed. Connecting teachers to each other, local outdoor organizations and resources in their area, and even basic equipment like water quality test kits is critical for sustaining environmental education year-round, says Erin O'Neal, who leads CBF's teacher professional learning programs.
"Teachers are amazing," she says. "They're going to make it happen as long as giant walls aren't standing in their way."
Making It Work in Baltimore
One place teachers and administrators are making it happen is Baltimore.
Vicki Mathew grew up in the city as a self-described "outdoors girl." When she left at age 18, she thought she'd never return. After school she joined the Peace Corps, became a science teacher, and settled into life in Tanzania. She took her students on a safari to Ruaha and led them up Mount Kilimanjaro, never imagining she was also laying the groundwork for change back home.
"The fact that I was able to convey anything despite the language barriers showed me just how powerful it was to use the environment as a context for learning," Mathew says.
Living in a city, our students don't always have access to green space, and now, they're being engaged in a meaningful way with the outdoors. It's really happening.
Hyper-localized, hands-on teaching became second nature, and when a serendipitous opportunity led her back to Baltimore, she brought it with her to the city's public schools. Nearby rivers like Jones Falls and Herring Run became outdoor classrooms for water-quality testing and macroinvertebrate studies. Parking lots and school buildings became opportunities for greening projects. To scale up her efforts, she began working with colleagues on curriculum and partnering with local organizations like Blue Water Baltimore, Great Kids Farm, and CBF, becoming the Baltimore mentor teacher for CBF's professional learning programs each summer.
It's a model that's now going big time. Last fall, more than 1,000 ninth-grade biology students and their teachers from Baltimore City Public Schools headed into the city's waterways for the pilot Baltimore Outdoor Learning Network Initiative (OLNI). They're using the stream investigations to conduct data analysis throughout the year, leading up to a student action project.
The initiative is funded by grants from the Chesapeake Bay Trust and NOAA's Chesapeake Bay Watershed Education and Training Program (BWET). The partnership brings together Baltimore City Public Schools and multiple public and nonprofit organizations, including CBF, Living Classrooms Foundation, Carrie Murray Nature Center, and the Maryland Department of Natural Resources.
Kevin Garner, the school system's Science Coordinator, says it's not the first time they've pursued widespread outdoor learning, but it's the first time the effort has gained traction.
"It just never panned out until we were able to re-envision it with the OLNI grant," he says.
While each field site is run by a separate organization operating independently, they match the same curriculum and use the same tools for investigation. Each school is also different, with different needs. By collaborating on a single initiative and staying flexible, the partners can build on each other's strengths, says Garner.
"It's been transformative for us, as evidenced by the engagement and the achievement of the students," he says. "It's not a one-and-done fun trip. This is part of a sequence of learning that happens, and it's built in so there are touchpoints throughout the whole year."
For Mathew, who is currently on sabbatical exploring the global intersections of climate and conservation, it's exciting to see the direction Baltimore is taking.
"I'm proud of what Baltimore City Public Schools are doing," she says. "Living in a city, our students don't always have access to green space, and now, they're being engaged in a meaningful way with the outdoors. It's really happening."
Issues in this Post