Volunteers at a Clean the Bay Day site in South Richmond didn't know quite what they were getting into when they entered a forest along Warwick Road. Near Grindall Creek, piles of old tires sat half-buried in leaf litter. They had been there so long that some had trees growing through them.
Tires are one of the most common plastic polluters in waterways. The mounds of tires in Richmond lay along Grindall Creek, which joins the James River just a few miles downstream.
Most of the volunteers that Saturday morning were employees from Workshop Digital, a Richmond-based marketing agency that is a Clean the Bay Day sponsor. The company offers staff paid volunteer time to give back to communities.
The volunteers helped clean up what will become a much-needed park for South Richmond residents. In 2020, the Capital Region Land Conservancy received a donation of 13 acres in a historically underserved neighborhood still recovering from the effects of redlining. Redlining is a discriminatory lending practice that denied housing loans in majority-Black communities in the 1930s and 40s and led to a lack of city investment in community resources like parks.
Altogether, the eight volunteers recovered 147 tires and six to eight large bags of other litter.
"I don't think they realized how dirty they were going to get," said Parker Agelasto, executive director of the Capital Region Land Conservancy. "It was a mud slosh. But when we were done, every single one of them said 'Oh my, look at what we accomplished.' When we come together and work towards something in a coordinated fashion, we can really make a difference."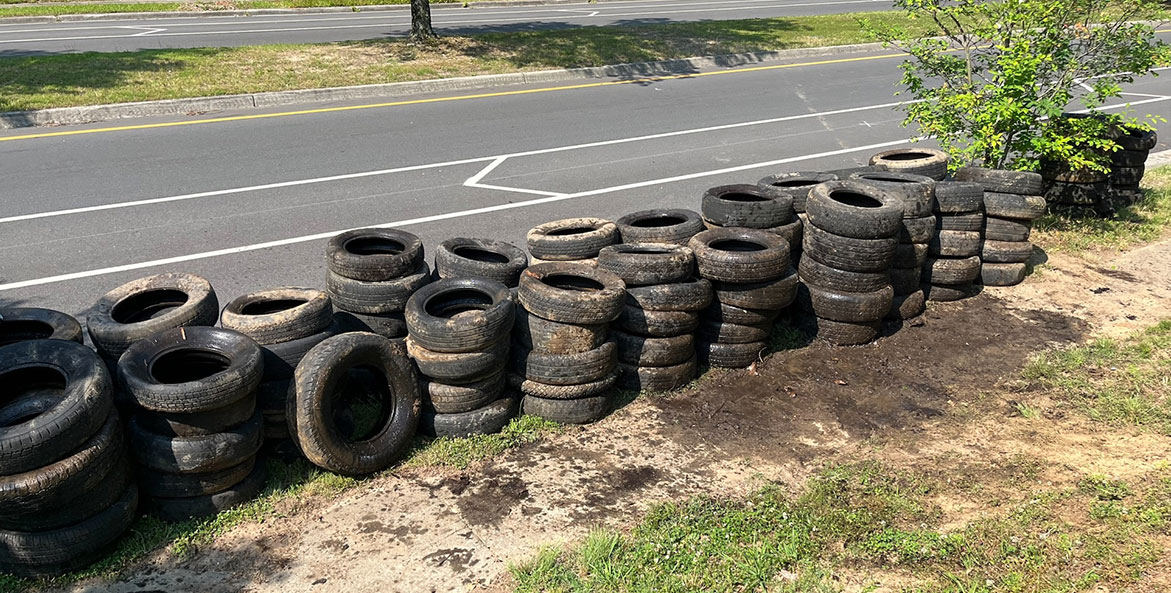 The achievement was a perfect example of the spirit of Clean the Bay Day, which was founded in 1989 by a group of Virginians concerned about litter and under CBF's leadership has grown into Virginia's largest annual cleanup. Every year, thousands of people come together to remove trash and debris at parks, beaches, rivers, and streams across Virginia. This year, on and around June 3, more than 4,000 volunteers at about 200 sites across Virginia cleaned up nearly 114,000 pounds of litter for Clean the Bay Day. These efforts reduce plastic pollution in our waterways and mobilize new CBF volunteers in the fight for clean water.
The event and other cleanup efforts are making a clear improvement for the future park in Southside Richmond. The tires and trash were surrounded by an abundance of life—rich forests, wetlands, pink lady slipper orchids, and an ancient beech tree with a canopy that spreads over 100 feet.
"A lot of people don't realize when they drive by a forest that there may be something hidden in there that is unhealthy for the environment," said Agelasto. After a recent visit to the property before Clean the Bay Day, the organization estimated about 50 tires were in the woods. During the cleanup they ended up recovering nearly three times as many.
The property had long been neglected, and it's not certain who dumped the tires there. "Some mom-and-pop repair mechanic shops after taking old tires might not know the regulations," Agelasto said, noting that disposing of 147 tires properly would cost over $1,000. "They end up dumping them when they realize that it's going to cost them money."
In this case the Land Conservancy stacked the tires along the roadway and worked with the City of Richmond to have them picked up and disposed. Richmond's Clean City Commission provides free trash pick-up to encourage volunteer clean-ups through their Adopt-A-Spot program.
Removing the tires was an important step in plans for the property, which in the future will include hiking trails and a 100-foot buffer along the stream to protect clean water. More than 1,000 residents live within a 10-minute walk of the site. "Equitable access to green space, natural areas, and parks is so important for mental and physical health. It reduces heart disease and anxiety and depression," said Agelasto.
The site has even inspired poetry by Dr. Gwyn Moses, a nearby resident who worked with the Land Conservancy through the Writing the Land program to write conservation-focused poetry. In one poem about the property, she states that "footprints remain of trampling" at this forest, and looks to the future playground and nature trail. With the dedicated work of the Capital Region Land Conservancy, the community, and Clean the Bay Day volunteers, this greenway will become a place of healing and rejuvenation for the community.
Issues in this Post