How are blue crabs doing?
After reaching record low numbers last year, the Chesapeake Bay blue crab population is showing some signs of improvement in the 2023 Blue Crab Winter Dredge Survey. This year's survey estimated total crab abundance at 323 million. That compares to the 227 million estimated in 2022, the lowest in the survey's 33-year history.
The adult female crab population increased when compared with last year. While juvenile crab numbers improved slightly when compared to 2022, the juvenile population remained below average for the fourth year in a row. Male crab numbers showed only a slight improvement from last year's all-time low numbers. Harvest levels for male crabs exceeded the conservation benchmark for the second consecutive year, raising concerns about whether such levels of exploitation could be sustained.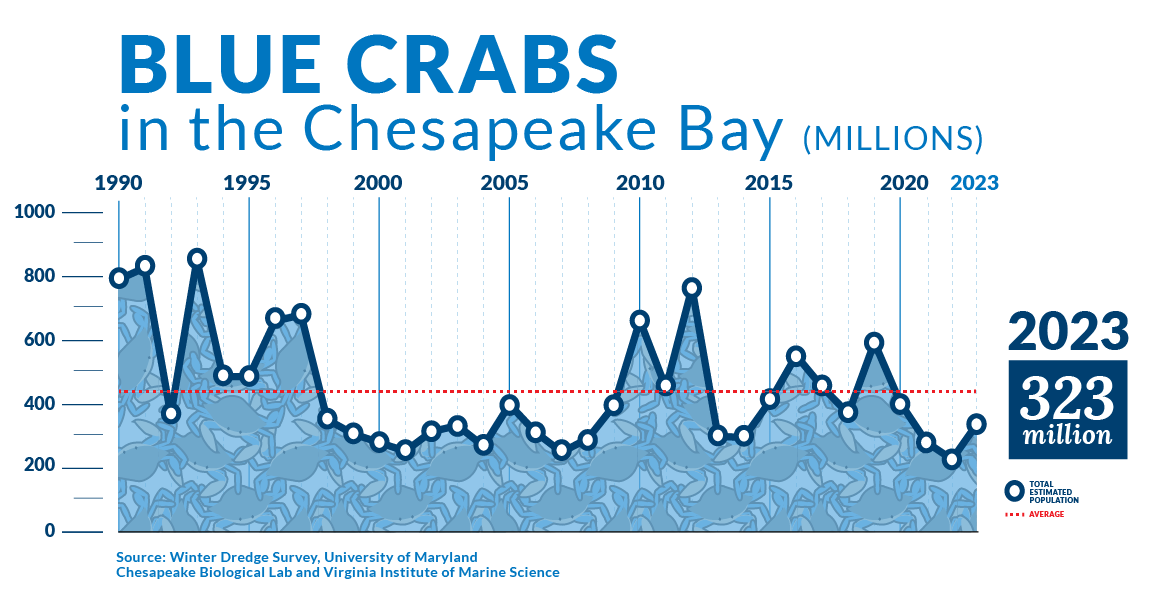 While this year's numbers show some signs of recovery in the Bay's blue crab population, there is still plenty of cause for caution. Because the blue crab population fluctuates annually due to a variety of factors, we hope the improvements observed this year continue over the long term.
Why are blue crabs important for the Bay?
Blue crabs, known as "beautiful swimmers," are one of the most iconic Chesapeake Bay critters. There are a number of positive effects of a healthy blue crab population.
First—and what is probably on the minds of most people living in the Bay watershed—is the benefit that there will be more crabs to catch and eat. Blue crabs support one of the Bay's most valuable commercial fisheries and a large recreational fishery.
From an ecosystem perspective, blue crabs of all sizes serve as forage (food) for a wide variety of fish, birds, and, yes, even other blue crabs (blue crabs are quite cannibalistic). Some of the more common Bay species that eat blue crabs include red drum, croaker, blue catfish, and cobia. In fact, cobia are such voracious predators of blue crabs they are sometimes referred to as "crabeaters."
How do we measure the current status of blue crabs in the Bay?
Each winter, Maryland and Virginia partner on a winter dredge survey, which produces an estimate of the number of blue crabs in the Chesapeake Bay and its tributaries. The winter dredge survey is one of the most comprehensive surveys of any species in the Bay, dating back more than 30 years to 1990.
The survey is conducted by randomly sampling approximately 1,500 sites in the Bay and its tributaries with a depth of at least 5 feet. This work is usually completed from December through March when crabs are in semi-hibernation along the seabed. After the data are compiled and analyzed, the results are released around late April. Beginning in 1997, a comprehensive review of those results is completed annually by the Chesapeake Bay Stock Assessment Committee and released in early July.
What are the primary factors influencing the blue crab population?
The blue crab population fluctuates annually based on a variety of factors, including weather, predation, and harvest. We can help blue crabs on two fronts: continuing wise, science-based management and doing all we can to reduce pollution.
The recent decline in the Bay's underwater grasses is likely contributing to low blue crab numbers, as well as pollution and predation by invasive blue catfish. Long-term recovery of the Bay's blue crab population will only be possible through continued wise management of the fishery, combined with actions to improve water quality and address predation from invasive species in the Bay.
How can we help?
Reducing pollution to improve water quality and habitat is critical for blue crab survival. Underwater grasses represent one of the most important habitats for young and female crabs, providing food and protection. The Bay's grass beds are vulnerable to pollution that decreases water clarity and blocks sunlight, as well as rising water temperatures and high flows of water from extreme storms linked to climate change. Crabs are also affected by the Bay's "dead zones"—areas of little or no oxygen that rob blue crabs of both food sources and areas to hide from predators.
Due to continued low numbers of male crabs, both Maryland and Virginia should continue efforts to protect male crabs. States should also consider additional actions, including pot tagging, which assists in the enforcement of blue crab fishery regulations. Although both states currently have limits on the number of pots watermen can set, these numbers are largely unenforceable, leading to numerous concerns about the amount of crabbing gear in the water. Pot tagging would help the states enforce these limits.
Blue Crab Lifecycle
Explore the lifecycle of one of the Chesapeake Bay's most iconic residents, the blue crab.

Director of Digital Marketing and Communications, CBF

Senior Regional Ecosystem Scientist, CBF
Issues in this Post