Project Team
Owner: Chesapeake Bay Foundation
Architect: Smith Group JJR
Civil Engineer: WPL Site Design
Landscape Architecture: WPL site Design
General Contractor: Hourigan Construction
Structural Engineer: A&F Engineers
MEP Engineering: Smith Group JJR
Owners Representation: Skanska
LEED & Living Building Challenge Management: Janet Harrison Architect
Transparency
The Brock Environmental Center team is the first Living Building Challenge™ project to openly share its substantial, exhaustively researched materials database, which is in compliance with the Red List and appropriate sourcing imperatives. CBF and project partner SmithGroupJJR feel this enables the industry's collective knowledge base to move along more quickly, benefitting the desire for healthier and safer buildings for all.
Let's learn together. Access the Brock Environmental Center's materials database.
Documents
Conditional Use Permit Application—Environmental Education Center Download (PDF, 10.88 MB 28pgs)
Conditional Use Permit Application—Wind Turbines Download (PDF, 3.02 MB 14pgs)
Conditional Use Permit Application—Private Sewage Treatment Facility Download (PDF, 1.17 MB 13pgs)
Design Concept-August 2012 Download (.jpg file, 52.25 KB)

Access Plan (Phase One Interim and Phase Two Longterm) Download (PDF, 1.34 MB, 2pgs)
Survey Results: CBF Entrance Plans Download (PDF, 146 KB, 4pgs)
Images
Three concept renderings by SmithGroupJJR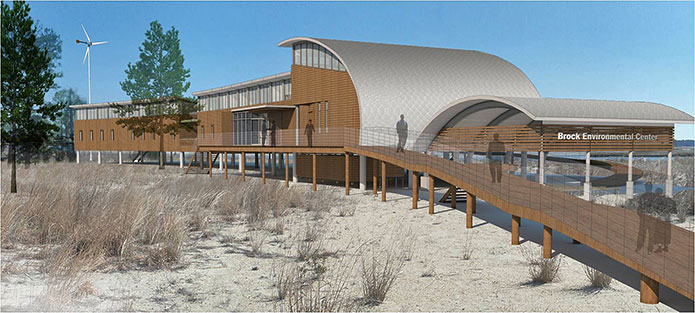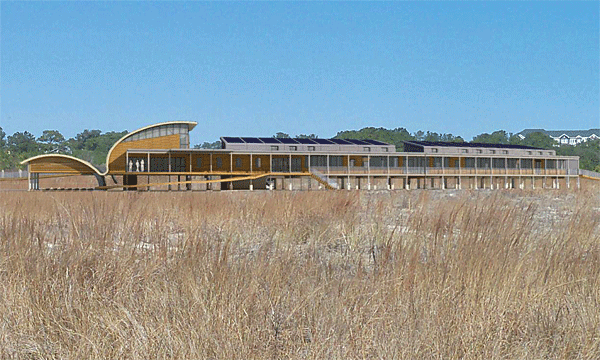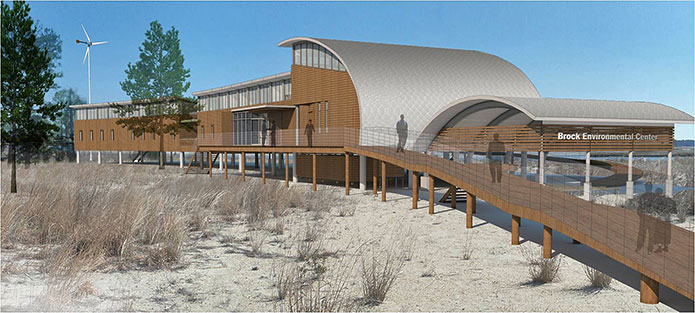 Aerial view of Pleasure House Point. The area purchased by the Trust for Public Land is outlined in white. The location of CBF's proposed Brock Environmental Center is marked with an arrow.