As Pennsylvania considers yet another budget that does not adequately fund efforts to clean up its rivers and streams, the federal House Appropriations Committee has approved a spending bill that would cut support for the Chesapeake Bay Program from $73 million to $60 million.
Inadequate funding from the Commonwealth and the Bay Program would slow efforts to protect and restore clean water and have negative impacts on the Keystone State's economy. In fact, economic analysis indicates that cleaning up our rivers and streams will result in more than $6.2 billion in additional natural benefits each year for the Commonwealth.
Roughly 19,000 miles of Pennsylvania rivers and streams are fouled by pollution and the Commonwealth cannot afford to lag behind any further in meeting its commitments to clean water.
The negative effects of funding cuts go beyond water quality, to concerns about human health, property, and our local economy.
Simply stated, these resources are leveraged with other public and private investments that trickle down to the dinner tables of Pennsylvanians.
Offered here are profiles of conservation-focused companies that plan and implement clean water efforts, dig and move earth to restore streams, and grow and deliver native trees and shrubs for pollution reduction projects. Their workers and families rely on income from jobs that advance measures to clean up Pennsylvania's rivers and streams.
Flyway Excavating, Inc.
Lititz (Lancaster County)
Flyway Excavating is marking its 30th year in 2017. The company was started by President Brad Clubb and employs 30 people; 24 of them work "in the field."
The company serves several niche markets and runs seven work crews on stream and wetlands restoration, parks and plaza construction, culverts and bridges, dam removal and dam restoration, and streetscape projects.
Clubb believes that cuts in state or federal funding would negatively impact Flyway's bottom line.
"We do rely very heavily on projects funded on the public side," Clubb says. "About 75 percent of our volume or more in the last three-year period was public projects."
Over the last three years, stream restoration work has accounted for about 20 percent of the company's business; 30 percent when considering streams, wetlands, and dam projects. These are the types of projects often supported by federal and state sources and further leveraged by private funding, including from the landowner.
"In a good year, we will have two or three crews on stream work," Clubb says. "We pretty much perform the entire job with our own labor and equipment. Those are the preferred jobs. You want to keep your own equipment and people busy."
Clubb says there are times when half of the workers and equipment are dedicated to stream projects. The company owns two trucks specifically for stream restoration work. "If we didn't have work for that equipment it would be a financial impact," Clubb adds.
Clubb notes a valuable working partnership with Donegal Trout Unlimited on the Conowingo Creek in southern Lancaster County. "Funding comes steadily for them," Clubb says. "Loss of funding would have a dire impact on good things happening in that watershed and cause us to be scrambling for other work to replace it." He says Flyway does a project a year for Donegal Trout Unlimited, some totaling as much as $300,000-400,000.
The Trout Unlimited chapter has worked to restore portions of over 14 streams in Lancaster County since 2004. It has restored the Donegal Creek and has completed and is now maintaining Lititz Run.
Flyway Excavating also finished four, large green infrastructure projects and a two-year streetscape project for Lancaster City.
LandStudies, Inc.
Lititz (Lancaster County)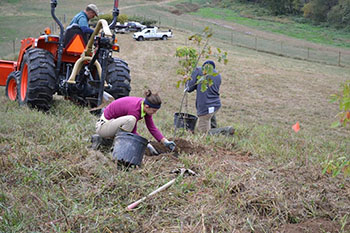 LandStudies has been taking restoration and conservation projects from concept to completion and beyond since 1989.
Jimmy Kreider, director of field operations at LandStudies, estimates that as much as 30 percent of their revenue originates from state or federal funding, applied to projects like riparian buffers, stream restoration, wetland creation, green infrastructure, innovative stormwater management, rain gardens, and more.
LandStudies has 20 to 25 employees doing design and landscape architecture; and 10 to 12 working on field operations, feet and hands on the ground.
Kreider acknowledges that like other businesses that get the job done with cost-share and grant investments, LandStudies and its workers would undoubtedly feel the bite of cuts in public funding.
Most of LandStudies' design and implementation work is done within 90 minutes of Lancaster. But their services have reached to Pittsburgh and into the state of Maryland and New England. "Because we are involved in planning, permitting, construction, installation and maintenance, we will often be involved in a job for 10 to 15 years," Kreider says.
LandStudies also has private customers and works with municipalities to help them meet municipal separate storm sewer system requirements.
Design and engineering work accounts for half of LandStudies' revenue. Implementation and follow-up monitoring provide the balance.
When state or federal investments are reduced or cut from clients, businesses like LandStudies lose revenue in other ways.
Kreider notes an interconnected web, or negative ripple effect, of federal funds being slashed or eliminated.
"If the funding sources dry up it will affect other organizations and when that happens it affects us in ways it's hard to measure," Kreider says. "A lot of funding provides education for watershed coordinators at different nonprofits and organizations and programs. It's those programs that make people aware of what they need to do.
"If that level of awareness goes away it may affect our private clients as well. They may not be incentivized or even aware in the same way that this work needs to be done."
Octoraro Native Plant Nursery
Kirkwood (Lancaster County)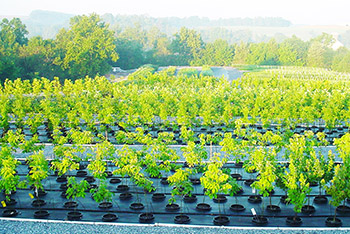 Octoraro Native Plant Nursery has been in business for 27 years, growing native trees and shrubs for environmental restoration and conservation projects. As wholesale growers, their customers include contractors, nurseries, non-profit organizations, government agencies, schools, golf courses, and landowners employing conservation practices.
Octoraro employs 35 people. Seasonal Amish workers (85 percent of the company's workforce) help produce, grow, and maintain the plant inventory. They also load and ship plants to customers throughout the mid-Atlantic region.
"The Chesapeake and Delaware Bays and all of Pennsylvania's watersheds are why we are in business," says Jim MacKenzie, Octoraro's president and co-owner. "About 75 to 80 percent of our business is related somehow to water quality improvement plantings. We do some upland species, urban environment and reforestation, but the vast majority goes to riparian buffers, wetland mitigation, bio retention, and green infrastructure.
"Because of this specialization, if federal and state funding were scaled back, we would certainly feel those cutbacks, if other revenues weren't recognized elsewhere. This could potentially translate to jobs," MacKenzie says. "At risk, potentially, would be hundreds of thousands of dollars of revenue, and real jobs along with the ripple effect to the local economy. That's the scenario, if it (federal funding) is zeroed out or scaled back, we would definitely be impacted."
A diverse clientele that includes private sector business means the nursery doesn't rely solely on revenue originating from state and federal sources. "We feel the time is right for increased private sector involvement with helping agencies and non-profits alike achieve projected water quality goals," MacKenzie says. "At times of change like this, there is also opportunity, and the private sector is showing more and more interest in being a strategic partner with these efforts."
The nursery does its part to improve water quality in the Octoraro watershed. It created a four-acre wetland in the flood plain of the Octoraro as a passive, water quality treatment facility cleaning runoff. Stormwater runoff from the nursery and adjoining farms (including 150-200 acres of agriculture that are treated twice a year with biosolids) is diverted to this wetland complex. "All that is flowing through our planted Octoraro complex before it goes into the creek," Jim MacKenzie adds.
Conserving water is also a priority. MacKenzie says utilizing drip irrigation reduces water use at the nursery by 80 percent over traditional overhead irrigation. The company also uses electric vehicles and recycles and reuses plastics.
"We do a lot of initiatives that improve the water quality right here in the Octoraro watershed," MacKenzie says. "That's great for the Octoraro, because the Octoraro is one of the key targeted watersheds for the Bay right now. The Bay benefits when we can do these things locally."