Bottlenose dolphin sightings are delighting both citizens and scientists alike, as unprecedented scores of these marine mammals have been spotted in the Bay's waters this spring and summer. The University of Maryland's DolphinWatch initiative, conceived in 2017, may have sparked the phenomenon of, "if you look, you will see"—with 900 reported sightings in 2017 alone, it's possible these dolphins have been here all along, and we're now just taking notice. What's more certain, however, is the relationship between the Bay's health and dolphin populations. As the former improves, so does the latter.
Dolphins orient themselves strategically within the Bay, following tidal currents carrying concentrations of weakfish, spot, and croaker, among other species. Then, they wait for the fish to school up before targeting those on the outer edge who lack the protection of the cluster's fortified center. This feeding strategy saves energy and increases the likelihood of catching a food item.
Due to the nature of their environment, dolphins rely heavily on auditory signaling to navigate their surroundings beneath the waves. They use clicking sounds to identify nearby objects by way of echolocation. A muscular plug in the dolphin's melon (the fatty part of their forehead) generates vibrations of various frequencies, which bounce off nearby objects. These reverberations are then absorbed through nerves in the lower jaw and are interpreted as images in the brain, allowing dolphins to "see with sound."
Dolphins also use whistles to communicate within their family group. Early in life, dolphins develop a "signature whistle" that functions like a name. Dolphins whistle their name to locate other pod members and distinguish one from another according to each individual's signature whistle. Dolphins also listen for the unfamiliar whistles of foreign pods as a way of establishing mating partners during breeding season. You can listen to their sounds here.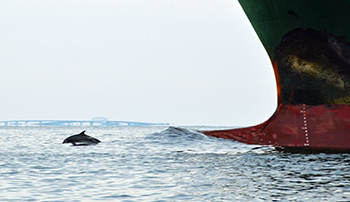 As one of the top predators in the Chesapeake food chain, dolphins are regulated by their prey population. Food scarcity diminishes the animal's fat reserves, leaving them vulnerable to disease. Conversely, as fish populations improve, dolphin populations grow stronger in response to robust food sources. Simply put, dolphins follow the fish, and it's telling that we're seeing remarkable numbers of both.
The correlation between a healthy dolphin population and a healthy Bay can be attributed to the Chesapeake Clean Water Blueprint. Pollution reduction goals are in place to better the Bay's water quality, which aids the growth of underwater grasses and decreases the Bay's dead zones. Cleaner water and wide-ranging underwater habitats yield booming fish stocks, which in turn foster a strong dolphin population. The implementation of the Blueprint has nurtured the underwater environment necessary for an array of species to thrive, dolphins included.
If you see a dolphin pod on the Bay this summer, enjoy them from a distance—300 feet between humans and marine mammals is required by federal law. However, passive interaction—when dolphins willingly swim around or approach you or your boat—is perfectly legal. Dolphins may even choose to playfully surf swells generated by a vessel, like in this video. As fall approaches, dolphin spotting will become few and far between, though you might be able to get one last look at Virginia's First Landing State Park before venturing toward warmer waters for the winter. Enjoy them while you can!