For too many decades, Hopewell was known for catastrophic industrial pollution. This small Virginia city once even boasted a welcome sign declaring it the "Chemical Capital of the South." But now Hopewell residents are enjoying cleaner air, healthier waterways, and greener parks—thanks in part to work by CBF, the city, and other partners through the Hopewell Restoration Project.
In the 1970s, illegal dumping of the highly dangerous pesticide kepone here hurt people's health and devastated the James River, shutting down fishing in places for up to 13 years. Hopewell, which lies at the confluence of the James and Appomattox Rivers, is still home to several large chemical plants. But things are changing.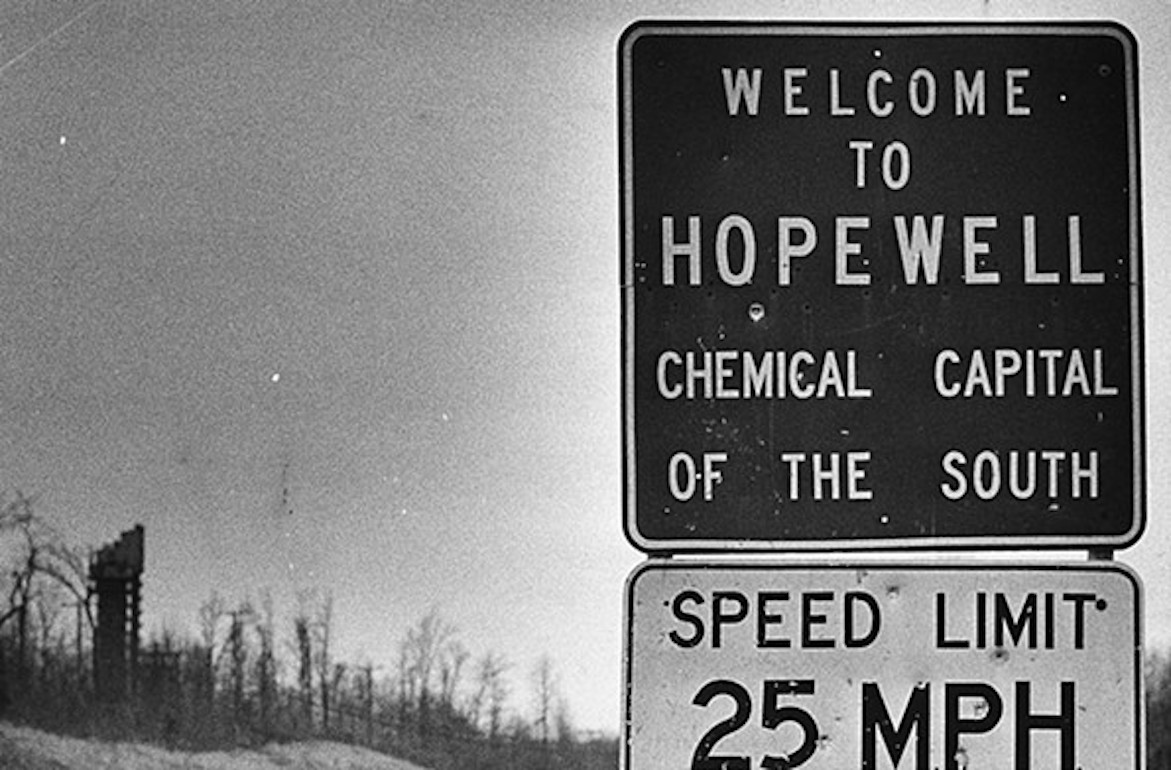 A visit to the city these days reveals quiet streets of modest homes, a small downtown on the upswing, and beautiful new walkways along tidal marshes teeming with wildlife. Because it is located on two major rivers, environmental stewardship is an important part of the city's revitalization. In recent years Hopewell installed a major wetland restoration to prevent polluted runoff, and it continues to increase tree cover including at several CBF plantings in the city this fall.
"Hopewell is the perfect place to do this. In a small city you can easily create big community benefits with native trees and plants, including cooler summer temperatures, greener streets, and cleaner air and water," said CBF Virginia Director of Outreach and Advocacy Ann Jurczyk. "Virginia loses an astounding 16,000 acres of trees per year to development, disease, and storms. Hopewell is planting hope for the future by growing hundreds of trees where people need them the most."
CBF has worked to green Hopewell with hundreds of trees, trained and established a group of 12 community tree stewards to take care of them, and reached out to residents across the city about increasing tree cover. The work is an important part of addressing climate change and helping Virginia meet its goals to reduce pollution to local rivers and the Bay downstream. GIS mapping allowed CBF to target tree plantings in areas with little tree cover and large areas of concrete and asphalt, which both increase summer temperatures and polluted runoff. This work is possible thanks to funding from the Environmental Protection Agency and the U.S. Forest Service through the National Fish and Wildlife Foundation's Small Watershed Grant program.
This October and November, CBF, Hopewell Recreation and Parks, and dozens of volunteers are planting over 100 trees along Hopewell streets and parks. Four "conservation corner" gardens of native plants at homes of Hopewell residents will prevent polluted runoff, attract pollinators, and beautify yards. This coming Saturday, CBF will even give away 200 native redbud trees to locals.
The CBF tree efforts that started in late 2016 continue to branch and grow, inspiring city residents and visitors alike to take action in their communities.
A Community Orchard
After training as a Hopewell tree steward with CBF's course, Stephanie Dayberry wanted to create a community orchard in Hopewell. That dream is coming true with the establishment of the Woodlawn Learning Center Urban Orchard this month, including the planting of 25 fruit, nut, and shade trees. The effort was made possible by a Department of Forestry Trees for Clean Water Grant to the Hopewell Recreation and Parks Foundation.
Military Service Members Pitch In, Benefits Spread Outside Watershed
A tree planting at Hopewell's Riverside Park got a substantial boost this November when 30 military service members from nearby Fort Lee pitched in. These service members from all over the United States, as well as one from Jordan, are spending 6.5 weeks as students at Fort Lee's Army Logistics University before heading back to their home states.
As part of the course, they are required to complete a community service project. Instructor Carlos Garcia, an Army Sergeant First Class of the Noncommissioned Officer Academy, said his class this fall voted to volunteer with CBF's work in Hopewell.
On average the students had already spent 12 years in the military.
"Even in that group, some of them had never planted a tree before," Garcia said. "It made them appreciate nature a little bit more. They will look at planting a little bit differently. They'd never had an interest in it, but now they'll take their planting skills back home."
Many of the service members took photos of the newly planted trees.
"They were saying, look at that young tree. If you come back years later that tree is still going to be there, rooted and growing strong," Garcia said. "That's the mark that we left in that community, and that mark came from all over the United States. None of the students are from here, but many felt the need to come back years later to see those trees."
'Generations to Come' will Reap the Benefits
The Hopewell Restoration Project, a collaborative effort between CBF, Hopewell Recreation and Parks, and other city departments, was recognized recently as the Best New Environmental Sustainability Program by the Virginia Recreation and Park Society.
"The work of the Chesapeake Bay Foundation and Hopewell Recreation and Parks is an example of the collaborative effort necessary to make significant environmental improvements that will positively impact generations to come," said Hopewell Recreation and Parks Director Aaron Reidmiller.