Tucked away on the Hampton River, Claire Neubert and Linda Hamm are spreading the word about how oysters benefit businesses across the Chesapeake Bay. And they're doing it from the seat of a kayak.
In 2019, Neubert and Hamm created their ecotourism company, Shored Up LLC, with one goal in mind: to foster greater stewardship for the communities, culture, and economy that make up the watershed regions of Virginia. The founders share a deep love for clean water and the Hampton community. Both are Clean Water Captains,—a group of CBF's most dedicated volunteers and community ambassadors—and are passionate about sharing their knowledge from the water itself.
"We love being able to get people out on the water because it's so much nicer down here than it is up there," says Neubert, pointing at the notorious Hampton Roads Bridge Tunnel traffic. "Hampton may be a small river, but it's our river."
It's almost impossible to talk about clean water without talking about oysters. Oysters are natural filters and remove sediments and nutrients that pollute the Bay's waters. They also create bonds between people across the Chesapeake Bay region, including Neubert and Hamm.
"We really started to get close when Linda started oyster gardening," says Neubert. "So, we always say that oysters helped bring us together and keep us going!"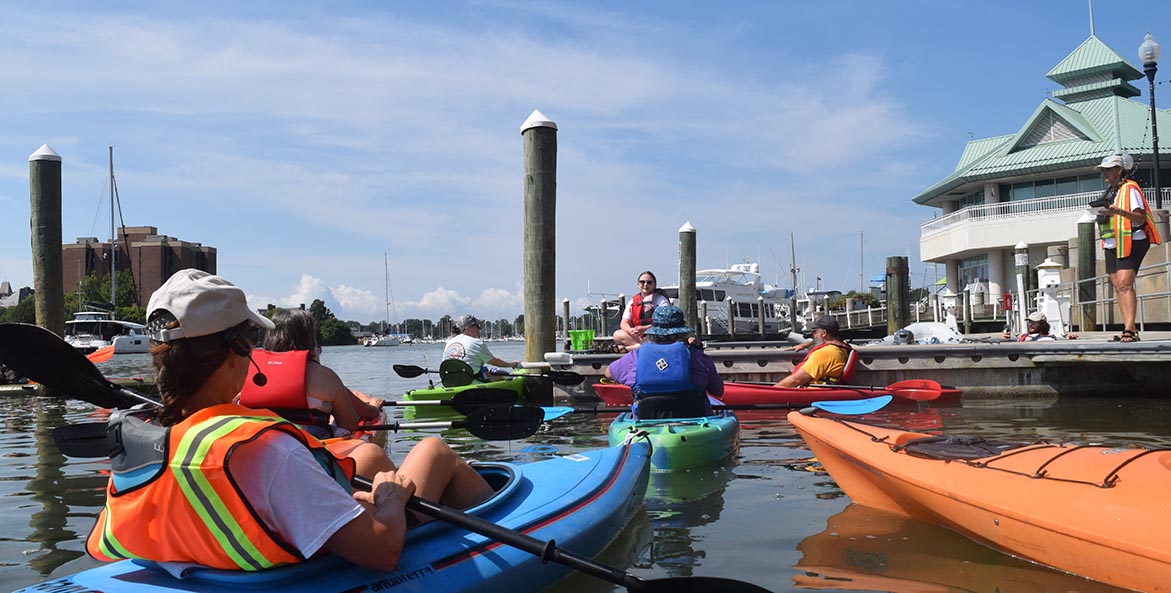 Oyster gardeners who volunteer with CBF "foster" baby oysters until they are big enough to plant on sanctuary reefs, helping to restore the Bay's depleted population. Shored Up began spreading the word about oysters to Hampton residents each time they tended their oyster garden on a dock downtown.
"We get to grow relationships while growing oysters," says Neubert.
Shored Up is also a proud member of the Chesapeake Oyster Alliance (COA). Knowing how important oysters are for clean water, CBF founded the COA in 2018, bringing together a coalition of more than 80 partner organizations, businesses, and academic institutions committed to adding 10 billion new oysters to Maryland and Virginia waters by 2025.
With oyster restoration efforts happening across Virginia, and Hampton's deep ties to the oyster aquaculture industry, both Neubert and Hamm recognized a deep need for more community-wide education about oysters. When COA, along with the Chesapeake Bay Trust, announced the first-ever Chesapeake Oyster Innovation Award, a program created to increase knowledge within key audiences of the value of oysters, they jumped at the opportunity.
In December 2021, Shored Up became one of thirteen award recipients, making their oyster dreams a reality. They created the Hampton Oyster Paddles and Shellabration (HOPS) events, a series of narrated kayak tours with the theme, "Oysters make the Bay a better place for business!" A family-friendly public "Shellabration" will wrap up the season on November 19.
After spending the day kayaking with Shored Up on the Hampton River, it is clear that their HOPS tours are jam-packed with oyster facts, history, and passion for environmental stewardship.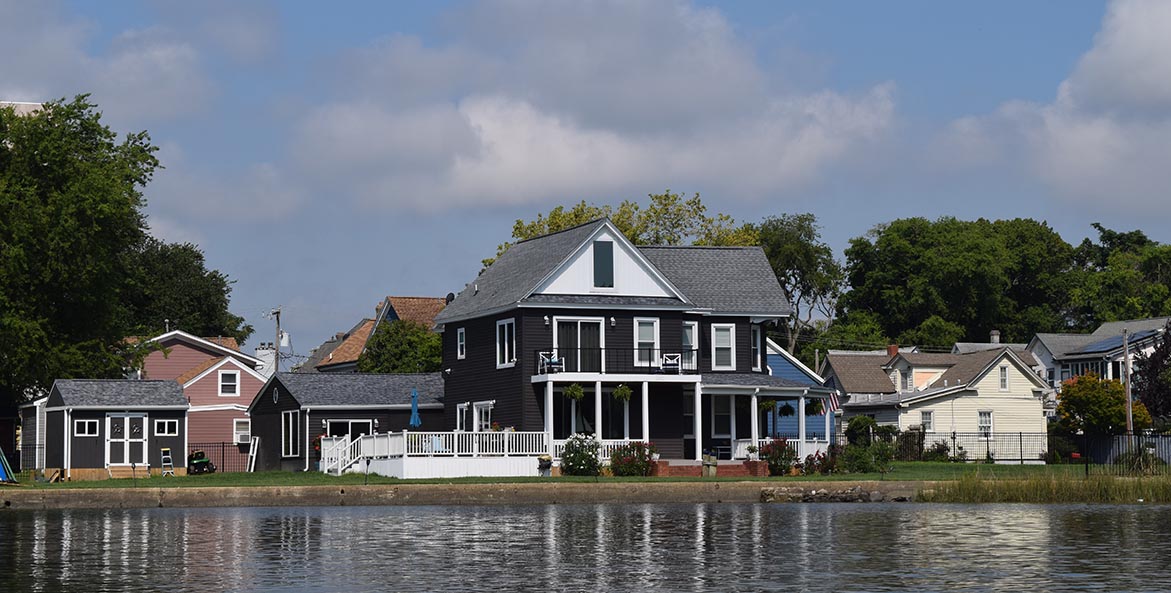 Each stop along the river brings tour attendees insight into Hampton's past and present role in the seafood industry. Its history includes key figures like J.S. Darling, who built J.S. Darling & Son Oyster Planters and Packers into one of the largest oyster processing plants in the world, and John Mallory Phillips. Phillips was a successful African American oysterman who put his profits back into his own community by forming the People's Building & Loan and The Bayshore Resort, not to mention offering his own Chesapeake Bay tours by sloop.
Neubert and Hamm paint a balanced story of destruction and restoration. They don't shy away from explaining how the growth of the seafood industry degraded water quality; but they also take paddlers to restoration sites along the river, showcasing how beauty (and oysters) can grow despite challenges.
The tour concludes at Bull Island Brewing Company. The group shares drinks, and laughs, and has time to reflect on what each person learned about oysters (including lots of encouragement from the Shored Up team to get involved with oyster gardening!).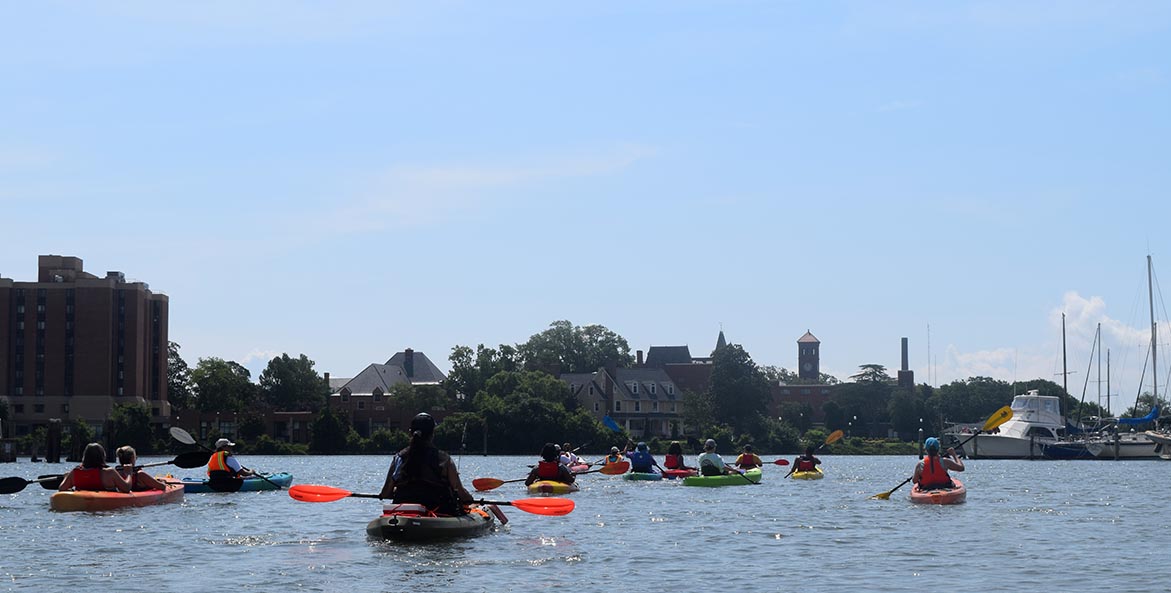 The experience invokes hope that local waterways like the Hampton River can not only be restored, but that companies and businesses can thrive along them.
"We always tell people, 'One person can make a difference,'" says Hamm and Neubert "There are so many ways that people can help our waterways—from oyster gardening to picking up litter to advocating. Our goal is to make stewardship ambassadors out of each HOPS participant."
Learn more about the Chesapeake Oyster Alliance and how you can help add 10 billion oysters to the Bay. Follow us on Instagram and Facebook. Join Shored Up on one of their HOPS tours.