It was a blustery fall morning at Furnace Run Park near Shippensburg on Oct. 19, but staff and volunteers from across the Keystone State and elsewhere could feel the excitement as they gathered to celebrate a tree-planting milestone for Pennsylvania.
An hour before, Jim MacKenzie, Co-owner and President of Octoraro Native Plant Nursery in Lancaster County, delivered a 3-year-old white oak that was grown from an acorn. Now, he helped fit it into the ground—officially marking the 5-millionth tree planted by the Keystone 10 Million Trees Partnership (K10).
"This tree we are planting today is going to be here for 100 years," said Sam Cressler of Southampton Township in Franklin County. "It is going to witness a lot of wonder and smiles from the people who come and go here. It's really exciting."
It was not only a momentous milestone for the partnership, which launched in 2018, but also a sign of the growing momentum to reach its ambitious goal of adding 10 million trees for Pennsylvania by the end of 2025. To date, over 249 partners have joined together to make that goal possible, said Brenda Sieglitz, CBF's Senior Manager of the Keystone 10 Million Trees Partnership and Assistant Director of the Making History Campaign.
"To get here has taken an intentional group of partners willing to collaborate, dedicate their time and knowledge, be transparent in what we learn, and commit ourselves, funds, people, and resources in a way that serves the greater good of Pennsylvania and the Chesapeake Bay," Sieglitz said.
Trees provide a plethora of benefits to Pennsylvania's waterways, farms, economies, and people. Trees naturally filter and reduce polluted runoff and stabilize streambanks. They filter the air and the water, sequester carbon, and can even reduce health care costs and increase property values. That makes them a powerful tool as Pennsylvania works to accelerate progress toward its clean water commitments locally and downstream in the Chesapeake Bay, as well as build resilience to climate change.
"There's no one thing that we can all do that is more important for the climate than getting carbon in the ground, or more important for flooding and runoff and clean water than getting some trees in the ground," said Pennsylvania Department of Conservation and Natural Resources Secretary Cindy Adams Dunn. "It is the single most critical thing that everyone can do."
Pennsylvanians are seeing the benefits.
"We met with a local farmer, and the thing he was so excited to talk about was the role that leaf litter is playing in his local stream and the trees that he planted a few years ago," said Tim Schaeffer, Pennsylvania Fish and Boat Commission Executive Director. "He was talking about the water being cooler on his property and the fact that he is seeing wild brown trout swimming by his property that he never saw before."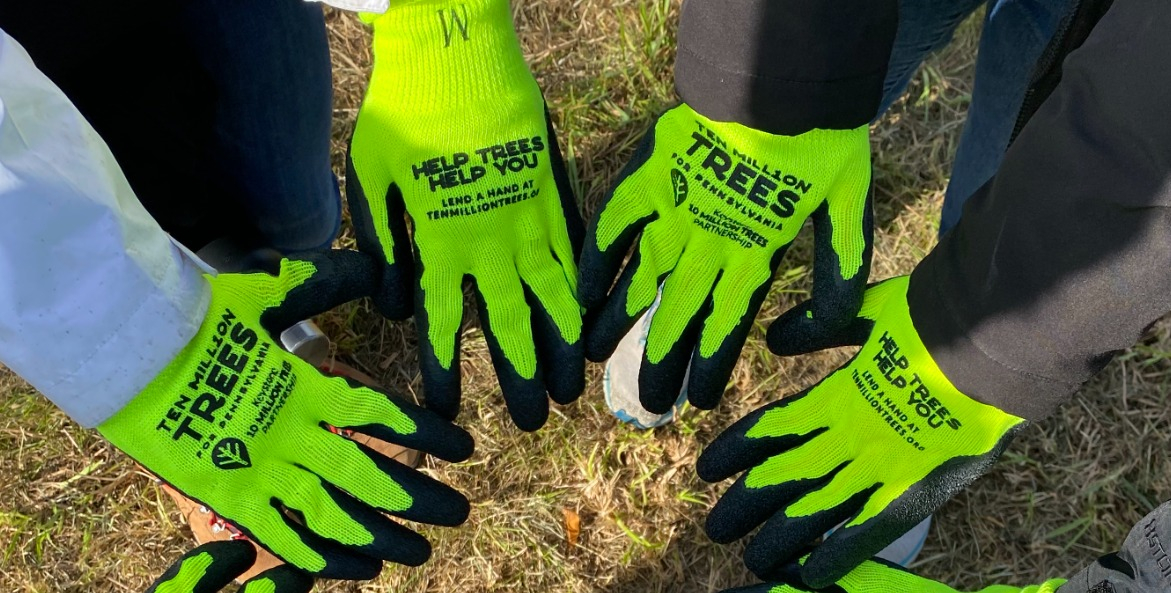 Getting to the partnership's halfway point has taken many hands collaborating to put trees into the ground. After the ceremonial 5-millionth tree was planted, volunteers and partner organizations planted an additional 100 trees throughout Furnace Run Park. And even though the day was cold and windy, supporters were excited to stay and get their hands (and bright green K10 gloves) dirty. In less than one hour, all were in the ground.
"The collective work that has been done is a testament to the vision of CBF and a testament to the many thousands of volunteers who see the value of coming together to do the right thing," said Pennsylvania Agriculture Secretary Russell Redding.
That extends to partnerships beyond the watershed, too. Roughly 20 staff members of the Arbor Day Foundation (ADF) traveled from Nebraska to Pennsylvania to celebrate the partnership's big moment and its own 50th anniversary. ADF has planted nearly 500 million trees across the United States and 500 countries around the world, and it has an audacious goal to plant another 500 million trees in the next five years.
"Being present to watch the 5-millionth tree being planted by the Chesapeake Bay Foundation was nothing short of incredible," said Brooke Denker, Senior Business Partner of ADF. "The teams and people behind this work are making a huge impact that you can see and feel within their communities."
With the 2025 deadline fast approaching, the momentum, energy, and effort that brought the partnership to its halfway point must not only continue, but grow. In 2023, the partnership plans to directly fund and plant at least 518,000 more trees for Pennsylvania.
"I have no doubt that we are going to get to 10 million trees," said Alison Prost, CBF Vice President for Environmental Protection and Restoration. "We are going to have more resilient farms. We are going to have healthier communities for the next generation, and we'll have cleaner water in our communities both locally and downstream in the Bay."
To learn more about how you can join the movement to plant 10 million trees for Pennsylvania visit tenmilliontrees.org.

Pennsylvania Communications & Media Relations Manager, CBF
[email protected]
717-200-4521

Former Making History Campaign Communications and Marketing Specialist, CBF
Issues in this Post