A version of this article originally appeared in the Spring 2023 issue of Save the Bay magazine.
The environmental education Bill Portlock remembers from his childhood didn't happen in school, but in a small skiff on the Eastern Branch of Virginia's Elizabeth River.
"I was probably 11 or 12 when I was given permission to take the boat out by myself," says Portlock, who retired in 2021 after 40 years as CBF's Senior Educator. "I was running crab pots and spending as much time out there as I could."
One spring, the osprey that nested near his fishing spot didn't show up; it took a ban on DDT and 25 years for the birds to return. The lesson, rooted in personal experience, stuck with him.
This type of immersive, investigative learning has been at the heart of CBF's environmental education program since it began in 1973. Research shows outdoor learning not only improves classroom results, but also that multiple immersive experiences can impact students' lifelong understanding of the environment and how everyday decisions affect it. Yet, formal schooling hasn't always recognized its value.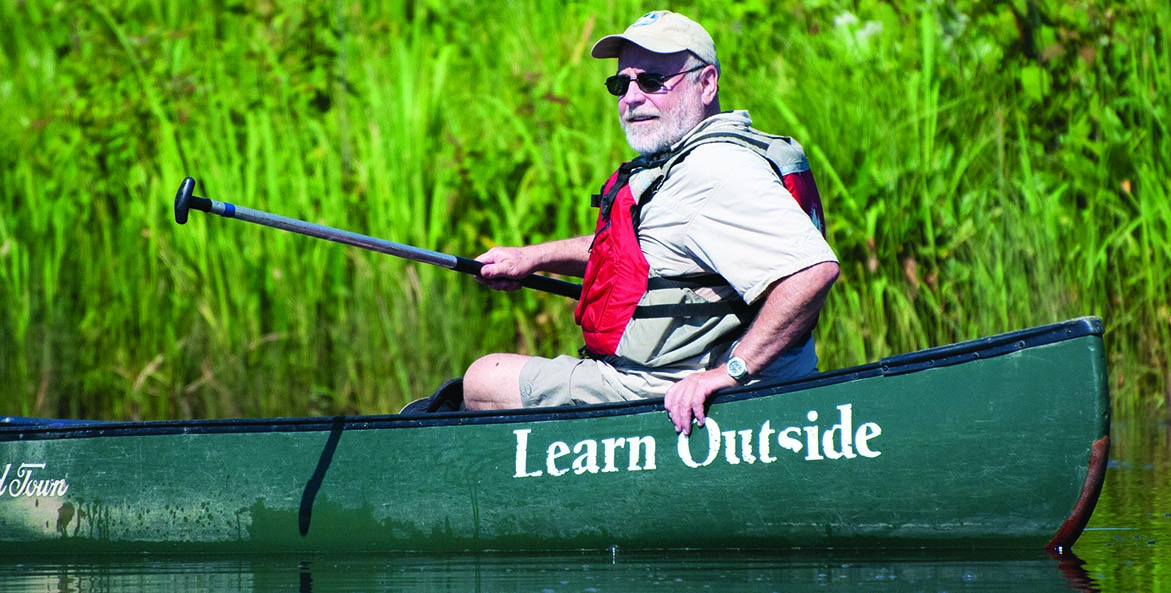 "There was still a lot of skepticism that a day on the water with students could be beneficial instructionally, as well as life changing," Portlock remembers about his first years at CBF in the early '80s.
Portlock was the organization's "boots in the water," charged with convincing school administrators this type of learning worked. He began by taking every science supervisor he could on all-day canoe investigations. They did what the students would do—conducted ecological inventories, examined the creatures that lived there and how they interacted, and learned about the issues affecting waterways.
"They realized we were actually professionals, that we were fact-based," Portlock says. "We weren't just teaching our agenda, we were teaching students to think."
Today CBF Education consists of 14 field programs—mobile canoe fleets, floating classrooms, and remote island campuses—that span Maryland, Pennsylvania, Virginia, and the District of Columbia. In addition to field investigations, staff work with teachers, schools, and policymakers to expand access to environmental education. Still, systemic barriers remain for many watershed students, and that's a challenge for restoration.
The Bay will be saved by the next generation. But only if they care.
CBF's early Education program faced a logistical challenge: how to get large numbers of students learning on the water instead of in a classroom. To start, students embarked on day-long ecology cruises aboard the traditional Hooper's Island workboat Aunt Allie from the Meredith Creek Preserve near Annapolis, Maryland. While popular, the program's scope was limited to nearby schools.
Serving the entire watershed required vessels of a different sort. With a trailer and eight 17-foot canoes acquired in 1974, CBF educators brought their exploratory programs to rivers and streams in schools' own backyards.
"Canoes may seem an odd choice for the Bay, but they have proven their worth," wrote CBF Education Director John Page Williams in 1975. "Their economy is refreshing—they run on anything from pan-fried spot to peanut butter."
The fleet has since evolved from the early wooden workboats to aluminum-hulled jet boats built specifically for education. Now, the program's first ever green boat is in the works, a major and unprecedented step toward drastically reducing the fleet's emissions. Despite new technology, the essence of the field programs remains constant.
"It's still running on the same compass courses," says Williams, who retired in 2019.
A Typical Week in the Life of a CBF Educator
A typical week during the field season finds Julia Carson and Amanda Deans in a routine that would be familiar to Williams in the '70s. Together, the duo runs CBF's Virginia Rivers and Streams East, the Elisabeth Reed Carter Environmental Education Program based in Richmond.
"We're out in the field almost every day," says Carson. "We're going to different locations, doing different things—we can be in a marsh in Virginia Beach on Tuesday and a stream in Northern Virginia on Thursday."
Before each trip, they scout the location and talk with teachers about what students are learning so they can best tie the field experience into the curriculum. Many are incorporated into Meaningful Watershed Education Experiences (MWEEs), the curricular gold-standard that drives watershed education in the Chesapeake Bay region and is a model used nationwide. Still, in the field, everything can change.
"You have to be able to adjust your program based on the students you have in front of you," says Deans. "We might get into a rhythm but stop and realize, hey, that's not working for this group. So, we have to pivot and do something else."
The intangibles—like helping a student navigate a canoe—can be just as important as any testable knowledge.
"I love seeing a student that struggles with traditional classroom teaching have a great day out there with us," says Tiffany Granberg, who captains and leads the Arthur Sherwood Environmental Education Program near downtown Annapolis. "Sometimes students think they don't know a lot, and I love showing them they know more than they realize. Sometimes it's just building their confidence by giving them opportunities to figure things out, do these investigations, and make the connections."
Those connections are increasingly interdisciplinary and go beyond past strictures of environmental education. As students and teachers face both the aftermath of pandemic disruptions and an uncertain future shaped by global climate change, educators are also focusing on the social and emotional benefits of the outdoors.
Kathlean Davis, CBF's Education Engagement Coordinator, says her favorite thing to do on a field experience is to stop everyone—whether in a marsh or a canoe—and let them be still for a moment.
"If I can set up this little nugget of quiet and peace and joy in nature," she says, "they get to take that back home and remember that—when life gets stressful, nature can be an opportunity for them to find calm."
Issues in this Post