See where things stand, below, and then take a look at some of the current and future challenges we face and what we need to do to overcome them.
PENNSYLVANIA'S 2017 MIDPOINT PROGRESS TOWARD POLLUTION REDUCTIONS

By 2017, practices should have been in place to achieve 60 percent of the 2025 pollution reduction goals. Here's a look at how the watershed jurisdictions performed. Key

Nitrogen
Phosphorus
Sediment

PA

Pennsylvania
Agriculture


U&S
Polluted Runoff†

Wastewater
& CSO† †

N/A*
ALL
SOURCES
Key

| | |
| --- | --- |
| red | Did not achieve |
| yellow | Within 5% of achieving |
| green | Achieved |
| | |
| --- | --- |
| * | No contribution from this source sector |
| † | Urban & Suburban |
| † † | Combined Sewer Outflow |
EVALUATING PENNSYLVANIA'S 2017 KEY COMMITMENTS
In our evaluation of the progress toward 2017 midpoint goals we also wanted to understand which policies and programs added to this progress or contributed to any shortfalls. To that end, we evaluated whether the jurisdictions implemented key policies, programs, and funding committed to in their clean-up plans. These actions have a direct effect on the success or failure of achieving the pollution-reduction goals from wastewater, agriculture, and urban and suburban stormwater.
As noted below, significant progress has been made reducing pollution from wastewater treatment plants, but challenges remain in reducing polluted runoff from urban and agricultural areas.
Wastewater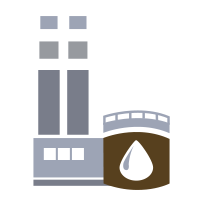 Pennsylvania's real success story in meeting Blueprint goals comes from the wastewater sector that has already reached the 2025 goal.
COMMITMENT: Implement permit limits for wastewater discharge.
PROGRESS: On Track
Wastewater treatment plants have installed technologies or purchased credits that reduce their contribution of nitrogen, phosphorus, and sediment pollution to levels below the 2025 goal. Lack of progress in the agricultural and stormwater sectors, however, may mean more reductions from wastewater will be required. In past reviews of the Commonwealth's progress, EPA indicated further reducing allowable amounts of nitrogen and phosphorus in wastewater discharge permits is an option. We encourage the Commonwealth to avoid this outcome by accelerating its efforts to reduce pollution from agricultural and urban sources.

Stormwater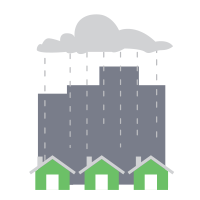 Reducing polluted runoff from stormwater faces challenges, with disbursed sources of pollution and antiquated infrastructure in many areas.
COMMITMENT: Reduce polluted runoff through improved municipal stormwater permits and other practices.
PROGRESS: Off Track
Pennsylvania committed to urban and suburban stormwater runoff reductions of 25 percent, 27 percent, and 30 percent for nitrogen, phosphorus and sediment respectively, by 2017. However, nitrogen pollution from stormwater increased by one percent, while phosphorus and sediment decreased by only 10 and eight percent respectively.
In the last permit round, Pennsylvania's Department of Environmental Protection (DEP) revised the over 330 Phase II municipal separate storm sewer systems (MS4s) permits in Pennsylvania's portion of the Chesapeake watershed. Small MS4s are now required to reduce loads of nitrogen by three percent, phosphorus by five percent, and sediment by 10 percent over five years to meet their Blueprint goals. The specific numeric reductions of pollutants are new, as there was previously no target to achieve. The permittees must also identify the specific practices to reach these goals.

Agriculture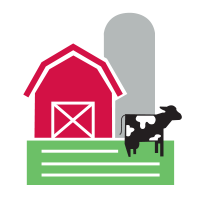 Because agriculture dominates much of the landscape, with approximately 33,600 farms and 3,093,000 acres devoted to crop and livestock production in Pennsylvania's portion of the Chesapeake Bay watershed, it contributes a significant share of the nitrogen, phosphorus, and sediment pollution.
COMMITMENT: In 2010, DEP anticipated that all farms in the watershed could be in baseline compliance in seven years.
PROGRESS: Off Track
Pennsylvania's Phase I Watershed Implementation Plan (WIP) established a strategy to achieve agricultural compliance with state regulatory requirements for managing nutrients and controlling erosion on all farms in the Chesapeake watershed by 2017. Overall, progress was lagging until July 2016 when DEP initiated a program relying on conservation district and DEP staff to verify that farms at least have the required plans, setting a goal to inspect 10 percent of the farms annually. Between July 1, 2016, and December 31, 2017, 3,626 farms were inspected (11 percent of the total). This represents about 15 percent of the agricultural land in Pennsylvania's portion of the watershed. Eighty operations were referred to DEP for enforcement action for the lack of required plans. In addition, in October 2017, DEP's Agricultural Planning Reimbursement Program began assisting farmers in the Chesapeake Bay watershed with the development of approximately 1,160 conservation plans as of April 1, 2018. Currently, however, these initiatives focus on whether the required plans exist, not that they are fully implemented or are adequate to help address local stream impairment.
The Commonwealth has begun the process of ensuring that farms are in compliance, but current levels of agricultural nutrient and sediment pollution and, even more importantly, the 6,798 miles of streams impaired by agricultural activities, indicate that implementation is falling far short of what is needed. Future efforts must provide technical assistance and support implementation of the practices needed to improve water quality.
COMMITMENT: Increase adoption of cost-effective practices, such as conservation tillage.
PROGRESS: On track
Many farms are adopting conservation tillage and other practices that help them improve their soil health, allowing water to easily move into and through the soil so less runs off, losing nutrients and eroding soil. The pores in soil store water for later root uptake and plant growth, improving resilience during drought. Adoption of no-till cultivation, high-residue tillage, and other forms of conservation tillage is increasing, with Chesapeake Bay Program data showing 844,594 acres under conservation tillage in 2017, slightly higher than the 2025 goal.

Accounting for Growth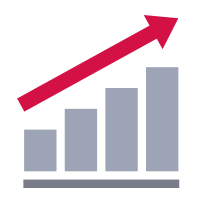 Key to maintaining the watershed-wide nitrogen, phosphorus, and sediment limits, once achieved, is to account for, and offset, new sources of pollution. It is also a requirement of the federal Clean Water Act. Additional sources of pollution include more septic systems, more impervious surfaces created by the conversion of forest or farmland to developed land, increased vehicle emissions, and the growth of the livestock and poultry industries, to name a few.
COMMITMENT: No net increase of nutrient and sediment pollution as a result of growth.
Progress: Off Track
Pennsylvania's decentralized land use planning and regulation across thousands of municipal and county governing bodies make growth management and land-use decisions especially challenging. Local jurisdictions could reduce some of the water pollution effects that come from urbanization with improved and better coordinated planning and zoning.

WHAT'S NEXT?
Pennsylvania has reached wastewater pollution-reduction goals, but needs to develop and follow targeted plans with local engagement to address shortfalls in reducing polluted runoff from urban and agricultural areas.
The Bay jurisdictions are starting to work on the third and final iteration of their clean-up plans, known as the Phase III Watershed Implementation Plans (WIPs). These plans will describe actions to take, between now and 2025—the deadline for full implementation.
These plans must be detailed and comprehensive, with attention given to addressing existing shortfalls. Local engagement will be key to successful implementation, hence, developing local pollution-reduction goals and ensuring robust outreach efforts involving the full array of local, regional, and federal stakeholders will be critical.
LOCALIZED STRATEGIES TO MEET CHESAPEAKE BAY GOALS
Pennsylvania is engaging a broad range of stakeholders to develop the Commonwealth's Phase III WIP. The focus is on counties and the largest reductions will come from counties contributing the most pollution to the Bay. A work group is developing a toolbox to guide the planning process and identify technical data relevant to each county. Data and tools will include:
nutrient- and sediment-reduction goals
existing pollution by source
reductions achieved and still needed
gaps after program compliance
local water quality
hydrology
conservation practices in place
agricultural production
tools to simulate various scenarios
floodplain locations
The local work groups will seek realistic and achievable plans for win-win scenarios with a high likelihood for success in their communities with broad engagement in their implementation.
Keystone 10 Million Trees Partnership
Streamside forested buffers, with native trees and shrubs planted along the waterway, are one of the most cost-effective practices for reducing nitrogen, phosphorus, and sediment pollution in both rural and urban landscapes. Pennsylvania committed to plant 95,000 acres of forested buffers by 2025 with a 2017 midpoint goal of 65,000 acres. However, by 2017, only 48,100 acres of buffers had been planted. To reach the 2025 goal, another 10 million trees will need to be planted. To achieve this massive challenge, CBF is coordinating a partnership that will galvanize the expertise, experience, and muscle of national, regional, state, and local agencies; conservation organizations; outdoor enthusiasts; businesses; and citizens committed to improving Pennsylvania's communities, economy, and ecology. These buffers will support natural ecosystems, provide wildlife habitat, stabilize streambanks, improve soil health, and draw carbon from the atmosphere, in addition to capturing nutrient and sediment runoff before it reaches the water. Find out more at TenMillionTrees.org.