Paying for Stormwater Solutions
CBF is no longer accepting applications for new municipal partners. The following sections provide an overview of Environmental Impact Bonds and current projects in Hampton, Virginia.
Chesapeake Bay watershed municipalities face challenges in meeting federal and state Clean Water Act requirements and managing compliance with consent decrees—particularly when it comes to financing solutions.
Working with impact investment advisory firm Quantified Ventures, CBF provided pro bono support to Hampton, Virginia, to use Environmental Impact Bonds to finance three major projects that reduce polluted runoff and flooding while benefitting the community. Quantified Ventures introduced the first-ever Environmental Impact Bond with DC Water in 2016 and is now working with cities across the U.S. to help them tap into impact investment for environmental projects.

Environmental Impact Bonds allow municipalities to:
access capital for projects that are difficult to finance,
get projects financed more quickly if they are not already a priority by engaging new investors,
pilot new projects that may be viewed as risky—and share the risk with investors if the projects are not successful,
engage other budget centers run by departments who will also benefit from a project's social and economic outcomes, and
benefit from understanding the efficacy of projects funded by the bonds, thereby informing future investment decisions.
What is an Environmental Impact Bond?
Today, we have a new generation of investors that cares as much about social and environmental returns as they do financial ones. These "impact investors" are seeking financial, social, and environmental returns on their investments.
CBF undertook a three-year project to help municipalities leverage this new source of capital to create green infrastructure (rain gardens, permeable pavement, bioswales, and more) that can help reduce stormwater management burdens.

The Environmental Impact Bond model matches impact investors with municipalities planning environmental resilience projects such as green infrastructure. Investors provide up-front capital and share the project risk.
Here's how it works: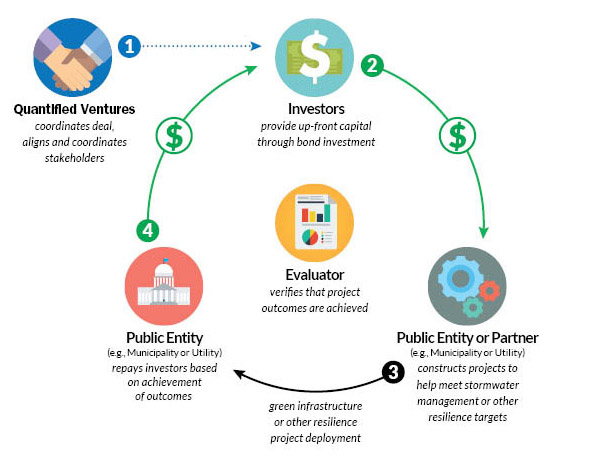 Quantified Ventures (QV) or other companies that assist with outcomes-based capital development work with municipalities to bring the necessary parties together and determine the parameters of the Environmental Impact Bond, including interest rate, timeframe, outcome metrics, and more.
A municipality issues the Bonds and sells them to private investors to finance environmental capital projects.
The municipal issuer then uses this funding for green infrastructure solutions. The entity is required to pay interest on the bonds and to repay the principal amount of the bonds on scheduled payment dates.
At the end of an evaluation period (for example, five years), either: (a) the municipal issuer pays the investors an outcome payment if the project performs better than expected and the investors will pay the municipality a risk-sharing payment if the project underperforms; or (b) if it's a "disclosure only" EIB, the municipality merely informs the investors whether the project performed as expected. The latter still provides investors with information about the impact of the bond, as well as providing information to the municipality about how best to continue creating environmental solutions.
---
Projects
For more details on how an EIB was implemented in Hampton, Virginia, and on the one almost implemented in Baltimore, Maryland—including questions about what conditions are necessary for EIBs to work, what expertise is needed, what are the challenges, limitations, and components needed for these projects, see our white paper, Using Environmental Impact Bonds to Finance Gree Stormwater Infrastructure in the Chesapeake Bay Watershed: A Case Study.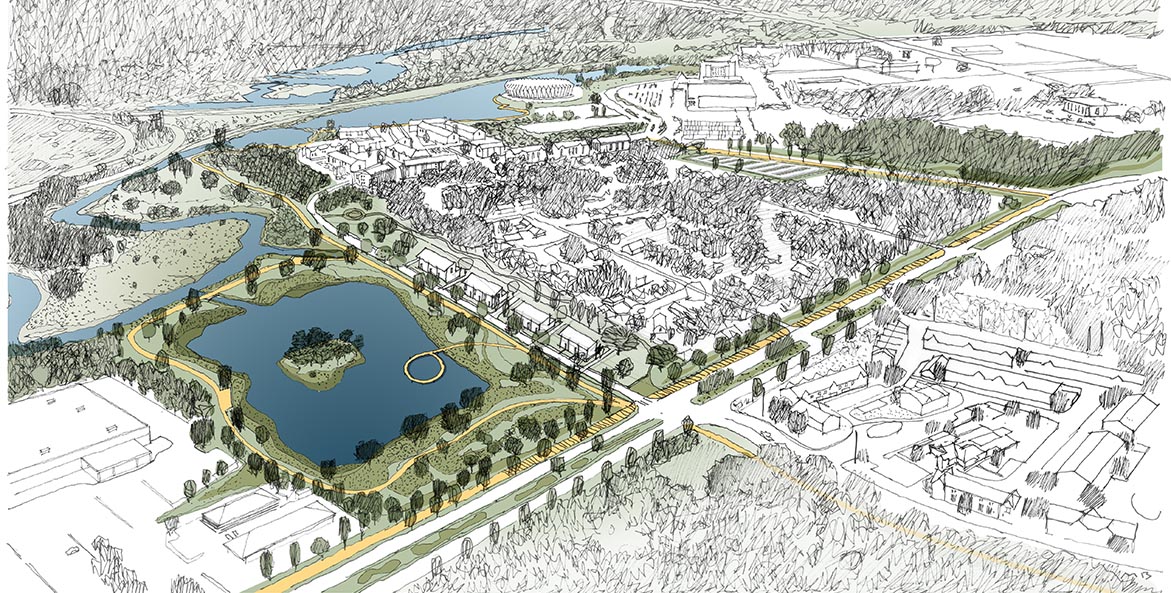 HAMPTON, VIRGINIA
The City of Hampton issued an EIB to finance three pilot projects from its Resilient Hampton initiative, which focuses on strengthening the city's ability to cope with the effects of climate change. The three green infrastructure projects will address stormwater and reduce localized flooding in the city's Newmarket Creek watershed, an area that includes Hampton's central business district, Langley Air Force Base, and several residential neighborhoods.
The three prototype resiliency projects that will be constructed with the proceeds from this bond are:
Big Bethel Blueway: A green infrastructure project that will store and slow water through the redesign of existing waterways in order to reduce flooding upstream and downstream in Newmarket Creek. The project creates stormwater storage through the expansion of the main drainage channel, the addition of bioretention cells to backyard drainage swales, and the installation of several weirs in the channel. Newly planted vegetation on the channel banks will filter and slow stormwater runoff before it reaches the waterways. Future funding will transform the existing maintenance path into a recreation trail with additional stormwater storage capacity.
North Armistead Avenue Road Raising and Green Infrastructure: This road raising project will eliminate chronic flooding on a major thoroughfare and evacuation route, improving transportation reliability to Joint Base Langley-Eustis and key economic centers. In connection with the road raising, green infrastructure will be installed in the median and on the road shoulders to help slow, store, and redirect stormwater within the space adjacent to the elevated roadway.
Lake Hampton: This project involves the transformation of a detention pond into a purposefully-designed stormwater park with enhanced stormwater storage capacity. The project will raise the height of the dam and weir to greatly increase potential storage volume, as well as install a series of smaller detention basins with wetland plantings to slow, store, and clean runoff from North Armistead Avenue before it enters the lake.
CBF and QV
provided technical assistance to Hampton as it moved the projects through the city's regular capital-planning and budgeting process;
worked with Hampton as the city and its consultants designed the projects, helping to identify an appropriate outcome metric;
and worked with the city's internal and external financial teams as they structured the bond and put it out on the market.
Hampton's EIB is only the third undertaken by a municipality in the United States, and the first to be used in the Commonwealth of Virginia.
Download our Lessons Learned brief for more insights into what makes EIB projects successful.
---
The Green Infrastructure Environmental Impact Bond project being conducted by CBF, with our contractor Quantified Ventures, is funded by a generous one-to-one grant from an anonymous donor that is being matched in part by The Kresge Foundation and The Abell Foundation.

DISCLAIMER

NO FEES WILL BE CHARGED BY CBF OR QV FOR THEIR PROGRAMMATIC SERVICES. ALL OTHER EXPENSES MAY APPLY, INCLUDING RATING AGENCY, BOND COUNSEL, INDEPENDENT REGISTERED MUNICIPAL ADVISOR, AND EVALUATOR FEES AND SUCH FEES SHALL BE PAID FOR BY THE APPLICABLE MUNICIPAL ENTITY. NEITHER CBF NOR QV IS RECOMMENDING ANY ACTION TO ANY MUNICIPAL ENTITY. THE INFORMATION PROVIDED HEREIN IS NOT INTENDED TO BE AND SHOULD NOT BE CONSTRUED AS "ADVICE" UNDER SECTION 15B OF THE SECURITIES EXCHANGE ACT OF 1934 OR THE MUNICIPAL ADVISORY RULES OF THE SEC AND MSRB. CBF AND QV ARE NOT AND WILL NOT BE, ACTING AS AN ADVISOR (WHETHER FINANCIAL OR MUNICIPAL), AGENT OR FIDUCIARY TO ANY MUNICIPAL ENTITY AND CBF AND QV WILL NOT HAVE ANY ADVISORY, AGENCY OR FIDUCIARY DUTY TO ANY PERSON PURSUANT TO SECTION 15B OF THE SECURITIES EXCHANGE ACT OF 1934 OR SECTION 975 OF THE DODD-FRANK WALL STREET REFORM AND CONSUMER PROTECTION ACT. CBF AND QV ARE ACTING FOR THEIR OWN INTERESTS. MUNICIPAL ENTITIES SHOULD DISCUSS ANY INFORMATION AND MATERIAL CONTAINED IN THIS COMMUNICATION WITH ANY AND ALL INTERNAL OR EXTERNAL ADVISORS AND EXPERTS THAT THE MUNICIPAL ENTITY DEEMS APPROPRIATE BEFORE ACTING ON THIS INFORMATION.