Save Oyster Shells in Virginia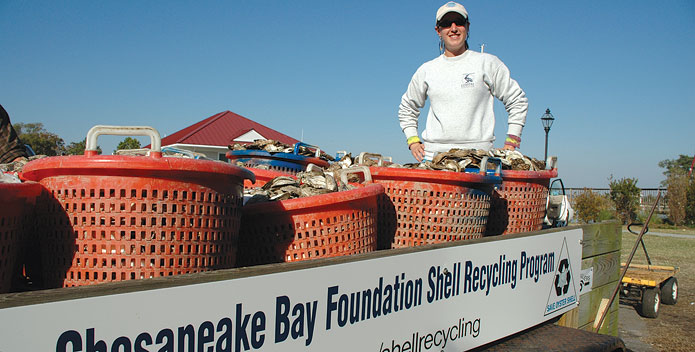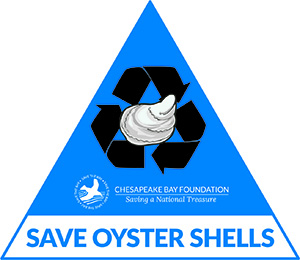 Oyster shells are literally the foundation of our reef restoration efforts! The Chesapeake Bay Foundation (CBF) needs your help–and your oyster shells–to restore native oysters in the Chesapeake Bay. Recycle your empty shells by dropping them off at the locations below so we can repopulate the Bay with more oysters.
Oyster shells are becoming increasingly scarce. Through the Save Oyster Shells recycling program, shells that would typically be thrown away are saved and used in a variety of oyster restoration projects.
We turn 2,000 bushels of recycled oyster shells each year into habitat for millions of oysters planted in the Bay and its rivers. Once the recycled shells are cleaned and cured, CBF places them in huge water tanks containing millions of microscopic oyster larvae, which then attach to the shells. On average, each recycled shell can become home to dozens of those baby oysters, called spat. CBF provides the spat-on-shell to its oyster gardeners and plants them in rivers and the Bay to grow and expand oyster reefs.
Virginia Shell Drop-off Locations
and Participating Restaurants
Drop-off Locations | Restaurants
Drop-off Locations
There are several public shell recycling drop-off locations across Virginia. If you are interested in hosting a shell-recycling bin, contact CBF's oyster restoration office at 757-644-4125.
Carrollton

Captain Chuck-a-mucks Sandbar & Grill
21088 Marina Road.
Bin located to left of the building.

Chesapeake

Great Bridge High School
301 Hanbury Road West
Bin is located in front of the school, off bypass road next to the chain link fence—near bus parking.
Do not drop off shells around 3:40 p.m. when school lets out! (Or you'll have a tough time getting in/out)

Gloucester Point

Virginia Institute of Marine Science
1219 Franklin Road
Shells can be dumped in orange bushel baskets by shell washer.

Hampton

Sam Rust Seafood
620 Regional Drive
Bin is located in the parking lot to the far right.

Kilmarnock

In partnership with Tidewater Oyster Gardeners Association
Kilmarnock Boys Camp
658 Boys Camp Road
Bin is lcoated in the back right corner of the property.
Call TOGA to coordinate drop off:
Madison Boyd 804-462-9104 or 703-946-4945
Vic Spain 804-413-1020

Lancaster

in partnership with Virginia Oyster Shell Recycling Program

Kilmarnock Recycling Center
248 White Pine Drive, Weems
Open 7 a.m.-7 p.m.

Midlothian

Clover Hill High School
13301 Kelly Green Lane
Bin located behind the school in the courtyard.

Newport News

Mariners Museum
100 Museum Drive
Bin located in the first parking lot to the right.

Norfolk

City of Norfolk Waste Management Facility
1176 Pineridge Road
Please go to Household Hazardous Waste and Electronics. Open Monday through Saturday, 10:00 a.m. to 2:00 p.m. for Norfolk residents.

Larchmont Library
6525 Hampton Blvd.
Bin located under the Birdsong Wetlands kiosk. Please call 757-441-1347 when shells are dropped off.

Keep Norfolk Beautiful, Ernie Morgan Environmental Action Center
3500 A Granby St.
From Granby Street, take the Zoo entrance and then the first left all the way to the end to the Ernie Morgan Environmental Action Center. The shell bin is to the right of the building against the fence.

Roseland

Devils Backbone Brewery
200 Mosbys Run
Bin located all the way to the right, behind the building.

Smithfield

Smithfield Station
409 S. Church Street
Bin is located in front of the restaurant.

Suffolk

Bennetts Creek Park
3000 Bennetts Creek Park Road
Beside the parking lot infront of the boat ramp and fishing pier.

Surry

Surry Seafood Company
633 Marina Drive
Located to the left of the building.

Toano

James City County Recycling Center
185 Industrial Boulevard

Virginia Beach

Brock Environmental Center
3663 Marlin Bay Drive
The Anne Shumadine Shell Recycling Station is located on the left before the dumpsters. Please dump shells into orange baskets located inside the trailer. Gates are open to drive up to the Station from 8:30 a.m.-5 p.m. At other times use walking path.

Ocean Lakes High School

885 Schumann Drive
Bin located behind the school on the grass, near the farthest parking lot. (Coming September 2019)

Old Donation School
4633 Honeygrove Road
The shell bin is located in the rear of the school behind a black fence.

Tallwood High School
1668 Kempsville Road
Bin located around the back of the school, past the tennis courts in the back corner parking lot.

Williamsburg

James City County Recycling Center
105 Tewning Road (off Ironbound Road)


William & Mary Campus
Tennis Court, off Ironbound Road
Bin is located near the Alexander Galt House and Munford Hall.
Map
Participating Restaurants
The following restaurants also participate in the Save Oyster Shells program:
Carrollton

Captain Chuck-A-Muck's

Charlottesville

Devil's Backbone Brewing Company

Chesapeake

Black Pelican
The Butcher's Son
Joe's Crab Shack
Off the Hook
Red Bones
Surf Rider (Greenbrier)

Chester

Riptides

Gloucester

York River Oyster Company

Hampton

Fuller's Raw Bar
Paradise Ocean Club at Fort Monroe
Pour Girls Bar & Grill

Midlothian

Red Lobster

Newport News

Crab Shack
Fin Seafood
Hoss's Deli & Oyster Bar
Schooners Grill
Whole Foods (12080 Jefferson Avenue)

Norfolk

in partnership with Keep Norfolk Beautiful and Norfolk Waste Management

A.W. Shucks
Big Easy Oyster Bar and Grill
Captain Groovy's
Mack's Barge
Saltine
Smalls Smokehouse and Oyster Bar
Stripers Waterside
Supper Southern Morsels
Todd Jurich's Bistro

Portsmouth

Legend Brewing Depot
Fish & Slips

Smithfield

Smithfield Station Waterfront Dining Restaurant

Suffolk

Riverstone Chophouse

Surry

Surry Seafood Company

Toano

501 Bar & Grill

Virginia Beach

Catch 31
Calypso Bar & Grill
Casby's Kitchen & Tap
Cavalier Golf & Yacht Club
Chick's Oyster Bar
Fish Bones Restaurant
Founders Inn
Hot Tuna
Leaping Lizard Café
McCormick & Schmicks
Nautilus
OBS Oyster Bar and Steaks
Surf Rider North (Cypress Point)
The Butchers Son
Zoe's Steak & Seafood

Williamsburg

Aberdeen Barn
Amber Ox Public House
Berret's Seafood Restaurant and Taphouse Grill
Captain George's Seafood Restaurant
Casa Pearl
Craft 31
James Landing Grill
Jimmy's Oven & Grill
Le Yaca
The Corner Pocket
Waypoint Grill

Yorktown

Riverwalk
Water Street Grill
Yorktown Pub
More Ways to Help
CBF also collects shells from oyster roasts and seafood festivals. Contact us ahead of time and we can provide bins and signage to minimize shells mixing with other refuse.
Drop off used shell at a public shell recycling bin.
Become a volunteer and help collect shells from participating restaurants and oyster roasts.
Volunteer at the Virginia Oyster Restoration center to clean and bag shells.
Become a Virginia oyster gardener.
To participate or for more program information, contact Heather Lockwood at hlockwood@cbf.org or 757-644-4125.
Partners and Funders
Expansion of oyster shell recycling across the state is supported by the Chesapeake Bay Restoration Fund, funded by the sale of Chesapeake Bay license plates. Shell collection in Norfolk is supported by Keep Norfolk Beautiful and Norfolk Waste Management. There are many other entities in Virginia that collect oyster shell and make restoration possible, including the Virginia Oyster Shell Recycling Program (VOSRP) at Virginia Commonwealth University's Rice Rivers Center and Lynnhaven River NOW. Learn more about their efforts and support them as they make use of this precious resource.