Arlington, Virginia
Arlington County, Virginia is a 26-square mile urban center that was originally donated by Virginia to help the federal government form the new "capitol district," and then was subsequently carved out of the diamond-shaped District of Columbia and retro-ceded back to the Commonwealth in 1846. Today, the federal presence is ubiquitous, with such defense-related installations the Pentagon and Arlington National Cemetery, and other federal agencies within its small land area. Directly across the river from Washington, D.C. and closely connected by several bridges and the Metro subway system, it is also home to major trade associations, non-profits and consulting firms.
Most distinguishing, however, is the fact that county leaders consciously decided in the 1970's that Metro would form a crucial armature of future urban growth and community investment. Over the next 25 years, dense, high-rise commercial and residential development growth was focused along the Metro corridor and especially at its Metro stations, while at the same time adjacent, lower-density, leafy residential and neighborhood commercial areas were protected from change. Even with the density, traffic volumes along many major corridors are manageable due to high transit usage.
The county has its challenges. Newer development has had the effect of increasing residential and commercial rents and sales costs; affordable homes and apartments are at a premium, as they are in other successful urban settings. There is some traffic congestion along several important roads, and costly solutions such as light rail transit may be pursued. But all in all, the county demonstrates that mixed-use, mostly pedestrian-friendly, and transit-oriented "infill"-type growth can be a successful growth strategy, providing for a very high quality of life.
Basic statistics:
Founded: 1846
Total acres: 16,600
Open space: 1,296 (non-federal)
2018 Population (estimate by US Census): 237,521
---
Greenbelt, Maryland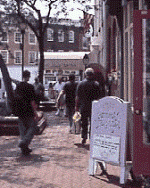 Greenbelt, Maryland, was the first of three "green towns" built from scratch by Rexford Guy Tugwell's Resettlement Administration as part of President Franklin Roosevelt's New Deal in 1935. Although many more green towns were planned, only two others were actually built (Greendale, Wisconsin, and Greenhills, Ohio).
Noted for its interior walkways, underpasses, and its system of inner courtyards, Greenbelt was modeled after English garden cities of the 19th century. From the beginning it was designed as a complete city, with businesses, schools, roads and facilities for recreation and town government.
Despite standard suburban development around Greenbelt, most of the original features of this planned community still exist. Moreover, as Tugwell intended, residents perceive their neighborhoods as unique and community participation is highly valued.
One of the short-comings of more recent development around Greenbelt is the fact that the Greenbelt Metro station is located roughly three miles from the town center. Moreover, it is sited on the edge of a significant wetlands area. Consequently, the synergistic support that urban centers and quality public transportation can provide each other is limited from the outset.
Basic statistics:
Construction started: 1935
Total acreage: 2,100
2018 Population (estimate by US Census): 23,280
County: Prince George's, Maryland
---
Columbia, Maryland
The Rouse Company began development of Columbia, Maryland in 1966. James W. Rouse envisioned Columbia as a new city that would avoid the negatives of sprawl by providing a mix of jobs, shopping, and recreation, along with a diversity of housing, all within close proximity to each other.
Long before construction began in Columbia, the city's first planners met with a group of educators and sociologists to help determine what the city's social objectives should be and how they might be reflected in the physical plan. The vision behind Columbia was more than merely avoiding sprawl, it was to be a place for all people, races, religions, and income groups. Consequently, the plan that evolved was thought of as a group of neighborhoods within villages, almost like a system of small towns.
The development now includes over 5,000 acres of preserved open space, 80 miles of biking/walking pathways, 27 public schools, and more than four million square feet of commercial/retail space.
Basic statistics:
Construction started: 1966
Total acreage: 14,000
Open space acreage: 5,000
2017 Population (estimate by US Census): 103,709
County: Howard, Maryland
---
King Farm, Rockville, Maryland
King Farm exemplifies the accommodation of new growth adjacent to existing cities—after annexation into Rockville, construction began in 1998. The initial planning of King Farm, by the Silver Spring, Maryland architecture firm of Torti Gallas-CHK, has already won an American Institute of Architects award for concept and design.
Most of King Farm is now built-out: there is a mix of housing, from single family to townhouse, multi-family, and apartments. The central shopping center for the development has been operating since 2002. An elementary school is also part of the project. The commercial office area, to include over three million square feet of built space is now mostly complete.
While the Shady Grove metro station is said to be within walking distance of the center of King Farm, without serious attention to both the pedestrian amenities and shuttles between the station and the development, the potential advantages of this connection may well be missed.
Basic statistics:
Construction started: 1998
Total acreage: 440
Open Space acreage: 100
Population: 9,000 (estimated future)
County: Montgomery, Maryland
---
Reston, Virginia
The area of Reston, Virginia was eyed for development since at least the 1890's. It was not until the early 1960's, however, that Robert E. Simon brought together the necessary ingredients to create this new town.
By 1967, however, one of Simon's creditors, Gulf Oil, had to step in to avoid financial collapse of the project. Fortunately, the original plans of encouraging a diversity in housing sizes, styles, and prices along with a mix of business, shopping, schools, and recreation have been largely followed over the ensuing years.
By 1988, with over 1,400 businesses employing over 30,000 people, businesses continued to cite the community design, housing, amenities, and talented work force as major factors in their decisions to settle in Reston. Today, with more than 60,000 residents and more than one-million-square-feet of office space, Reston continues to develop and evolve as part of northern Virginia's tech corridor, with a new and bustling town center at its core.
Basic statistics:
Construction started: 1968
Total acreage: 7,000
Open Space acreage: 1,800
2018 Population (estimate by US Census): 60,352
County: Fairfax, Virginia
---
Kentlands, Gaithersburg, Maryland
Maryland farmer Henry Clagett amassed an estate in the mid-1700's in the vicinity of what is now Gaithersburg, Md. In the early 1930's a portion of this estate was acquired by Otis Beall Kent. Kent began constructing ponds and buildings, creating a roughly 12 acre area, the central feature of which became known as Inspiration Lake.
In 1988, the architectural firm of Duany/Plater-Zyberk conducted a "charrette" (workshop) with developer Joseph Alfandre and local planners, officials and residents to develop the design for Kentlands. By 1991, with Alfandre's finances failing, Chevy Chase Bank took over completion of the development, which has stayed largely true to the original DPZ plans—with the significant exception that a conventional shopping center was built instead of the envisioned town center.
The basic intent of the plan for Kentlands was to recreate a small town feel with narrow streets, ample sidewalks, schools, parks, and shops integrated with a mix of housing types and prices, all within walking distance to encourage neighborly interaction and reduce individual maintenance costs. With the adjacent development of Lakelands—another DPZ design—it would appear that at least some of that intent is being met. Nevertheless, for neighborhoods like these to be more than isolated examples of what could be, significant changes will be needed—particularly fully incorporating connections to surrounding areas and designing layouts with respect to natural drainage patterns, both of which are short-comings of Kentlands.
Basic statistics:
Construction started: 1988
Total acreage: 353
Open Space acreage:
Population: 4,500 (estimated)
County: Montgomery, Maryland