Imagine a building as efficient and beneficial as a tree.
Imagine saving one of the last natural areas in Virginia Beach from development.
Imagine producing all the power you need from nature.
Imagine eliminating the nastiest chemicals from where you work.
Imagine drinking rain water.
You don't need to imagine anymore. We've done it.
---
The Chesapeake Bay Foundation's Brock Environmental Center at Pleasure House Point in Virginia Beach is one of the most energy efficient, environmentally smart buildings in the world. In May 2016, it received Living Building Challenge™ certification, one of the toughest environmental building standards in the world.
With its solar panels, wind turbines, geothermal wells, rain cisterns, waterless toilets, and natural landscaping, the center is an international model for energy- and water-efficiency. Elevated 14 feet above sea level, it is also a prototype for coping with climate change in a region increasingly prone to flooding.
"We hoped to raise the bar for environmentally smart buildings when we envisioned the Brock Environmental Center," CBF President Will Baker said. "And I think we've done that with this remarkable building."
The Brock Environmental Center, named after Virginia Beach philanthropists Joan and Macon Brock, houses CBF's Hampton Roads staff and education program, and the staff of Lynnhaven River NOW, a Virginia Beach conservation group. In addition, it is available to the community, featuring a large conference room for meetings, discussions, and collaboration.
Welcome to the Brock Environmental Center. Come explore and learn. We think you will be amazed. We know you will be inspired.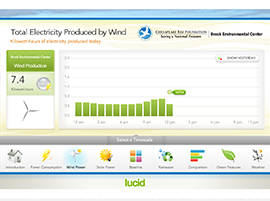 The Brock Center's Living Building Challenge Dashboard is a real-time gauge of the building's energy and water use and energy generation. Check it out for yourself at cbf.org/brockdashboard.