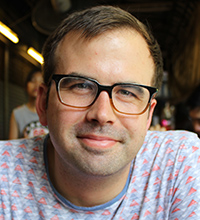 Andrew Overton is a voracious consumer of media and likes nothing more than advancing sound public policy through creative and effective communications. Fortunately for him, his role as Senior Director of Communications allows him to do all that every single day.
Before joining CBF in 2018, Andrew was spokesperson and deputy head of communications at the British Embassy, where he spearheaded media campaigns on topics ranging from Brexit to climate change. Andrew studied communications and political science at Marist College. And he earned a master's degree from American University in international relations, where his thesis assessed the human rights impact of a critical water infrastructure project in Jordan.
A native of Pennsylvania and proud resident of Northeast Washington D.C, Andrew has lived in four states in the Chesapeake Bay watershed. Andrew is an avid fan of music and an amateur chef. So naturally, he enjoys runs with his wife Chelsea along the Anacostia Riverwalk Trail, followed by a backyard barbeque—complete with some great tunes and local brews.
Andrew is no longer at CBF.
Andrew's Posts
April 19, 2019

The perfect playlist for when you're out enjoying the Chesapeake Bay!