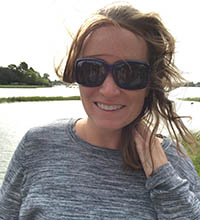 Emmy Nicklin lives in Annapolis by way of New York, Key West, and Virginia. She currently serves as CBF's Director of Digital Communications and is fond of any writing assignment involving boats, water, and passionate Bay champions.
She has a degree from the University of Virginia and a master's in creative writing from Johns Hopkins University. She has written for a number of publications, including Key West Magazine, The Piedmont Virginian Magazine, and The Toast, as well as for various environmental organizations.
When not working, she is exploring far-flung places around the globe, hurling herself into any body of water (but most especially the Chesapeake Bay), and doing as much reading and writing as possible. Her favorite Bay spot is her family's place on Fishing Bay in her native state of Virginia.
Emmy's Posts