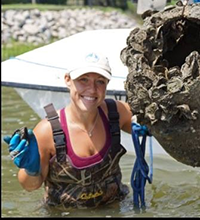 Heather North is what she likes to call a "Bay transplant," however, she is here to stay. Originally from New Jersey, Heather found her way to Coastal Carolina University in South Carolina earning a BS in Marine Science. She will graduate from Johns Hopkins University with her Masters in Environmental Science and Policy in December 2017.
As Virginia's Oyster Restoration Specialist, Heather manages both our statewide shell recycling program as well as our oyster gardening program. Working with hundreds of volunteers, the oyster team or "oysterettes" as they like to be called, can get the job done. As a USCG licensed boat Captain, Heather enjoys going out on the water both for work and for play. Her favorite spot in the Bay is the the Lafayette River because since she started at CBF in 2014, she's been able to witness the amazing capabilities our oysters have to improve water quality, provide habitat, and bring communities together for one common goal; a saved Bay!
Heather is no longer at CBF.
Heather's Posts
October 6, 2017

The Chesapeake Bay's number one filter feeder is not one of the first things that come to mind for most Eagle Scout projects.

May 25, 2017

On a breezy spring day, Claire Neubert hauled a wire cage full of oysters onto her dock on Elizabeth Lake at the top of the Hampton River. This miniature oyster reef was full of life. Barnacles sprouted from shells. Little fish squirmed among the oysters. Tiny crabs crawled into the crevices.