On a cold night in January 1989, I gathered 12 friends of mine together in the clubhouse of the old White Heron hotel on Laskin Road. Plastic bags, fishing line, cigarette butts, and heaps of other trash were defiling our waterways. And we wanted to do something about it.
I learned of a cleanup project on the coast of Texas coordinated by the Center for Marine Conservation. After reaching out to them, I picked the brain of Kathy O'Hara, who was instrumental in laying the foundation for a similar cleanup in Virginia.
My greatest worry leading up to the first Clean the Bay Day was getting enough volunteers to leave the comfort of their homes on a Saturday morning to get dirty and tired picking up trash. Interviews with local news outlets such as the Virginian-Pilot and WTKR-TV3 helped spread the word.
And when June 10, 1989 came, it was clear I underestimated the love Virginians have for their waterways. More than 2,000 volunteers participated, shattering my greatest expectations.
Thanks to the Herculean efforts of the Chesapeake Bay Foundation, over the past 29 Clean the Bay Days, the numbers we have accumulated are incredible—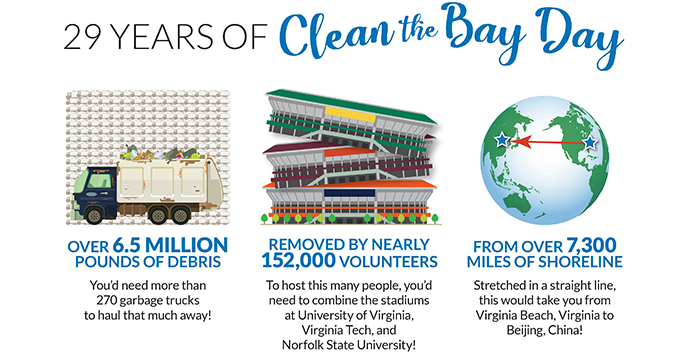 Isn't that incredible?! But perhaps more important than the sheer amount of trash we have removed from our waterways is the impact on the thousands of volunteers. Playing a small role in saving the Bay and restoring Virginia's rivers and streams instills a sense of honor and responsibility to protect our environment. And this often sets in motion a lifetime of stewardship for our waterways.
When we met on that cold January night, my friends and I couldn't have imagined Clean the Bay Day would blossom into what it is today. But thanks to thousands of Virginians, together, we are making a monumental impact. It's always been a fervent hope of mine that someday Clean the Bay Day will no longer be necessary, and the first Saturday in June will be just another beautiful day.
For now, this annual tradition continues. Won't you join us as we celebrate our 30th anniversary? With hundreds of cleanup sites throughout the Commonwealth, from Hampton Roads, Central and Northern Virginia, to the Eastern Shore, there are plenty of opportunities to get involved. Register now!