While we all want clean water, there's no denying that fighting pollution is often expensive. With limited resources, we should wisely invest in pollution reduction practices that give us the best bang for our buck. Fortunately, the least expensive ways to fight pollution also targets the largest source of pollution—agricultural runoff. This graphic speaks volumes: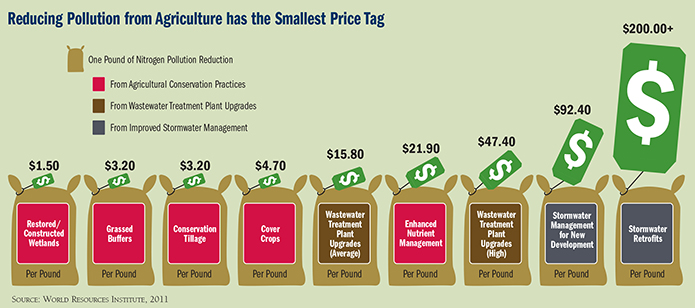 Given this reality, it matters very much to the health of the Bay that in a little less than three months, the current Farm Bill will expire. This massive bill, which is passed every five years or so, is crucial to Bay cleanup efforts because it includes conservation programs that help farmers stop pollution at its source and ensure our families enjoy clean water.
Last week, the Senate passed its version of the 2018 Farm Bill, which provides critical funding for important conservation tools and resources that support farmers with resources to reduce pollution, remain profitable, and improve water quality. While this is good news, we're not out of the woods yet.
The House passed its version, H.R. 2, on June 20. Unfortunately, the House bill fails to make critical reforms to improve conservation program performance and delivery in the Bay watershed. The Senate and House need to resolve the differences in their bills by September 30. We will keep a close eye on these negotiations. Stay tuned for opportunities to take action to ensure a strong Farm Bill for clean water in your local rivers, streams, and Chesapeake Bay. And visit here to learn more about the Farm Bill and its impact on clean water.

This Week in the Watershed: Teaching Teachers, Vernon Views, and Salty Streets

What's Happening Around the Watershed?
July 7
July 19
July 20
July 27
August 10