From Virginia to Pennsylvania, student leaders are paving the way to save the Bay. This year, in the Chesapeake Bay's three primary states, student leaders were on their capitol grounds using their voices—or lack thereof (see below for more on that)—to show that the next generation of Bay savers is already hard at work, even without a high school diploma.
First Food of Virginia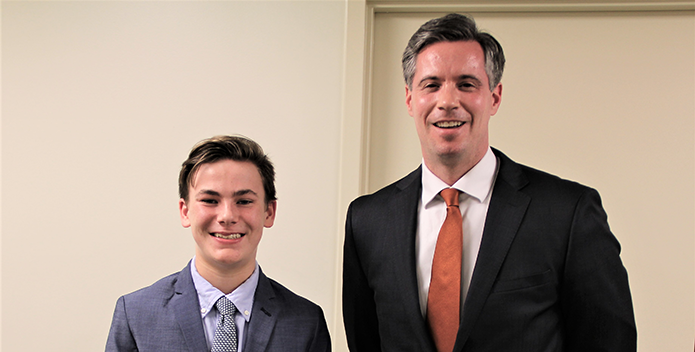 When Midlothian, Virginia 8th grader, Brennan Lane, first learned of the Bay's iconic Eastern oyster, he became fascinated. Ask him any question about the oyster and its part in saving the Bay, and this student will rattle off facts through his encyclopedic knowledge of the iconic bivalve. He loves them so much that he's working to have the Eastern oyster join the cardinal, dogwood, milk, and other state symbols as Virginia's "first food."
Brennan wrote elected officials for support, which led to a meeting with Virginia Senator Glen Sturtevant—who then sponsored a bill to designate oysters as Virginia's first food. Brennan was invited to speak to the 2019 Virginia General Assembly, where he told legislators that "oysters have a tale to tell about Virginia." That "oysters have been around for every major event in Virginia history," from the paleolithic period to the plates of presidents.
While Brennan's oyster bill overwhelmingly passed the Virginia Senate, it was not voted on in the House of Delegates this year, which unfortunately means it will not become law this session. But nothing can stop Brennan, he's already strategizing to get the bill passed next year.
Out of the Classroom and onto the Streets
When 16-year-old Swedish climate activist Greta Thunberg inspired students around the globe to join a coordinated global school walkout, CBF student leader Amelia Farrell didn't hesitate. The 17-year-old junior at Annapolis High School organized the Annapolis Youth Climate Strike on March 15, 2019 just steps away from the Maryland State House. While Amelia should be worrying about homework, scholarships, and college applications, she said she's more worried about climate change, "the impending global threat weighing on the youth of the world."
Amelia invited students and other environmental advocates to the event where they urged the Maryland General Assembly to pass bills to protect the environment and slow the impacts of climate change. Among those student activists was Kallan Benson, another CBF student leader who spent the 2019 Maryland legislative session silently protesting outside of the Maryland State House to pressure legislators to act on environmental issues, including the Healthy Green Maryland amendment.
Amelia and Kallan showed us this year that despite not being old enough to vote, they want their voices to be heard because it is their future at risk.
A Long Time Coming for the Snot Otter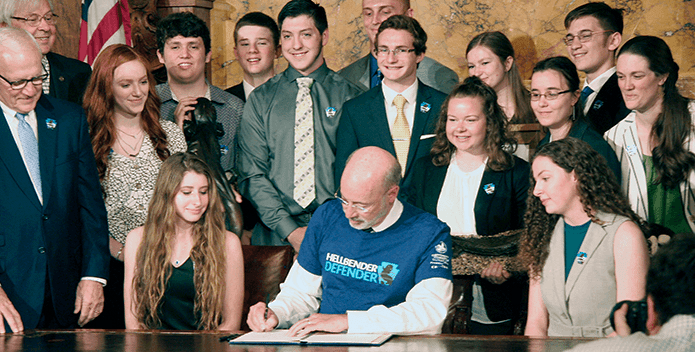 In 2016, CBF's Pennsylvania Student Leadership Council came up with an amazing idea—to designate the Eastern hellbender as the official state amphibian of Pennsylvania. These students knew that hellbenders serve as the canary in the coal mine when it comes to water and habitat quality in Pennsylvania's headwater streams. When water quality is diminished due to polluted runoff, hellbender populations can't thrive. So these students got to work and drafted the first iteration of SB 658., which was co-sponsored by Pennsylvania state Senator Gene Yaw, R-Allegheny, and Senator Mike Regan, R-Cumberland and York.
But getting the "snot otter" an official state designation proved to be as sticky as its name implies. The day after the state Senate approved the hellbender bill by a 47-2 vote, the House's powerful majority leader, Dave Reed, unexpectedly backed a different critter called Wehrle's salamander.
Senate Bill 658 essentially expired when the 2017-18 legislative session ended. But student leaders vowed to go back to the drawing board, and they did. Following the passage of Senate Bill 9 on February 9, 2019 and its overwhelming passage in the Pennsylvania House of Representatives on April 16, 2019, the Eastern hellbender—snot otter, lasagna lizard, devil dog, whatever you may call it—was officially signed by Governor Tom Wolf on April 23, 2019.
We couldn't be prouder of the student leaders that are helping us save the Bay throughout the region! Want to learn more about our student leadership programs and how you can get involved? Visit https://www.cbf.org/join-us/education-program/student-leadership/.
Issues in this Post