While trite, it is also true: The youth are our future. Students have an incredible ability and opportunity to help improve the health of the Chesapeake Bay. A student's voice is powerful, and when students speak in unison their message becomes amplified.
The mission of CBF's Student Leadership Program is to foster lifelong, engaged, ecologically minded members of society. We do this by offering high school students opportunities to expand their knowledge of environmental issues, to hone their communication and team building skills, and to learn how to organize action that will improve water quality in their communities.
After a year of learning at home, students came together on CBF's five-day Student Leadership Expeditions this past summer to answer one question: How can we promote clean water and a sustainable future for all? Each day, they explored the most pressing issues facing the health of our watershed. Students learned about many important Bay topics from environmental justice and the importance of trees to regenerative agriculture and climate change. They heard from scientists, restoration experts, and local leaders, discovered how to advocate for causes they care about, learned how to be an effective leader in their communities, and formed a coalition to support each other, find inspiration, and uncover solutions.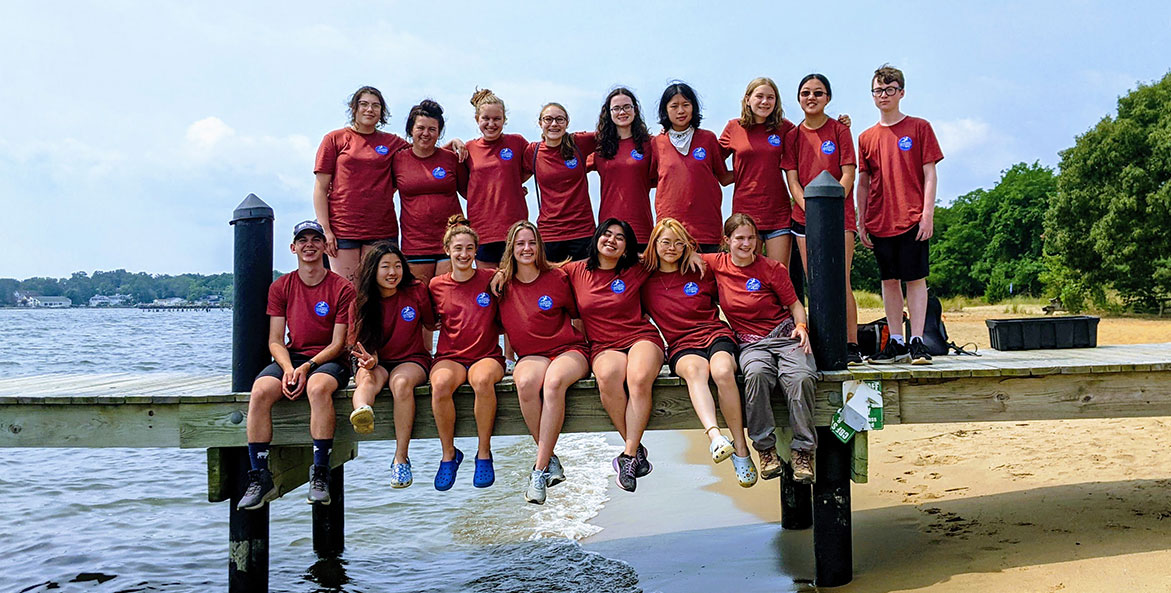 During the summer expedition, we asked program participants an important question: Imagine you have the floor in a room full of policymakers, what would you tell them about why CBF Student Leadership experiences are meaningful to you, and why they should invest in saving the Bay? Here's what they had to say:
"The CBF Student Leadership program allows teens to further our passion in environment action as well as meet other people our age who share those similar interests and values. The Chesapeake is worth saving because it is representative of so much more than just a 'bay.' From the indigenous people who originally took care of it, to the various animals and plants that live there, the multitude of people whose livelihoods depend on the Bay, and the future generations of people who will live in the watershed, the health and prosperity of the Chesapeake is absolutely essential." —Clare Chung
"Inspiring young leaders to get involved in environmental advocacy is very important to the future of our Bay. Teaching the next generation of leaders about the real threats facing the Bay is imperative to garner the necessary public interest and spark change. The expedition was amazing! Before this I had never gotten such a hands-on experience and it gave me new ideas and inspiration for future endeavors in action, advocacy, and awareness." —Zoe Burke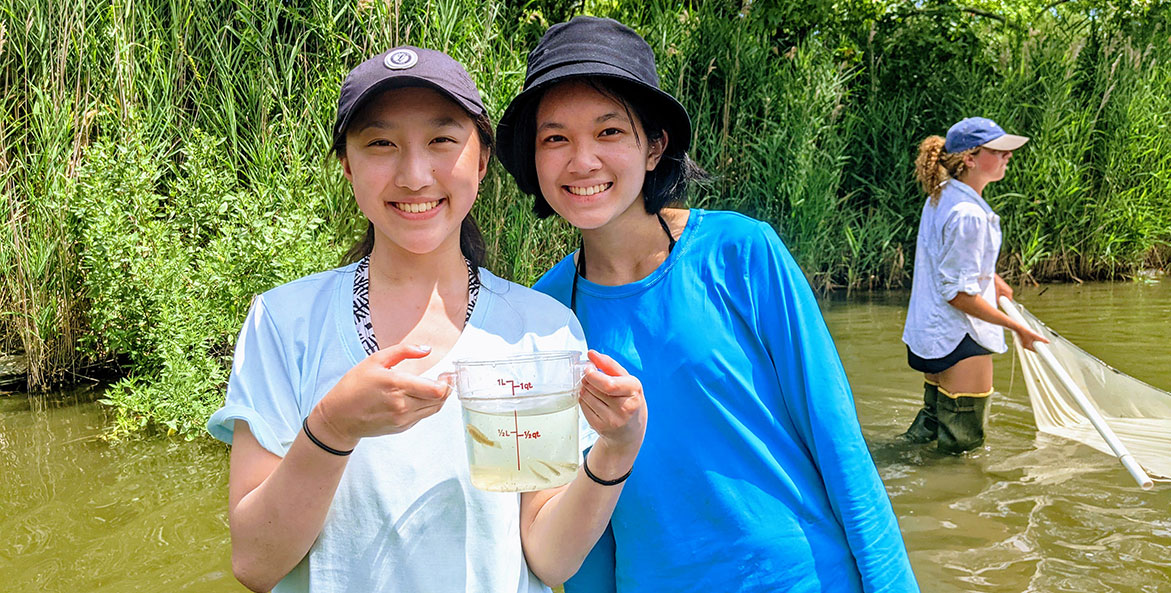 "CBF Student Leadership experiences are meaningful to me because I get to see up close, experience, and protect the environment I live in. They inspire me to find issues that I'm really passionate about, and even more than that, they show me exactly why and how these issues affect me, and what steps I should take if I want to see change. After a year of being a part of CBF, I've learned how to become a better steward of my environment, how to stand up for issues I believe in, and how to work with others to achieve our common goal of saving the Bay. CBF's Student Leadership program empowers me to take action on behalf of the animals and plants living in the watershed and to help leave the environment in a better condition for younger generations to enjoy.
Saving the Bay is not an easy, quick, or inexpensive task. How could it be, when we're trying to undo the damage from pollution and human activities that have been ongoing for decades? But that does not make it impossible. Because as long as we start today and we continue to make an effort to educate others, to restore ecosystems, to promote sustainability, and to care for the Bay—our home—we will be able to save it. I'm not asking for perfection, for everyone to forget about everything except saving the Bay, but I am asking that you do your part—as a policymaker that represents and stands for so many people—to let your people be able to enjoy the unpolluted, pure beauty of the watershed forever." —Sophia Liang
"The CBF Student Leadership experiences not only taught me about the Bay, its keystone species, and the impacts that people have on it, but also about advocacy, action, and awareness (3 A's). The experience taught me about leadership and working together with others, which are life lessons that I will never forget. The Bay is in great need of saving and the Chesapeake Bay Foundation is doing everything it can to not only protect it, but also inspire younger generations. The key note that I learned is that the Chesapeake Bay not only impacts a few people, but everyone who lives in the watershed and more which is why you should invest in the Chesapeake Bay Foundation which is on its way to 'Saving the Bay.'" —Joseph Simak
"CBF Student Leadership has given me amazing opportunities to learn about not only the Bay, but leadership and speaking up for what I believe in. The Bay is an incredible resource and ecosystem, and it is essential that we protect it so future generations are able to enjoy it just as much as I have." —Connor Ransom
"CBF's Student Leadership experiences helped me to truly grasp why the Bay needs to be saved and what can be done to save it. Oftentimes we learn in school that we should be making various environmentally friendly choices, but we don't necessarily understand why we do these things. Being a part of CBF Student Leadership allowed me to have a better understanding of both the direct and indirect implications of the actions we take." —Jack DeBaugh
"The CBF Student Leadership experiences are phenomenal and one that every student should have a chance to go on. They take you places you never thought you'd see and allow you to have literally the most 'hands-on' experience possible. Through the leadership experiences, you really begin to notice the importance of the Bay in not just an environmental aspect, but livelihoods, hobbies, and so much more." —Anniee Fang
"These experiences are meaningful to me because they make me feel connected with the Bay and its biodiversity, while also inspiring me to solve the issues of the Bay. By saving the Bay, more people will be able to experience what I have and feel more connected to nature and will also be more motivated to strive for positive change." —Anil Ghosh
"CBF Student Leadership experiences are a great way to learn about the Bay not only from educators but also our peers. The conversations that student leaders have about the Bay help us better understand why saving the Bay is important and allow us to take the knowledge we learn in these experiences and spread it to our own communities." —Maia Ferreyra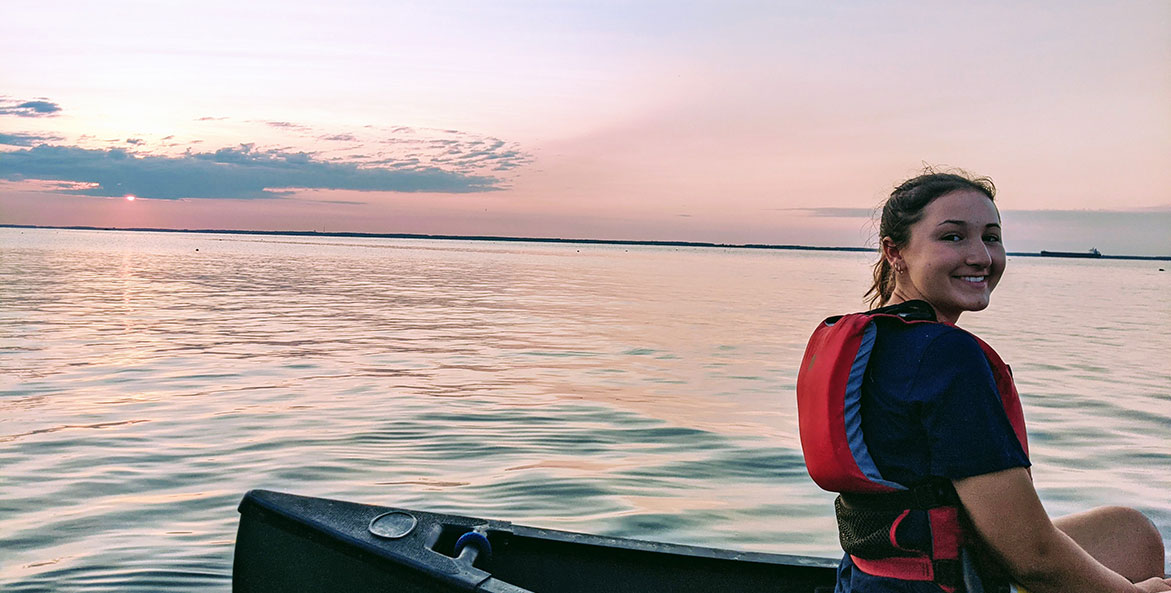 "CBF Student Leadership experiences are meaningful because they give students who are already passionate, hard workers the toolbox they need to fully advocate and create change toward the issues they care about." —Caroline Kitt
"The Student Leadership program provides a microphone to amplify student voices and inspire them to pursue their passions. It provides support, encouragement, advice, resources, and learning opportunities, but ultimately it helps students to unlock their own potential. As student leaders, we recognize the Chesapeake Bay's importance for the well-being of the plants, animals, and people [that call it home]. The Chesapeake Bay is more than a resource to be exploited—it is our lives, it is our home, and it should be valued as such. The Chesapeake Bay Student Leadership program empowers students to advocate for the prosperity of the Bay we all need and love." —Emma Bisson
"Through CBF Student Leadership, I was able to see firsthand the creatures that call our Bay home… We become surprised when our cities are flooded and fish can't be caught, but we continue clearing green spaces until we realize there's none left. Our student leadership experiences at CBF have empowered me and my peers to Save the Bay on behalf of the thousands of people who haven't seen the murky waters or runoff. Students all across the watershed are working to leave a clear, thriving bay for our descendants. If nothing else, we have a say. The people sitting in this room have a say in this matter. So, I implore you: if nothing else, use your say for the Bay. Invest in a future of clean air, clean water, and clean living. Without your action, the generations following us may not live in a world where they can expect clean air, clean water, and healthy food—just as not all wildlife in the watershed can expect a thriving habitat any longer. As a whole, humans often ignore the habitat loss of animals and show little concern for the well-being of animals, but we won't be able to ignore habitat loss when it comes to our people. We need more than just sparks of restoration here and there—we need a flame that burns bright in the face of destruction, with hands that work to barricade filthy runoff and plant a future better than the one science warns of…Save the Bay." —Zehra Syeda
Issues in this Post