We live and farm on 283 acres of land in Upper Marlboro, Maryland that make up the Chesapeake Bay Foundation's Clagett Farm. Hundreds of people visit the farm each year—school groups, other farmers, community volunteers, legislators. The most prominent question they all ask is, "What does a farm have to do with saving the Bay?"
When faced with a challenge as monumental as restoring the Chesapeake Bay watershed, it is helpful to break the problem into its simplest form. There are two basic approaches. One is to clean waterways directly. We can restore populations of oysters and freshwater mussels, which do a fantastic job of filtering the water, and we can undertake community-wide efforts to remove trash and debris. Then there's the second approach. We can stop pollution from entering our water in the first place.
We know that agriculture is the largest source of pollution in the Chesapeake Bay watershed. Yet this statistic doesn't tell the whole story. Instead of pointing blame at our farmers, we need to understand the dilemma driving it. Farmers are trying to produce enough food to keep the people of our communities fed, while also keeping the price of that food affordable. Eating is not, and should not be, a luxury for the rich; it is a basic necessity for life. Farmers also have to pay their own bills and feed their own families.
So, at Clagett Farm, we're trying to answer another question: How do we produce enough food to provide sustenance for our families, while also reducing pollution and restoring the health of our waterways?
The current system doesn't have a good track record for achieving either goal. Consider that nationally in the United States, we waste up to 40 percent of all of the food grown, adding up to billions of dollars lost and millions of tons of greenhouse gases emitted. At the same time, 34 million people across the country experience food insecurity, meaning they don't have consistent access to enough food.
This is also a fragile system. It didn't take long for the Covid-19 pandemic to uncover the vulnerabilities of what we've become comfortable with and show what disruptions to our supply chain can look like. There were many instances of ever-present items that were no longer available and limited in a way we assumed would never be an issue. The average consumer began realizing the importance of asking about the journey that bag of carrots took to get into their fridge. All the steps from a farm to our homes matter, from the field and harvest to the transportation and logistics of storage and refrigeration for extended periods of time. Many of these steps add up to using more resources for overall production.
Imagine instead a future food system that is focused into smaller regions, combining a network of local farmers that can begin to cover our needs for a comfortable daily life. Imagine food that starts in the field and has one short trip to a centralized market, or is even picked up directly from your local farmer to your home. It leaves a lot less room for excess waste in every step, and the food is sure tastier being picked at a time when flavor is a higher priority than storage life. Imagine, too, that these farmers would be working within a mutual, symbiotic relationship with the natural world to both grow food and reduce pollution.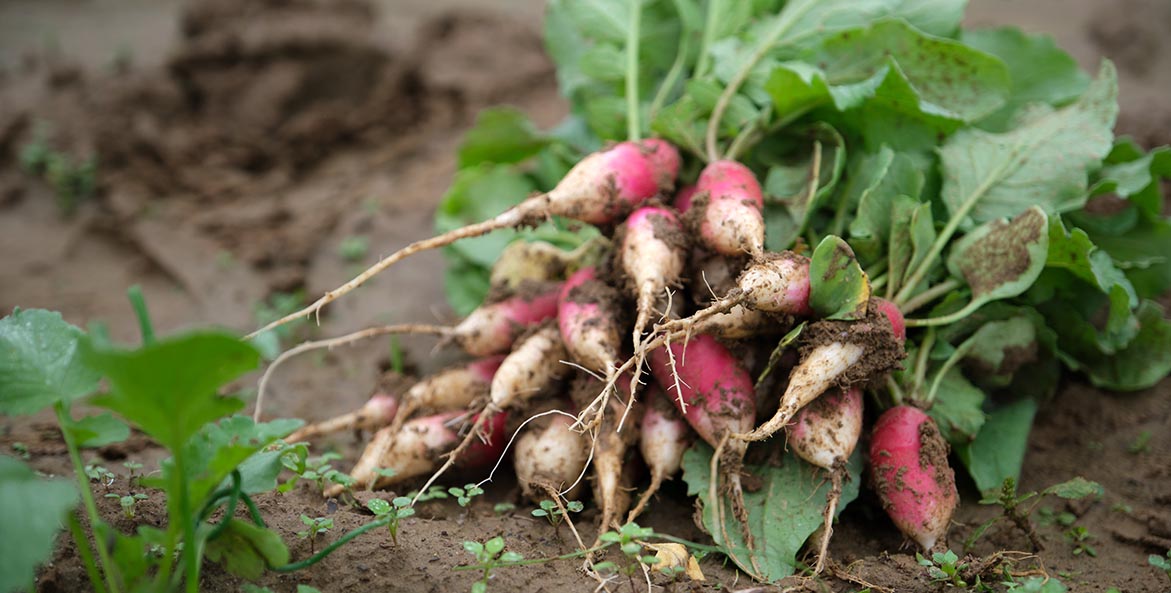 Luckily there are many farmers large and small working tirelessly to change the system, and that future is now. These regenerative farms are looking at ways to grow with the help of nature, rather than by dominating it. They are keeping their soil covered as much as possible, to limit the amount of tillage and disturbance that is happening in their fields. They are planting diverse cover crops to give back to the soil, aiming to build in biodiversity, and rotating their crops.
This is not an entirely new idea. The Indigenous people that farmed for centuries had at the core of their principles that humans are not separate from the land in which they grow, but a part of it. They developed farming practices that encouraged biodiversity and created hospitable environments for all living creatures. They integrated trees into their agricultural landscapes and rotated crops. They even developed systems for natural pest management, a practice we are seeing many farmers return to as pests build resistance to some of the organic chemical sprays.
There are many who would argue that this type of farming will never feed the world and that we need to increase production and extract more from the earth than ever before. Yet we are not currently feeding the world well, and we are degrading our ability to do so in the future with every bit of soil and fertilizer we wash downstream and every pollinator we lose. Our land becomes less productive and our food becomes less nutritious.
If we instead take care of these resources, we can continue to produce nutritious food in the future. And if we better organize our food system, we can prevent enormous amounts of waste after the farmer does the work of providing the ingredients for our way of life. We must look beyond even the idea of a single watershed in which everything flows linearly downstream. Rather, we should begin caring for a circular system of life, or a "life-shed," that connects land and people and water together.
It's not just farmers who can make this change. In many ways, everyone interacts with a farmer and agriculture many times throughout their daily lives, and there is a lot individuals and communities can do. One way is supporting farmers in your area who are putting these values into practice. Agriculture is the source of the food we eat, but it also encompasses items such as clothing, fabric, soaps, and many others. Another is finding ways to reduce food waste in your household, business, or school. You can also urge decisionmakers to provide resources to help farmers make investments in conservation practices, and even volunteer at places like Clagett Farm.
We are not alone in our mission of "saving the Bay." Life itself is working to nourish and to heal along with us, as fellow inhabitants. By understanding these connections, we can move toward a more equitable food system that protects the health and wellbeing of people, as well as ecosystems like the Chesapeake Bay watershed.
So what does a farm have to do with saving the Bay? We hope you find one of these local, small farms aiming to change the food system and see for yourself, even if it's a bunch of radishes at a time.
Jared Planz and Elissa Planz are the Vegetable Production Manager and Distribution Coordinator, respectively, at CBF's Clagett Farm.
Issues in this Post