A version of this article originally appeared in the Spring 2023 issue of Save the Bay magazine.
Drive through Richmond, Virginia, on Interstate 95 and you'll likely see traffic. Less immediately visible is how it affects Richmond's neighborhoods and environment—but that's exactly what Anmol Mital uncovered.
As part of CBF's Student Leadership program, Mital wanted to take a closer look at the changing environmental risks in Richmond communities affected by redlining, a discriminatory lending practice in the 20th century that cut off entire, mostly Black communities from investment and homeownership.
"These policies from almost 100 years ago have this huge, lingering impact," says Mital, a senior at Richmond's Maggie L. Walker Governor's School.
Using GIS mapping, the Environmental Protection Agency's Environmental Justice Screening and Mapping Tool (EJScreen), and statistical analysis, he found that risks from untreated wastewater had declined over time in redlined communities. Risks from harmful air pollution—like the kind created by traffic on I-95—actually increased.
Mital's findings were accepted for publication in the journal Urban Climate. He hopes the article will help spur policy solutions in Richmond, such as greening and efforts to reduce traffic.
"I think this type of research helps address environmental issues with a new insight, a new framework, to analyze and reflect on our past and gain insights from that to help us improve things in the present and future," he says.
Humans and nature don't exist in vacuums, we exist together. The goal of environmental policy isn't only to improve the environment, but to improve the environment in which people live.
Student leaders across the watershed are spurring change in their communities. The program gives high schoolers opportunities to expand their knowledge of issues affecting the Bay and local waterways, as well as take action to improve them.
That action is always designed and led by the students, says Rick Mittler, CBF's Student Leadership Coordinator in Virginia. His role is to help them refine the idea, provide background knowledge, and connect them with resources that can further their inquiry.
"The main emphasis I've worked on is helping them find their 'why,'" he says. "Why is this issue important to them? That's going to help them tell their story."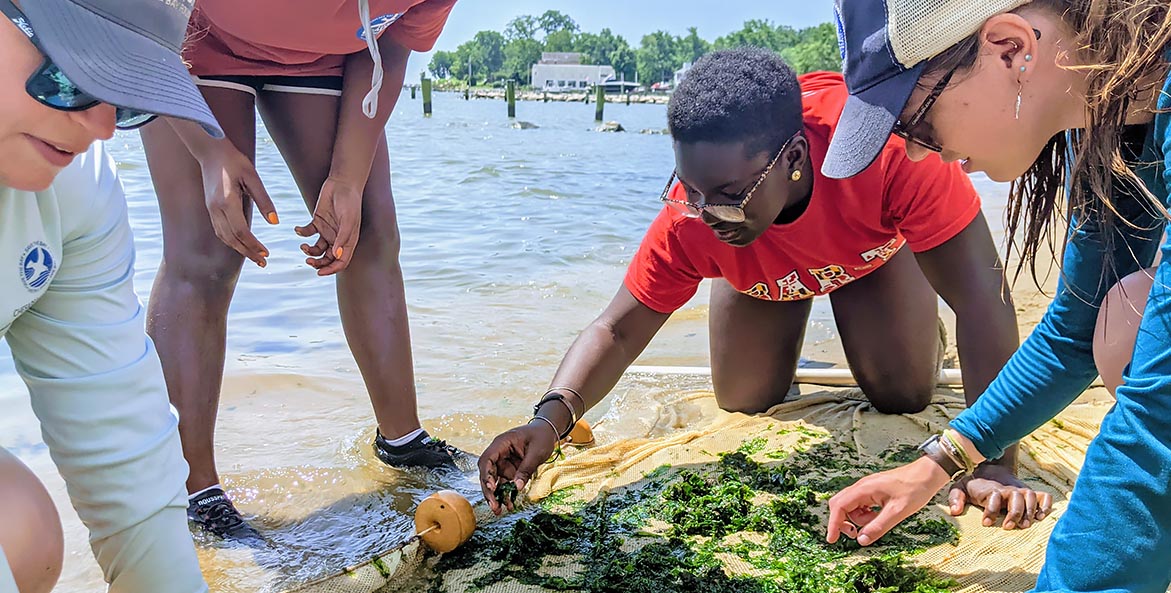 For Bri Akuamoah-Boateng, the "why" is all around us. The junior at Poolesville High School in Montgomery County, Maryland, remembers the first petition she ever started; she was eight years old and wanted access to water, not just milk, during school lunches. Since then, she's led campaigns for refillable water bottle stations and organized students in opposition to development plans near Ten Mile Creek, one of the highest-quality streams in the watershed. She thinks it's important for people to move beyond single issues and view nature not as something "outside," but as an interconnected whole of which they are part.
"Students have a good ability to do that, because we haven't completely lived our lives indoors yet," she says. "We have the opportunity to bridge that gap for ourselves, and we have a very strong voice. We haven't learned to be silent yet."
Issues in this Post