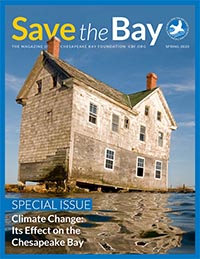 Look inside the Spring 2020 issue
Save the Bay is the Chesapeake Bay Foundation's signature publication. Usually, print copies of the magazine are sent exclusively to CBF members. This special climate change issue is one of our first publications distributed 100 percent digitally. We are doing it to save money, as revenue is declining due to COVID-19—a common experience these days. We look forward to renewing our print distribution for future issues. But our cost savings are allowing us to continue our critical work. We are bringing Bay-saving education into households for students and adults alike. And while working from home, we continue to advocate for good policies and oppose bad; litigate precedent-setting cases at the federal and state levels; and advance restoration for nature's great filters: oysters, wetlands, trees, and more. Our work continues in full force.
Browse our online library of issues below.