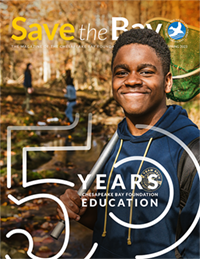 Look inside the Spring 2023 issue
Save the Bay, the Chesapeake Bay Foundation's signature publication, is sent exclusively to CBF members. This beautiful magazine keeps you up to date on all the latest from around the Bay watershed.
Now you can get it online.
Experience the breadth of the Chesapeake region, from its waterways to its wildlife, and learn how CBF is working on many fronts to protect and restore the Bay and its rivers and streams. Many articles have links to sites where you can learn more, volunteer, and make your voice heard.
Want your own copy? Join CBF today!
Browse our online library of recent issues below.
Older issues of Save the Bay magazine can be found at https://www.fliphtml5.com/homepage/jcezj (scroll to bottom of page).