For the past five years, hundreds of thousands of oysters have found an unlikely home. Thanks to the Great Baltimore Oyster Partnership, a collaboration between Waterfront Partnership of Baltimore and the Chesapeake Bay Foundation (CBF), Baltimore's Inner Harbor has some new residents.
What began as a way to engage corporate business owners and their employees in Bay restoration, specifically oyster gardening, grew into so much more. The commitment of volunteers and the resiliency of oysters defied expectations. Since 2014 over 400,000 baby oysters, also known as spat-on-shell, grew in Baltimore's Inner Harbor and were planted on a sanctuary reef in the Patapsco River.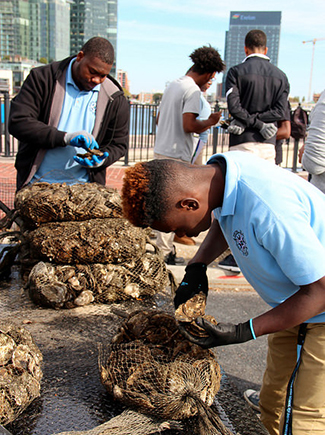 Seeing the success, in April 2016, Waterfront Partnership partnered with CBF to hire a shared program manager position and form a more intentional partnership between the two organizations. The program manager helps to increase awareness and environmental stewardship and coordinates the Greater Baltimore Oyster Partnership program.
The five-year-old program now includes over 600 volunteers through community engagement and Baltimore City public school students.
With two public locations, one of which has 100 cages filled with growing oysters, it makes the program far more accessible to people with limited time and exposes many more people to Baltimore's marine ecosystem. The students involved in the program commit to a semester-long project; including building cages, installing spat, monthly cleanings, and in-class investigations.
In the spring the volunteers also have an opportunity to board CBF's education vessel, the Snow Goose to plant their oysters on the Patapsco River sanctuary. It's always a thrill planting oysters with the volunteers that grew them, especially considering some of the volunteers have never been on a boat before! Seeing their fear turn to excitement and joy is incredibly rewarding.
Not only does this program raise awareness about solutions to reduce pollution in the Harbor and the Chesapeake Bay, the oysters planted on the reef are a part of a larger effort to increase the oyster population in the Bay watershed.
Take a peak into the program in action—
Video courtesy Waterfront Partnership Baltimore