It doesn't take a trek to a remote beach to experience the Bay—water and wildlife are often closer than we think, even in the watershed's biggest cities. Cities face many water-quality challenges, but they also offer many opportunities to help stop pollution in the Bay and its rivers and streams. This month, hear from anglers in Richmond about the importance of the James River, where they find fish and fellowship in the city. Take a close-up look at life in a Baltimore rain garden two years after CBF volunteers helped plant it to filter runoff into the city's harbor. Learn about the Plantation Park Heights Urban Farm in Northwest Baltimore and why supporting local food producers helps water quality. Find out more about our upcoming professional learning courses for watershed teachers that will tie together city and environmental issues. And don't forget to check out the Around the Bay in 60 Seconds news wrap-up to get the latest on Virginia's Clean the Bay Day, Bay restoration funding, and more.
VIDEO: Reel Richmond
Every spring, anglers from all walks of life flock to the James River in Richmond, Virginia as shad, perch, catfish, and more show up in great numbers. Some have been coming to the riverbank for years. They say the river—and the fish—bring people together and just plain make life better.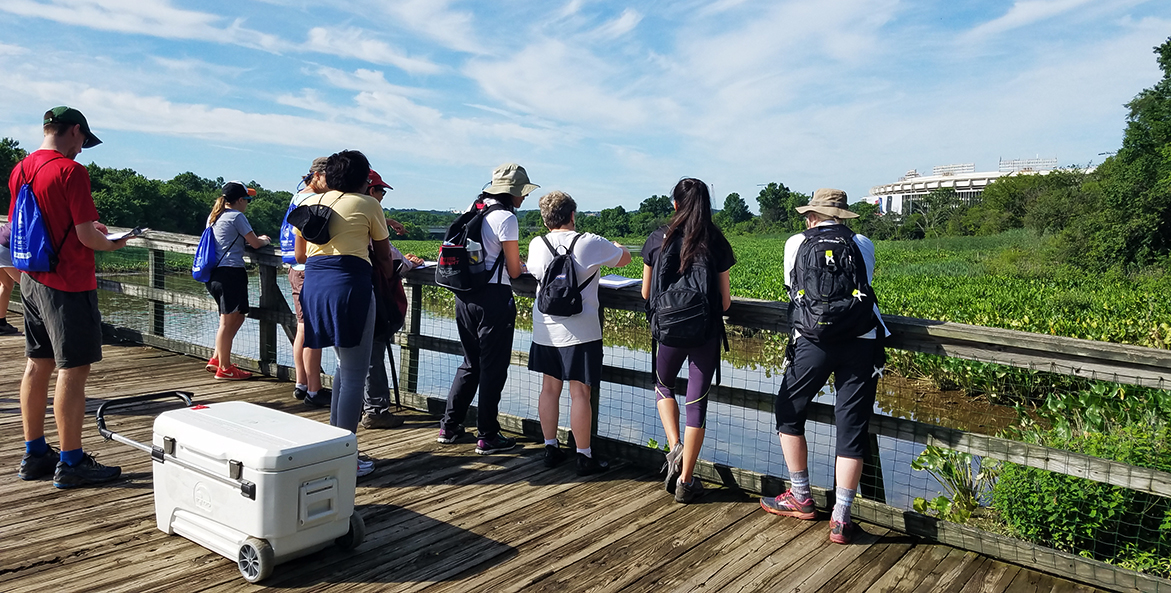 Exploring City Watersheds
From combined sewer overflows to heat islands, cities face unique challenges to water quality and human health (and they're often related). A new CBF professional development course this summer will help teachers in Baltimore, Richmond, and the District of Columbia bring these issues home for their students—the next generation of watershed stewards.
Life in a Rain Garden
Two years after CBF volunteers helped plant a rain garden near Baltimore Harbor, an up-close look reveals a bounty of life. Green infrastructure like this is key for reducing pollution from urban and suburban areas, which damages water quality and continues to increase. It also benefits people and wildlife in the city.
Farm Fresh
The Plantation Park Heights Urban Farm in Northwest Baltimore, Maryland helps feed the community with fresh produce and provides a place for youth to learn farming, responsibility, and more. Supporting local food producers is critical to a healthy Chesapeake—which is why CBF is working to get more resources to farmers across the watershed.
VIDEO: Around the Bay in 60 Seconds
In this month's news wrap-up, we cover Maryland's updated oyster stock assessment, federal funding for Bay restoration programs, a Pennsylvania high school's project to build pollinator habitat, Virginia's cutting-edge new Brock Classroom, and more.
What You Can Do
Bands in the Sand is back! Save the date to party with a purpose August 28 at CBF's Philip Merrill Environmental Center beach in Annapolis, Maryland.
Are you a teacher, principal, or school administrator? Check out all of our upcoming Chesapeake Classrooms summer courses for a professional learning adventure.
Sign our pledge and stand with us as we continue our fight to save the watershed's trees.
Saturday is Juneteenth. Take a look at why this day is so important and ways to celebrate across the watershed.
Now through June 30, your gift to save the Bay will be worth double thanks to a generous matching gift from our friends at The Orokawa Foundation!